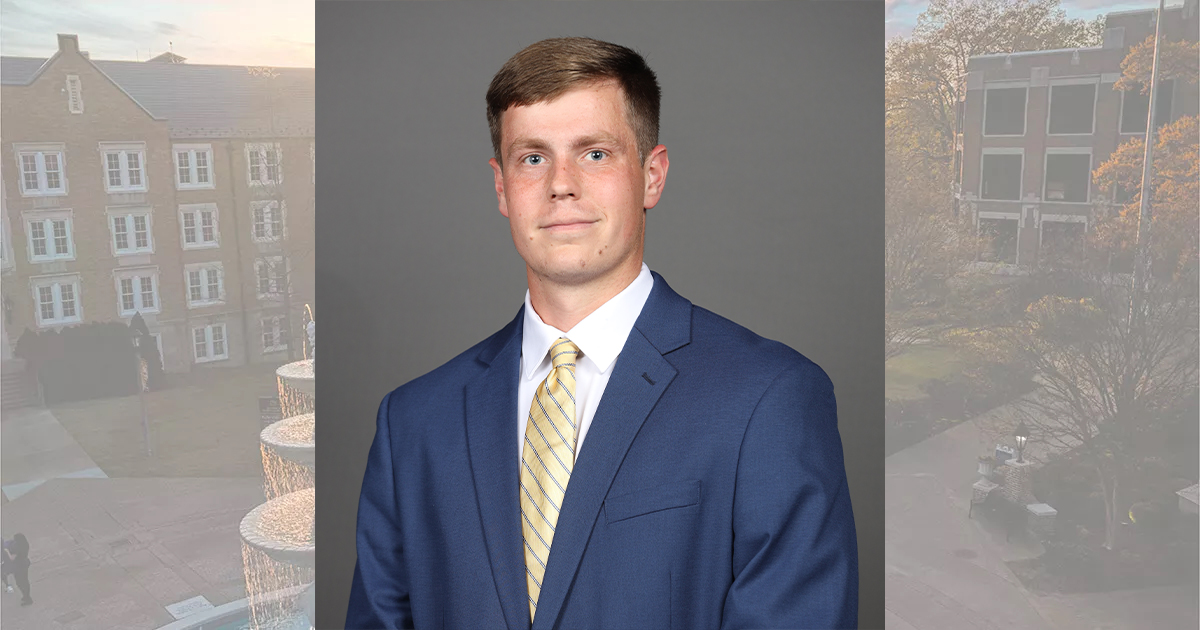 Honors Helps Academic, Athletic Dreams Come True
Oct. 31, 2023
Caroline Conkle , at cconkle@una.edu
Tenth in a Series 
The University of North Alabama is home to the Delores and Weldon Cole Honors College. Its mission is to provide students with a great college experience that translates into postgraduate success. The College is full of many students with different majors, backgrounds, and aspirations. 
As a students in the Cole Honors College myself, I am writing a series of student profiles on other students in the College and how their time at UNA and as an Honors student is preparing them for future success. 
Thomas Dowis is a senior majoring in chemistry with a minor in biology; he is planning to enroll in a program to become a Physician's Assistant once he graduates from UNA. Dowis is the punter for the UNA Lions, and he is originally from Georgia. Here he is in his own words. 
Q: Why did you choose to come to UNA?
A: I came to UNA for a couple of reasons. First of all, UNA was one of the few schools that offered me the opportunity to play college football, which had always been a dream of mine. Also, after looking into the school a bit, I felt confident that UNA would really help me to become a better student and person and help me reach my academic goals. 
Q: If you were to give your younger self advise about coming to college, what would you say?
A: I would really hesitate to give any advice that might change how my college career has played out. I have met lots of great people and been very successful at UNA so far, and I wouldn't want to risk losing all of that. 
Q: What drew you to the Cole Honors College? Why did you want to join?
A: I was drawn to the Cole Honors College because I wanted to work and learn alongside other students who take their academics as seriously as I do. I also was excited to work with all the great people who are so involved with the students in the Honors College as well. The scholarships and free printing was also pretty exciting! 
Q: If you were to tell someone to join the Honors College, what would you say?
A: You will get to work and learn with people who will help push you to succeed, whether that be by other students or the faculty. 
Q: How do you feel UNA is preparing you for success?
A: I feel that UNA is preparing me very well for the rest of my life. So far, I have been put in several tough situation in many of my classes, but I have always been able to work my way out and have grown because of that.
About The University of North Alabama
The University of North Alabama is an accredited, comprehensive regional state university offering credential, certificate, baccalaureate, master's, and doctoral programs in the colleges of Arts, Sciences, and Engineering; Business and Technology; Education and Human Sciences; and the Anderson College of Nursing and Health Professions. The first-choice University for more than 10,000 on-campus and online students, UNA is on a bucolic campus in Florence, Alabama, part of the historic and vibrant Shoals region. Lions Athletics, a renowned collegiate athletics program with seven (7) Division II National Championships, is now a proud member of the NCAA Division I's ASUN Conference. The University of North Alabama is an equal opportunity institution and does not discriminate in the admission policy on the basis of race, color, sex, religion, disability, age, or national origin. For more: www.una.edu and www.una.edu/unaworks/