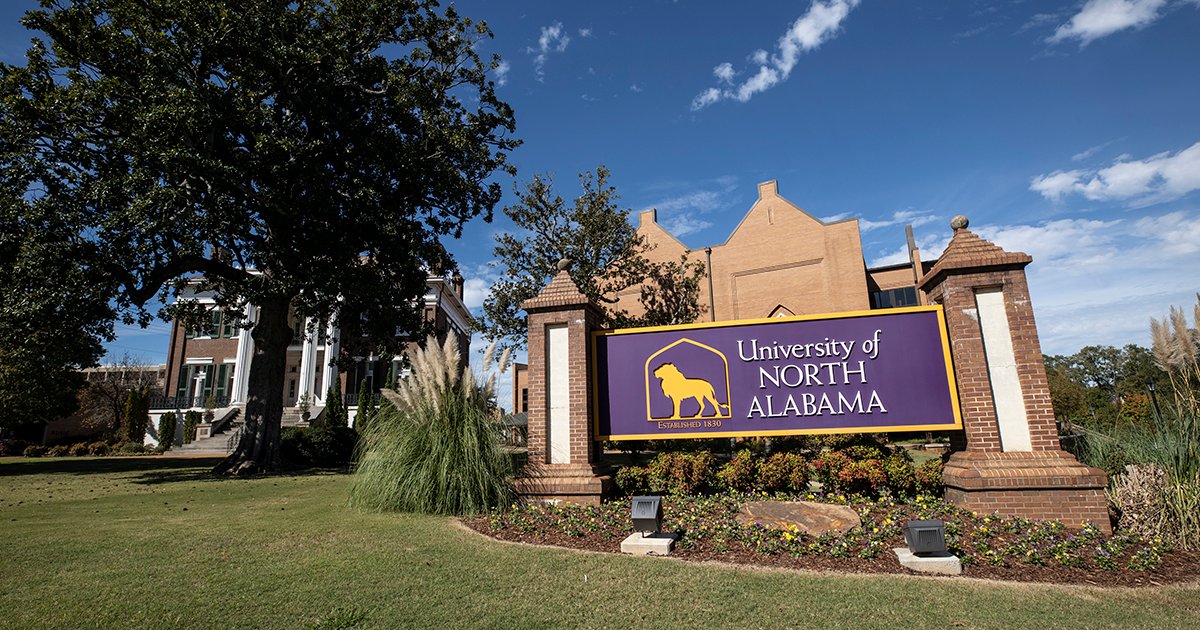 Una Opera/musical Theatre Program Follows Romantic Relationship Through Roberts' Last Five Years
Nov. 04, 2013
Michelle Eubanks, UNA, at media@una.edu, 256.765.4392 or 256.606.2033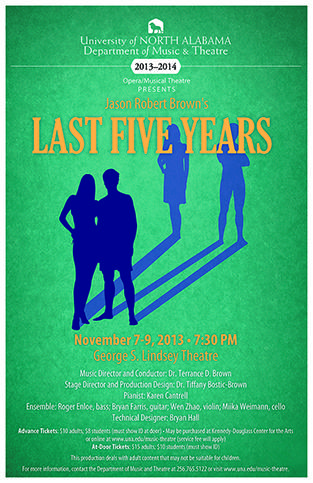 By Terry Pace,Communications and Marketing
FLORENCE, Ala. - The University of North Alabama Opera/Musical Theatre program will present performances of Jason Roberts' Last Five Years at 7:30 p.m. Thursday, Nov. 7, through Saturday, Nov. 9, in the George S. Lindsey Theatre on the UNA campus.
Dr. Terrance Brown - UNA's director of vocal studies and director of the UNA Opera/Musical Theatre program - says Roberts' work follows the five-year relationship of two contemporary characters, Cathy and Jamie, from their first date through their wedding and their eventual break-up.
"Last Five Years uses a unique form of storytelling," Brown explained. "Jamie tells his side of the story from the beginning of the relationship and goes forward. Meanwhile, Cathy starts at the end of the relationship and works backwards. The only time both characters 'meet' is at their wedding, which takes place in the middle of the show."
The music for Last Five Years - directed and conducted by Brown - was written by Jason Robert Brown, whose credits include the well-known musicals Parade and Songs for a New World. Brown believes the audience will identify with the characters of Jamie and Cathy because they are motivated by the fundamental pursuit of human happiness.
"I think that since the show has only two characters and speaks of real-life accounts, it reaches the basic fiber of human beings," noted Brown, an assistant professor of voice at UNA. "Some may consider the show a glorification of divorce; however, it speaks of the importance of maintaining a healthy relationship/marriage. If one party chooses to neglect the other or vice versa, there can be a serious decay in the integrity of the relationship, resulting in a dissolution."
A different pair of performers will play the central couple each night: Andrew Mills and Suzanne Reese on Thursday, Ethan Lolley and Gabrielle Fuqua on Friday and Charles Tanner King and Grace Ashley on Saturday.
"We wanted to present an intimate show that would benefit our singers as they continue as young professionals," Brown observed. "Each night will bring a new cast with a different outlook. The student performers are truly embodying the story and portraying it extremely well both musically and acting-wise. You may need to bring a handkerchief or tissue."
Dr. Tiffany Bostic-Brown, a visiting lecturer in the UNA Department of Music and Theatre, is stage director and production designer for Last Five Years. Since arriving at UNA, the Browns have collaborated on productions of the musical revue Reflections,
Henry Mallicone's The Face on the Barroom Floor, Samuel Barber's A Hand of Bridge, Dinner With Cole (a revue of Cole Porter songs), Jason Robert Brown's Songs for a New World, Humperdinck's Hansel and Gretel, Menotti's Amahl and the Night Visitors, Gluck's Orfeo ed Euridice, Menotti's Telephone and Bernstein's Trouble in Tahiti.
The production also combines the talents of pianist Karen Cantrell, with a musical ensemble featuring Roger Enloe (bass), Bryan Farris (guitar), Wen Zhao (violin) and Miika Weimann (cello). Bryan Hall serves as technical designer.
Advance to the show is $10 for adults and $8 for students with valid I.D. Tickets can be purchased at the Kennedy-Douglass Center for the Arts in downtown Florence, or online at www.una.edu/music-theatre. Tickets at the door are $15 for adults and $10 for students. For details, call the UNA Department of Music and Theatre at 256-765-4375.