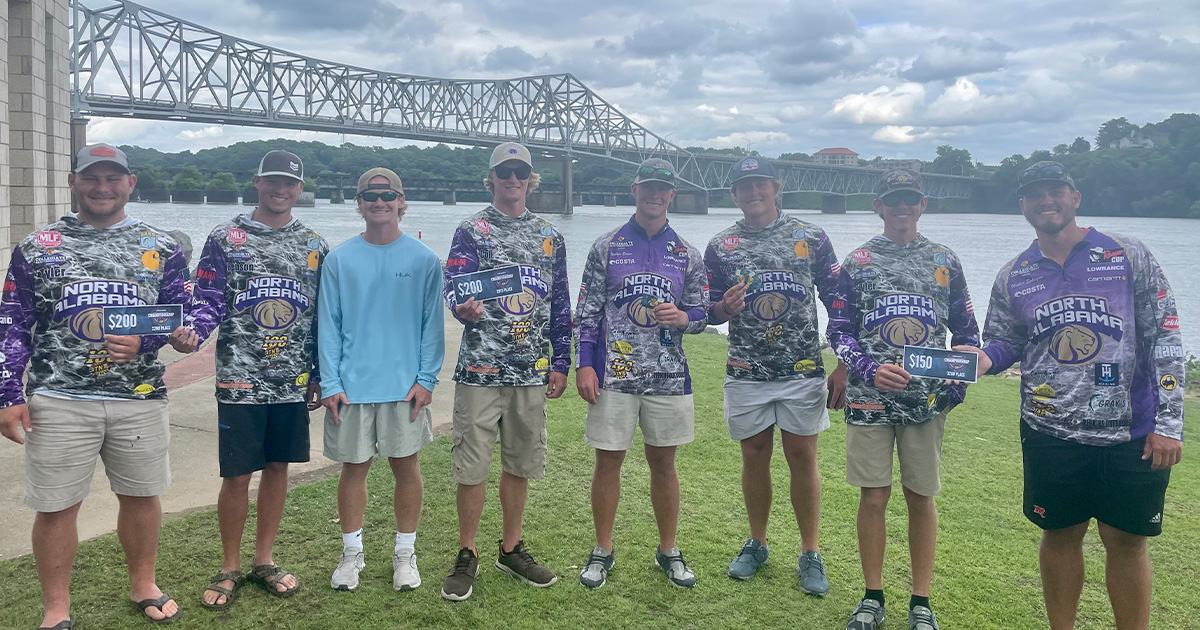 Reeling Them In
Aug. 31, 2022
Michelle R. Eubanks , UNA, at meubanks@una.edu, 256.765.4392
Jackson Holbert loves everything about being on the water. There is a peace about being in a boat on one of the many rivers in North Alabama, his fishing gear in hand and his teammate by his side. And like all good fishermen, he has lots of stories to tell which are, as far as this listener can tell, true.
"One of the most fun moments I have ever had on the water was when I was fishing Lake Guntersville," Jackson said. "My team partner, Avery Whitwell, and I were in a college tournament, and we needed one big fish. Avery saw a log on the bank and was going to pitch his jig there. He does so and catches a fish that's every bit of seven pounds. I didn't even catch the fish, but it's still my favorite memory."
Jackson and Avery are both members of the North Alabama Bass Fishing team, a nationally ranked team that finished the 2022 season ninth overall after the two-day U.S. Bass College Fishing Championship that took place at McFarland Park earlier this summer.
"Five North Alabama teams qualified for this event," said Jeremy Martin, the team advisor as well as the Director of Disability Support Services and ADA Compliance at UNA. "And, overall, we finished ninth in the nation. I couldn't be more proud of them and the season they just completed."
Placing ninth in the nation is a huge accomplishment, by any standard. And, according to Martin, the UNA Bass Fishing Team also placed 15th, 19th, 22nd, 31st, and, a little farther down the line, 159th. It is the story of the team that ranked 159th from this season that inspires Martin and his sense of team play, the idea of lions lending a hand on campus and as part of their encounters off campus. That team ranked 159th also happens to be the one that includes Jackson and his partner, Avery.
"Avery and Jackson represented UNA with the true heart of a Lion," Martin said. "As they were headed back to weigh in, they were flagged down by anglers from another school who were in need of help. Abiding by the code of the river and, in the spirit of true sportsmanship, they stopped, loaded the other anglers into their boat, and headed back for weigh in."
The stop to help was costly in terms of their boat, which took on too much water and flooded, and their time, as they missed their weigh in and were unable to compete for a higher place. Still, Jackson said they would make the choice to help other anglers every time.
"There is a real sense of camaraderie," he said. "And it is also doing the right thing. If it had been me and Avery who were in the same situation, I would want someone to stop and help us, too. I feel lucky that we were there when they needed us and that we could help."
UNA's Bass Fishing Team has a long history of placing in large-scale tournaments, bringing home top spots in the FLW College Fishing Open as well as the Yeti FLW College Fishing National Championship in previous years.
As one of the club sports at UNA, the team has to seek sponsors to assist with money for travel, equipment, and other needs.
Jackson said there is some magic to fishing often, particularly in the waters that surround the UNA campus in the northwest corner of Alabama and that is part of the famed and storied Tennessee River trail.
"It is really about going with your gut and having good teamwork," he said. "Our better guys would help those who were struggling, sharing what's working for them, and that's what makes for a stronger team. You can practice all the time, and, if you're not careful, when you get to this level of competition, it can be tough because you lose a lot more often than you win. If you're not careful, it can become a job."
So, how do Jackson and his teammates prevent that from happening? They talk it out, of course.
"If we see a guy, and we can tell things are taking a toll, we don't necessarily like to talk about it, but we do," he said. "We are transparent with each other; we have to be. That's what makes for a good team."
Jackson, who is majoring in business management, is from Bath Spring, Tenn. Fishing professionally is a career he would happily consider after graduation, and he said he is saving his money from his other jobs to compete in other tournaments. Edging up to No. 1 in the nation is his goal for the UNA Bass Fishing Team.
"Big things are coming for the team," he said. "And our goal as a team is to be the No. 1 school in the nation. Besides, we're all here because we are in the best place of any college in the nation to fish. That ought to mean something."
About The University of North Alabama
The University of North Alabama is an accredited, comprehensive regional state university offering credential, certificate, baccalaureate, master's, and doctoral programs in the colleges of Arts, Sciences, and Engineering; Business and Technology; Education and Human Sciences; and the Anderson College of Nursing and Health Professions. The first-choice University for more than 10,000 on-campus and online students, UNA is on a bucolic campus in Florence, Alabama, part of the historic and vibrant Shoals region. Lions Athletics, a renowned collegiate athletics program with seven (7) Division II National Championships, is now a proud member of the NCAA Division I's ASUN Conference. The University of North Alabama is an equal opportunity institution and does not discriminate in the admission policy on the basis of race, color, sex, religion, disability, age, or national origin. For more: www.una.edu and www.una.edu/unaworks/