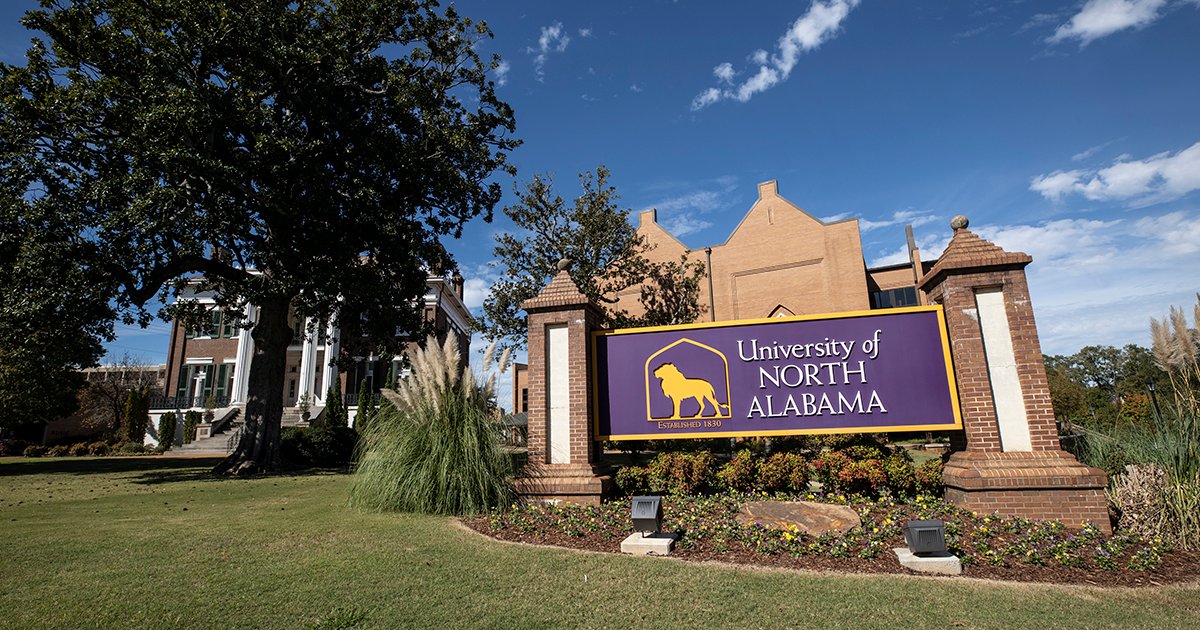 Nbs Offers Glimpse Of "this College Life" With Florala Podcast Series
Apr. 23, 2015
Michelle Eubanks, UNA, at media@una.edu, 256.765.4392 or 256.606.2033
Bryan Rachal, Public Affairs and Media Relations
FLORENCE, Ala. - Social media dos and don'ts, Spring break, dating, and the list of topics goes on and on. Those are just a few of the subjects that have been covered on "This College Life," a podcast produced by the University of North Alabama's National Broadcasting Society- (NBS) chapter, Alpha Epsilon Rho. The weekly podcasts, which are student-produced, are accessible via the Florala's web site, thanks to a partnership between NBS and the student newspaper.
However, the podcasts weren't always podcasts, the original idea actually started out as a morning show called "Good Day UNA." Kelsey Rae White, president of UNA's NBS chapter, said the show was a neat idea, but they didn't have the manpower to pull it off this semester. "So the NBS chapter got together, and we were like, you know, we should make a podcast out of this."
White said they spoke with some members of the Florala who mentioned that they could post the podcasts in their multimedia section of the Florala online. Erin McAllister, vice president of UNA's NBS chapter, said that their idea also happened to coincide with the mission of NBS.
"Our initial projects had been focused more on video and web publishing and we hadn't really done a lot of audio, so we wanted to bring that to the table more this year, so this idea really worked out," said McAllister.
So where do the topics come from? White said they try to tailor the show around college issues. "If we have things that are specific to UNA that are happening right then, then that's what we'll talk about, but we also cover things that are happening at colleges around the nation," she said. "We try to do some research," McAllister said, "and see what college kids are talking about and see what's going on in this college world right now. We also cover general objective topics that all college kids can relate to."
Even though the podcast is supposed to be relatable for students, Dr. Pat Sanders, assistant professor of Radio, TV, Interactive Media and Journalism at UNA and the faculty advisor for UNA's NBS chapter, said she expects the students to follow journalistic standards.
"Normally when you're dealing with communications and something that has to deal with TV, radio and even digital media, you're doing one of three things or sometimes combining them: informing, educating or entertaining. The podcasts are doing all of that," Sanders said. "The seriousness of it is this, yes, sometimes you can do spoofs if you want, but you let people know that. If it was coming from a strict journalistic style they would have to be factual. And if they're doing something in the podcasts that deals with something of a serious nature, they still need to be factual," she said.
Sanders said that the current podcast series will end with the semester, but she hopes that it will pick back up in the fall. She said the students enjoy the process and they're meeting deadlines, which is imperative in the business. "They learn that if something is due on the website, or aired or published, whatever the platform is, you meet the deadline."
Sanders said that even though they don't get a grade and it's outside of class, this is something students can put on their demo tapes and it might just help them get a job.
For the time being, White and McAllister, and the other students involved are enjoying their 15 minutes of fame, so to speak. "I've actually had people come up and say I recognize your voice from "This College Life," McAllister said.
White said she's had people tell her she's funny, down to earth and sarcastic. There's also talk about possibly adding a video camera to the mix at some point so people can see them as well as hear them; however, that will be decided by different members of NBS since White and McAllister will be graduating in May.
In order to be involved with "This College Life," students have to be members of the National Broadcast Society, but any student is welcome to join that club. McAllister said the podcasts are a great way to broaden horizons.
"Even if you're not a Communications student, it's just testing out the waters in a different area. I think everyone needs to be a jack of all trades in today's world," she said.
White said, quite simply, people need to be able to communicate. "'I think we need more communication around the campus, and some people are more reserved about going out. So with podcasts, you're in there and you can say what you want. It's like someone's diary, and you can tell the campus what you really want them to know."
To listen to "This College Life "click on http://www.florala.net/ and scroll to the media player at the bottom of the page.
UNIVERSITY OF NORTH ALABAMA
The University of North Alabama is an accredited, comprehensive regional state university offering undergraduate and graduate degree programs through the colleges of Arts and Sciences, Business, Education and Human Sciences, and Nursing. Occupying a 130-acre campus in a residential section of Florence, Alabama, UNA is located within a four-city area that also includes Tuscumbia, Sheffield and Muscle Shoals. UNA also operates a renowned collegiate athletic program in NCAA Division II's Gulf South Conference. The University of North Alabama is an equal opportunity institution and does not discriminate in the admission policy on the basis of race, color, sex, religion, disability, age or national origin.