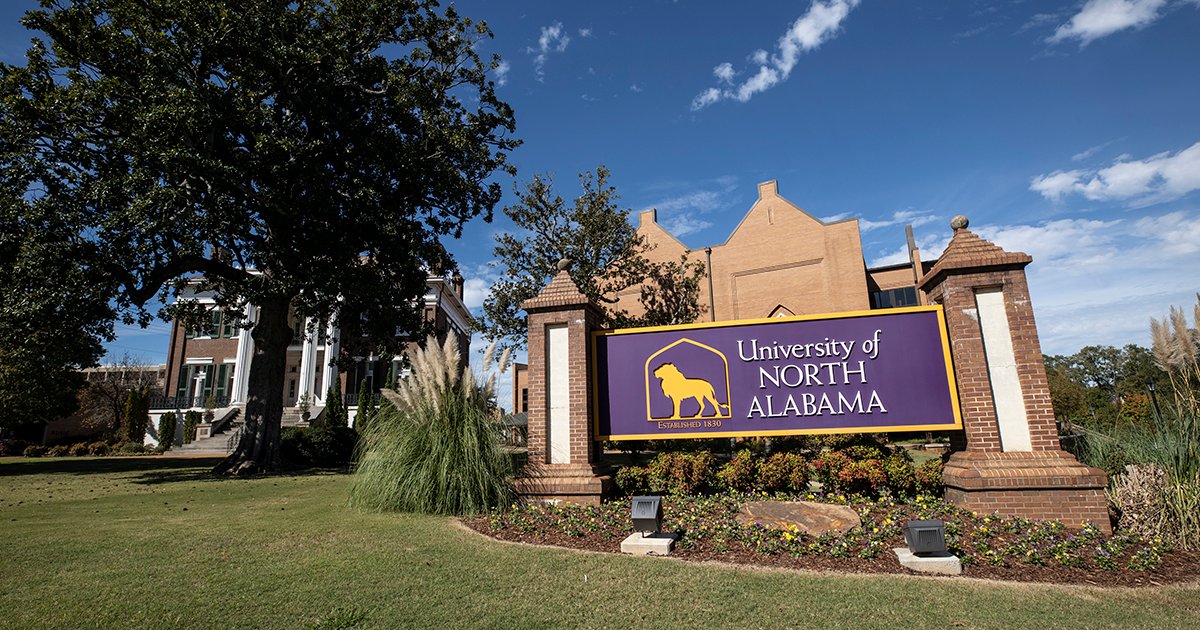 State Recognition In Montgomery Reinforces Una's Commitment To Camp Courage Program
Jan. 23, 2014
Michelle Eubanks, UNA, at media@una.edu, 256.765.4392 or 256.606.2033
By Terry Pace, Communications and Marketing
FLORENCE, Ala. - Recognition and affirmation from the state's top elected officials has reinforced the University of North Alabama's commitment to an innovative outreach project.
Participants in Camp Courage 2013 - a three-day program that allowed future teachers in UNA's elementary-education program to work one-on-one with hearing-impaired and visually impaired children - were honored last week in Montgomery by Gov. Robert Bentley and members of the Alabama Legislature.
"Camp Courage was one of the most amazing experiences of my college career," noted Samantha Fotovich, a UNA senior from Huntsville. "It showed me that there is no limit to what children can accomplish, regardless of disability. The experience also showed me how passionate I am about children and the teaching career. Every student should feel like they are free and successful, and I want to spend my life making them feel that way."
Fotovich and her fellow UNA students were joined in Montgomery by their camp counterparts - children from across northwest Alabama, ranging in age from 7 to 14 - as well as UNA President Dr. William Cale and Dr. Vicky Hulsey, chair of the UNA Department of Elementary Education and one of the organizers of the intensive, broad-based camp experience.
"The recognition our students received was gratifying," Hulsey observed, "but again, the real benefit was seeing the campers and their parents' reactions to the recognition they received. The statewide recognition helps to solidify plans and support for next year. The Camp Courage committee hopes and intends for this to be an annual event for years to come."
Camp Courage took place Oct. 24-26 at Ivy Green, the historic Tuscumbia birthplace of Helen Keller (1880-1968), hailed as "America's First Lady of Courage." Working a determined and resourceful teacher named Anne Sullivan, Keller overcame total deafness and blindness to become a college-educated, universally beloved author, humanitarian and tireless champion for people with disabilities.
"Each of our students who participated in Camp Courage came to my office the week after camp to report how elated they were to have had the experience," Hulsey recalled, "and each and every one of them who will still be a student here next fall has already asked to be included next time."
Camp Courage - sponsored by the Helen Keller Birthplace Foundation, the American Optometic Association Foundation, UNA and the University of Alabama at Birmingham - included educational, social and inspirational activities ranging from arts and crafts, drama and field trips to discussions of Keller's life, work and influence.
Instructors and students from UNA were directly involved in planning and conducting the camp. Hulsey noted that each of the UNA elementary-education students dedicated long hours and traveled back and forth to the camp for three days - at their own expense - while the university was closed for fall break. The students received no compensation for their participation in the program, and only two received course credit.
"I can't overstate what it means to have an 'Annie Sullivan' experience for a teacher/future teacher, and that is what our students had," Hulsey explained. "The campers had a great deal of joy experiencing things that lots of typical children take for granted, but the joy our students experienced by helping these campers far exceeded the effort, lack of sleep or personal expense it cost them to be there."
Hulsey stressed that State Rep. Johnny Mack Morrow, D-Red Bay, and his wife, Dr. Martha Morrow, developed the vision for Camp Courage and generated support for the project from its inception all the way through last week's recognition ceremony in Montgomery.
"The idea for Camp Courage came about as a result of my visiting the Helen Keller Birthplace over the past several years and seeing children with disabilities inspired just by visiting Ivy Green," added Morrow, who represents the 18th Alabama House District that includes portions of Colbert and Franklin counties in northwest Alabama.
"So I had the idea of expanding this into a camp so that other children could find the Helen Keller story just as inspiring," Morrow explained. "I presented this idea to the Helen Keller Birthplace Foundation, who had the vision to see the possibilities. And I think Helen Keller would be pleased to know her legacy is being used for such a noble purpose to inspire children with a disability."
A high-resolution photo of UNA President Dr. William Cale, Dr. Vicki Hulsey, Camp Courage counselors and their campers is available for media use on the UNA Photo Gallery at: http://www.unalionsden.com/archive/photo.php?id=9798