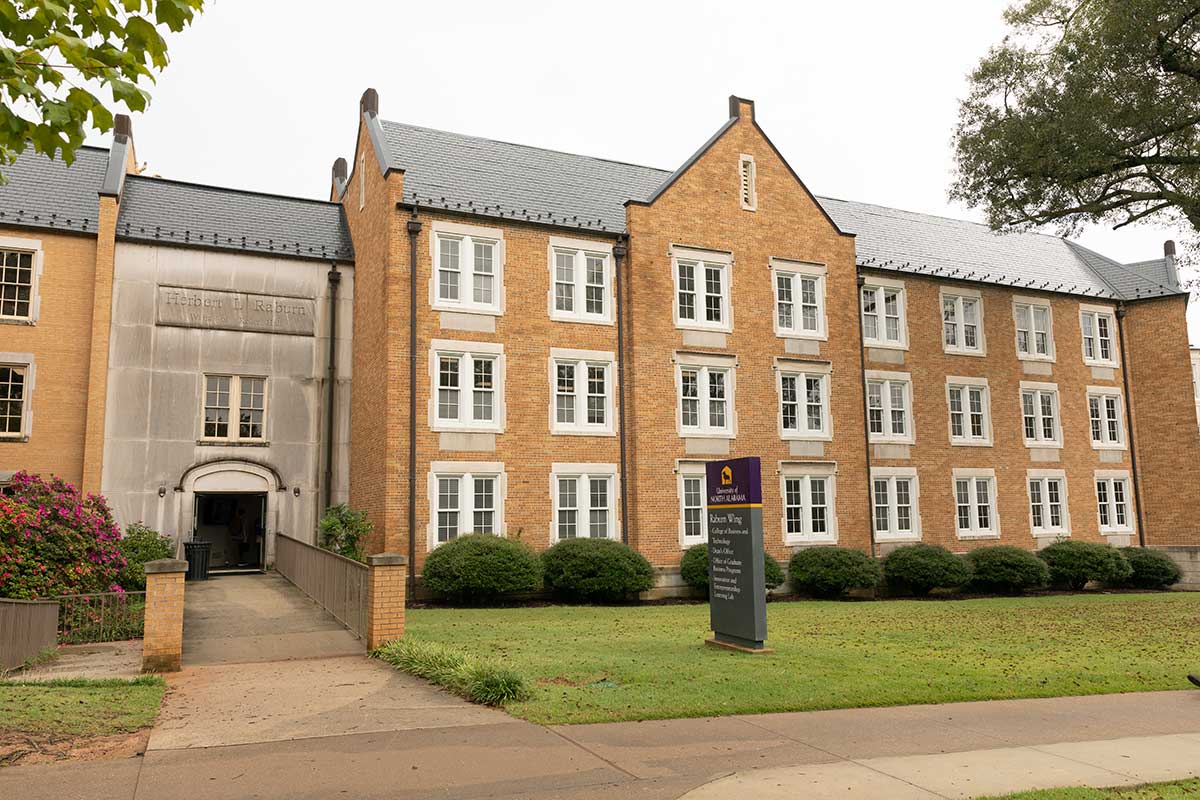 Institute For Innovation And Economic Development Selected For Regional Best Practice
Sep. 21, 2021
Ellen McDonald , at media@una.edu
FLORENCE, AL - The Institute for Innovation and Economic Developmentat the University of North Alabama has been selected for "regional best practice" and as a contender for the First Annual Governor's Seal of Excellence in Work-Based Learning. 
"We are honored to be recognized for this innovative program that has benefited many UNA students and local businesses," said Dr. Doug Barrett, Director of the Institute for Innovation and Economic Development. "Winning would mean that our program has been selected as a model for statewide work-based learning platforms. It would present UNA and the (College of Business and Technology) as leaders in our efforts to serve our students, employers, and the state in career preparation and readiness."
By providing training and resources, the Institute assists professionals in growing their skills as the economy evolves. The program was developed in 2016 by Dr. Barrett and Janyce Fadden, Director of Strategic Engagement of the College of Business and Technology. Today, there are 76 Institute Fellows who are part of the program.
The Institute includes the Generator, the University's student incubator and co-working space. Additionally, the Institute is a key collaborator on Shoals Shift, which includes regional start-up competitions, mentorship weekends, and meetups. 
"Our mission at the College of Business and Technology has always been to ensure that we're providing professional development for students that gives them the knowledge and skills for today's workplace," said Dr. Greg Carnes, Dean of the College. "If we were to win this award, it would be confirmation that UNA is not only a place where the Governor's office and state can look for workforce needs but also where students have opportunities to meet future job expectations."
Regional presentations will be made in Spring 2022. The winners will be selected and announced after the presentations. Gov. Kay Ivey will be presented with recommendations for the four winners of the inaugural Work-Based Learning Seal of Excellence.
About the College of Business and Technology
The College of Business and Technology (COBT) supports the University's role as a traditional campus serving primarily undergraduate students. Additionally, the College supports a large Master's of Business Administration program. Students are sought from a wide variety of backgrounds and undergraduate majors. While the primary service area is northwest Alabama, south-central Tennessee, and northeast Mississippi, the College seeks to diversify and enrich its graduate student body by also enrolling qualified international students from a variety of cultures in its on-campus program.
About the Institute for Innovation and Economic Development
In today's world, the shift to complexity and the need for rapid change is all around up – in our corporations, institutions, and nonprofit organizations. Finding ways to assist leaders to implement change and learn new ways of thinking, behaving, and doing is what the Institute for Innovation and Economic Development provides. The Institute supports students, industry, and government with university resources in innovation and entrepreneurship, economic and community development, corporate consulting, and collaborative and agile strategy consulting.
About The Generator
The Generator is a student innovation incubator. Its goal is to assist students who desire to start a business or commercialize their innovations with resources and expertise. It is open to all students interested in starting to develop a business. Services include assisting new student business owners in developing a working business model, establishing their company, and progressing to independent operations.
About Shoals Shift
Shoals Shift is a creative effort to attract, nurture, and promote the Shoals' creative and tech economy through collaborative meetups and mentorships to support sustainable growth.