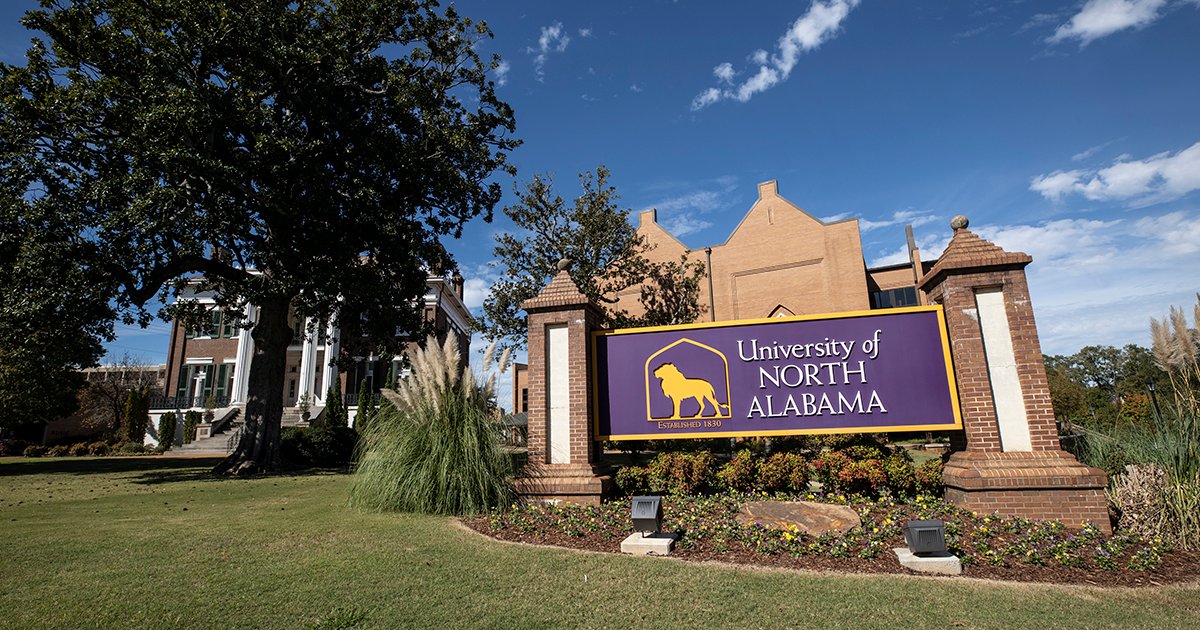 Una Delta Mu Delta Chapter Inducts New Members
Mar. 25, 2011
Michelle Eubanks, UNA, at media@una.edu, 256.765.4392 or 256.606.2033
FLORENCE, Ala. - The University of North Alabama's Eta Alpha Chapter of the Delta Mu Delta international honor society in business administration inducted more than 50 new members, including two honorary members, this week. New honorary members are Kim Mauldin, UNA director of admissions, and Harry Smith, longtime business owner and executive and current executive-in-residence at the University of Memphis Fogelman College of Business.
Delta Mu Delta, founded in 1913, is the highest national recognition a business student can earn. The honor society, affiliated with the Association of College Business Schools and Programs (ACBSP), fulfills the purpose of promoting higher scholarship training for business and to recognize and reward scholastic attainment in business subjects. Delta Mu Delta membership provides recognition for a lifetime. The UNA chapter of Delta Mu Delta, Eta Alpha, was installed in 1994. Under the national bylaws, each chapter admits into membership students of good character who have at least a 3.2 overall grade-point average. Graduate students studying for the Master of Business Administration degree must be in the top 20 percent of their class and hold at least a 3.25 GPA. The UNA chapter holds higher GPA standards of at least 3.5 for juniors and seniors and 3.75 for MBA students.
Mauldin
Mauldin has served as director of admissions for UNA since October 1995. She had previously served UNA in a variety of positions, including associate director of student life/coordinator of student activities, temporary director of student life, temporary director of university events and assistant to the dean of student affairs. She also worked in the banking industry in the Atlanta and Alpharetta, Ga., areas for six years in the 1980s. Mauldin has been the recipient of several awards at UNA: Alpha Theta Chi 2000 Honorary Inductee, Outstanding Service Award for1999-2000, UNA Faculty/Staff Alumni Service Award in 1998 and Phi Kappa Phi National Honor Society Inductee in 2000. Mauldin has served on a number of university committees, including: Undergraduate Service Award Selection Committee, Miss UNA Scholarship Pageant Advisory Board and Phi Kappa Phi Faculty/Staff/Alumni Selection Committee, for which she has served as chairperson. She is also extremely involved in the community. Mauldin and her husband, Macke, have been married 22 years and have two children: Hallie, a Florence High School junior, and Hanan, a seventh-grader at Riverhill School.
Smith
Smith has spent more than 58 years working in a variety of businesses. After graduating from UNA, he worked as a CPA for 16 years before moving to Memphis to become co-owner, chairman and CEO of Schilling Enterprises. From 1980 to 2004, he managed as many as 1,000 employees and a revenue base of $100 million. Schilling owned and operated several businesses, including automobile dealerships, real estate, trucking, HVAC and auto parts. With his partner, Boyle Investment Company, Smith is developing 448 acres for mixed use in Collierville, Tenn. He recently sold a saddle manufacturing company in Texas. He has served on several for-profit and non-profit boards, spanning health care, banking, civic, transportation, religion and education. In 2004, Smith was inducted into the Society of Entrepreneurs. He serves as executive-in-residence at the University of Memphis Fogelman College of Business. Smith and his wife, Beth, have been married for 47 years. They have a daughter, Leslie, who is married to Rex Jones, and three grandsons: Barrett, Harrison and Walker Jones. New student inductees into Delta Mu Delta include:
MBA Students
ATHENS: Pamela Shae Kirby BIRMINGHAM: Lakeisha N. Williams CULLMAN: Ashley Miranda Taylor DALIAN, China: Cuihua Jin FLORENCE: David. L. Eddy, Cheryl Fisher and Amy MarisaWilliams GARDENDALE: Amy S. Rice HARTSELLE: Carol M. Wiley HOOVER: Scott Phillip Badger HUNTSVILLE: Ashley Anderson Hoskin and Harshkumar B. Patel LEXINGTON, N.C.: Joseph V. Goodman MONTICELLO, Fla.: Deborah Nennstiel ONEOTA: Jerry Clinton Boles RIDGELAND, Miss.: Rhonda A. Klusendorf RUSSELLVILLE: Christopher Watts STERRETT: Michael R. Gentry TALLADEGA: Freddie B. Peek Jr. YARMOUTHPORT, Ma.: David M. Gilbert
Seniors
CHEROKEE: Sheri E. Funderburk DECATUR: John J. Sumerel IV FLORENCE: Kristin B. Duncan, Mitchell Alan Handley andJonathan Alan Wilson GUNTERSVILLE: Mason Garrett Kirkland HAMILTON: Jonathan Michael Hall and Lee Amber Ledbetter KILLEN: Victoria N. Hensley RUSSELLVILLE: Ximena Baquerizo and Lindsey M. Gardner TUSCUMBIA: Katherine Grace Posey
Juniors
ADDISON: Hannah D. Powell CORDOVA: Logan Kendrick FLORENCE: Joy Elaine Carbine, Zachary Daryl Summy and AshleyNicole Wills FU SHUN, China: Bo Sun GULF SHORES: Josh Reeves GURLEY: Jordan Lindsey Harless HAMILTON: Devon Kyle Avery JASPER: Angela L. Kilpatrick KILLEN: Charles Scott Boyer III and Maria E. Thompson LORETTO, Tenn.: Vicki Hartsfield Mow MADISON: Tanya Baumgarden RED BAY: Jessica Johnston and Kellie Lynn Sella YAKOHAMA SHI, Japan: Yoshihiro Sato
About The University of North Alabama
The University of North Alabama is an accredited, comprehensive regional state university offering credential, certificate, baccalaureate, master's, and doctoral programs in the colleges of Arts, Sciences, and Engineering; Business and Technology; Education and Human Sciences; and the Anderson College of Nursing and Health Professions. The first-choice University for more than 10,000 on-campus and online students, UNA is on a bucolic campus in Florence, Alabama, part of the historic and vibrant Shoals region. Lions Athletics, a renowned collegiate athletics program with seven (7) Division II National Championships, is now a proud member of the NCAA Division I's ASUN Conference. The University of North Alabama is an equal opportunity institution and does not discriminate in the admission policy on the basis of race, color, sex, religion, disability, age, or national origin. For more: www.una.edu and www.una.edu/unaworks/