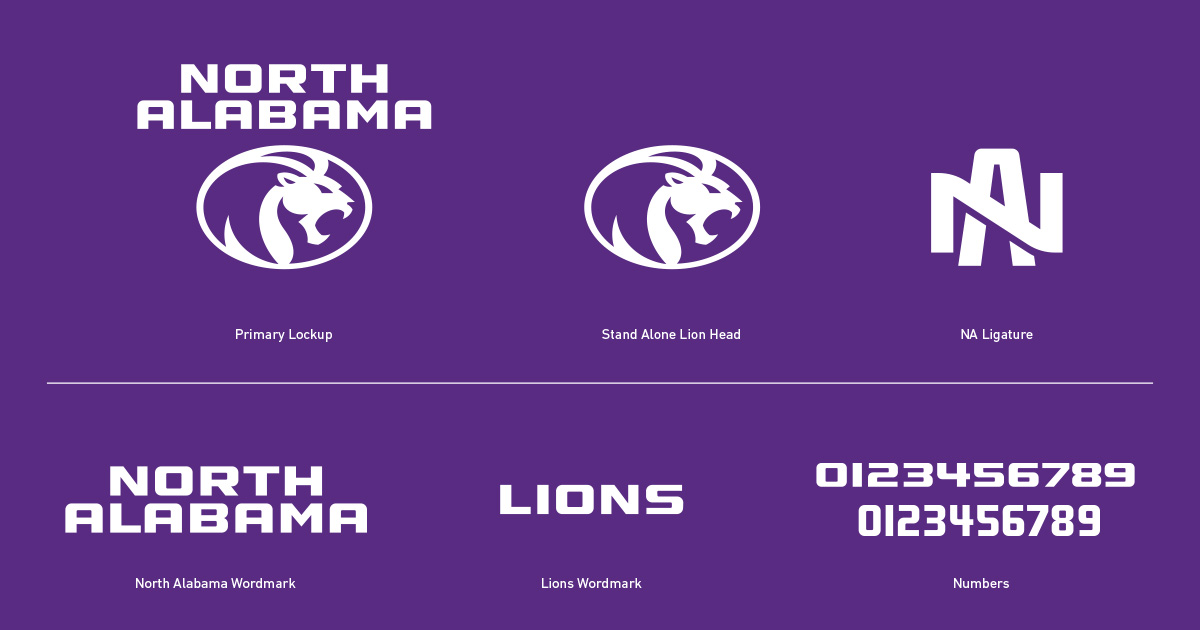 North Alabama Athletics Launches Division I Brand Enhancement
Aug. 04, 2022
Michelle R. Eubanks , UNA, at meubanks@una.edu, 256.765.4392
FLORENCE, Ala. -- As part of the University of North Alabama's successful reclassification to full Division I status from the NCAA, the UNA Athletic Department has revealed an enhanced brand identity that includes refreshed word marks and logos to help propel the Lions into this new era.
UNA Athletics partnered with the University's Department of Visual Arts and Design and Joe Bosack & Co., one of the nation's premier sports branding and design companies, to provide a modernized brand structure and updated design strategy for Lion Athletics to coincide with UNA's full Division I status. As part of its partnership with North Alabama, Bosack & Co., created an internship program that included five current UNA graphic design students working alongside his team throughout the process.
Athletic Director Dr. Josh Looney said updating the school's athletic look and putting a more formal brand structure in place coincides perfectly with the timing of the University completing its final phase of NCAA transition.
Looney's assignment to the design team was to create a complete athletics visual identity that is familiar but more functional and uniform; communicate a sense of timelessness, strength, and bold Division I simplicity; develop visual assets that deliver a consistent brand presentation across all sports; and be robust and functional across all licensing, linear, and digital applications.
"Modernizing our visual identity in parallel with this momentous accomplishment recognizes a pivotal moment in UNA Athletics history and is important to our continued growth at the Division I level," said Looney. "As North Alabama enters a new era of athletics competition and proudly represents the fastest growing University in the state of Alabama, we will do so with an overall athletics brand strategy that is consistent, bold and distinctive across each of our 14 Division I sports.  
"Our student-athletes and coaches have expressed their desire to energize the athletic department's identity with an updated Lion logo and other marks for athletic competition," Looney continued. "Evolving the UNA athletics identity in a familiar, yet much more functional, manner was a core focus of this project. These enhanced logos are homegrown, with current UNA visual arts students partnering with the most respected brand identity company in the collegiate sports landscape. Student contributions were a powerful piece of the process that led to overwhelming support from our student-athlete focus groups."
North Alabama announced its move to Division I in December of 2016 and has spent the last four years navigating the NCAA's re-classification process. UNA officials were notified on August 3rd that the Lions successfully completed all reclassification requirements and were advanced to active Division I status for 2022-23, making the University eligible for NCAA post-season competition for the first time on the Division I level. Also beginning in 2022-23, all of UNA's 14 athletic teams will compete in the ASUN Conference.
Boscak & Co., has created brand marks and strategies for professional sports leagues, membership associations, the NCAA, conferences and collegiate institutions across the nation. Recent projects in their portfolio are highlighted by designs for the Men's and Women's Final Four, the College World Series, the University of Georgia, Mississippi State University, the Orange Bowl and re-launching all league and team branding for the USFL. The firm has also led athletics branding enhancement projects at several ASUN institutions, including, Austin Peay, Central Arkansas, Jacksonville and Stetson.
"We are thrilled to have worked with UNA to refine the look of the Lions," said Joe Bosack, founder and creative director of Joe Bosack & Co. "This is a now a bold Division I visual identity, reflective of the strength, success, and aspirations of the athletics program and the entire university."
Bosack said working with North Alabama students was also an important part of the process.
"The collaboration with the UNA Department of Visual Arts and Design was amazing," added Bosack."We engaged these talented design students in a real-world design assignment that will help them in their future careers and provide a high-profile legacy of their time at UNA."
Dr. Sara Lynn Baird, Dean of the College of Arts, Sciences, & Engineering at UNA, said, "this opportunity for our students to work with Bosack & Co. provided them with a phenomenal real-world work experience that has tremendously enhanced their education. UNA is proud to support these initiatives which equip our students for their future careers."
"Bosack & Co. provided our digital media students with an amazing opportunity to expand their knowledge and actively collaborate with their own insights and designs," said Daniel Leonardos, Assistant Professor, Art - Digital Art & Design at UNA. "Our students are proud to leave their mark at UNA through such an impactful project in the years to come."
Xan Esteve, one of the UNA students participating in the internship, also praised the opportunity to be involved in the process.
"Working with Joe Bosack & Co. has really given me a great insight into working with clients, what to expect from a job, and even helpful tips on working with people in the industry," Esteve said.
North Alabama will begin implementing its enhanced athletics branding immediately with a phased rollout for team uniforms and other new assets over the course of the 2022-23 seasons.
About The University of North Alabama
The University of North Alabama is an accredited, comprehensive regional state university offering credential, certificate, baccalaureate, master's, and doctoral programs in the colleges of Arts, Sciences, and Engineering; Business and Technology; Education and Human Sciences; and the Anderson College of Nursing and Health Professions. The first-choice University for more than 10,000 on-campus and online students, UNA is on a bucolic campus in Florence, Alabama, part of the historic and vibrant Shoals region. Lions Athletics, a renowned collegiate athletics program with seven (7) Division II National Championships, is now a proud member of the NCAA Division I's ASUN Conference. The University of North Alabama is an equal opportunity institution and does not discriminate in the admission policy on the basis of race, color, sex, religion, disability, age, or national origin. For more: www.una.edu and www.una.edu/unaworks/