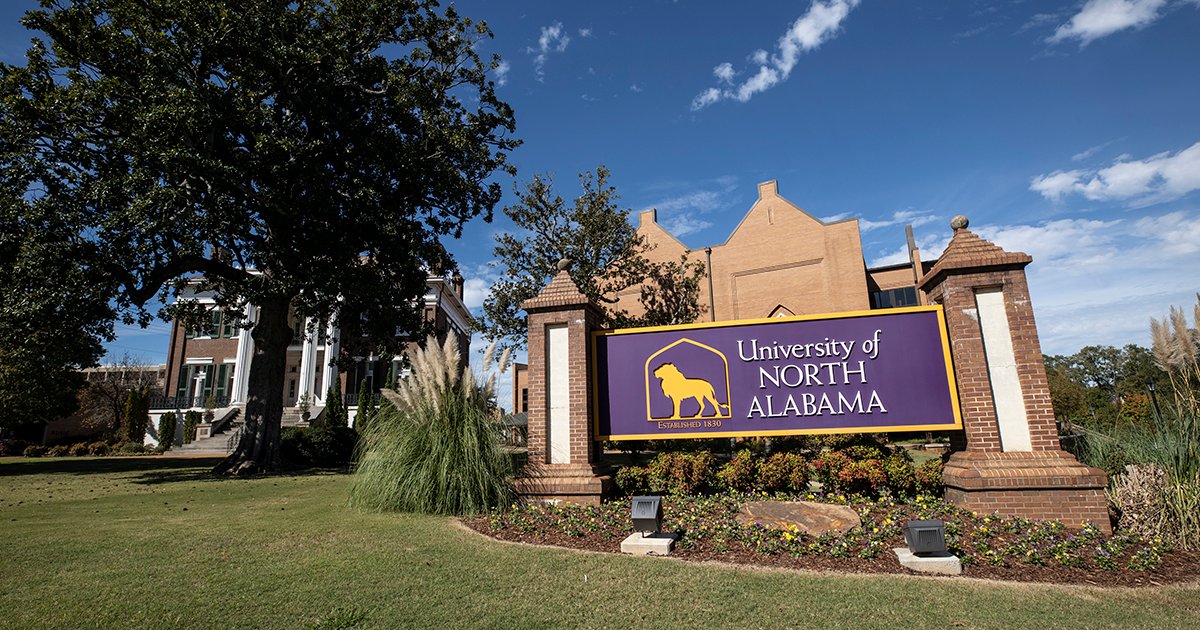 Una Chamber Choir To Present Sacred-music Concert 'of Stupendous Magnitude And Melody' Tuesday
Mar. 18, 2014
Michelle Eubanks, UNA, at media@una.edu, 256.765.4392 or 256.606.2033
By Terry Pace,Communications and Marketing
FLORENCE, Ala. - The University of North Alabama Department of Music and Theatre will present "Of Stupendous Magnitude and Melody" at 7:30 p.m. Tuesday, March 18, at St. Bartholomew's Episcopal Church, 1900 Darby Drive.
The concert will feature the UNA Chamber Choir - a 38-voice elite group under the direction of Dr. Ian Loeppky, UNA's director of choral activities - in a performance celebrating the diversity of the sacred word set to music with voices.
The program will open with "Rejoice in the Lamb, Op. 30," by Benjamin Britten (1913-1976), featuring Jessica Bailey, soprano; Heather Simmers, alto; Alex Wassom, tenor; Michael Thaxton, bass; and Christopher-Joel Carter IV, organ.
"The words of the Cantata, 'Rejoice in the Lamb,' are taken from a long poem of the same name," Loeppky explained. "The writer was Christopher Smart, an 18th-century poet, deeply religious, but of a strange and unbalanced mind. 'Rejoice in the Lamb' was written while Smart was in an asylum and is chaotic in form but contains many flashes of genius. It is a few of the finest passages that Benjamin Britten has chosen to set to music. The main theme of the poem, and that of the Cantata, is the worship of God, by all created beings and things, each in its own way."
The concert continues with "Jephte," by Giacomo Carissimi (1605-1674), featuring Amy Johnson, Gabrielle Fuqua, Lane Hardison, Hunter Mitchell and Dustin Bulman, Historicus; Tanner King, Jephte; Lacey Chaney, Filia; Chelsea Dobbins and Jessica Rikard, Echo; Macy Pruitt, bassoon; Daniel Jamieson, violoncello; Brent Barnes, bass; Karen Cantrell, organ; and Christopher-Joel Carter IV, harpsichord.
"Carissimi, while not the first composer of oratorio, is the first important composer of this genre, having composed fifteen in all," Loeppky noted. "Stylistically, they are very similar to the opera produced at the time, with two important differences: they were very rarely staged, and they made much more use of the chorus. The word oratorio takes its name from the 'oratory,' or prayer hall, where many of these cantata-length works were presented for religious instruction and edification. 'Jephte' is perhaps the finest and best example of an early oratorio we have. The story is a cautionary tale: Jephte, in return for victory over the Ammonites, makes a sacred vow to sacrifice the first thing he sees upon his return home, which happens to be his daughter."
The performance will conclude with "Alleluia," from Songs of Faith, by Paul Basler (1963- ), featuring Alexis Cote, horn; Lane Hardison and Tanner King, percussion; and Karen Cantrell, piano. Born in Milwaukee, Wisconsin, Basler was a 1993-1994 Fulbright Senior Lecturer in Music at Kenyatta University in Nairobi, Kenya, and is currently an associate professor of music at the University of Florida.
"Songs of Faith is a large, multi-movement work that explores and celebrates the American spirit," Loeppky remarked. "Written in the fall of 1998, as a 'sequel' to Basler's acclaimed Missa Kenya, each of the five movements was written for a different conductor and choral ensemble. All the movements explore and exploit Basler's love of rhythmic intricacy, and in particular, this setting of one word: Alleluia."
Under Loeppky's direction, the UNA Chamber Choir is an elite group of singers chosen out of the UNA Collegiate Singers. The ensemble is featured on and off campus at events such as the Alabama Renaissance Faire in Florence and on tour with the Collegiate Singers. In the spring of 2009, they had the privilege of representing the UNA Department of Music and Theatre on its first international tour to Italy. The group toured to Costa Rica in the spring of 2011 and Ireland in the spring of 2013 as part of UNA's Study Abroad program. They will travel again to Italy in May 2015.
Accompanied by Cantrell, the Chamber Choir includes Hannah Allen, Jessica Bailey, Lacey Chaney, Gabrielle Fuqua, Ana Sofia Garcia, Meredith Hamner, Lane Hardison, Breanna Henderson, Hannah Jacobs, Rachel Persall, Jessica Rikard and Jennifer Wooten, soprano; Teryn Bates, Chelsea Dobbinsln, Jaleesa Escott, Amy Johnson, Crystal Lyle, Rachel Miller, Alyssa Murphree, Natalie Poer, Heather Simmers and Krista Terry, alto; Dustin Bulman, Evan Hammond, Tanner King, Alex Wassom, Zeb Worlund and Joseph Wright, tenor; and Dederick Anderson, Ethan Franks, Joseph Howarth, Ethan Lolley, Matthew Megehee, Hunter Mitchell, Michael Thaxton and Patrick Yadao, bass.
Admission at the door is $7 for adults and $5 for seniors (65 and older) and military veterans. Students are admitted free with a valid I.D. For more information, contact the UNA Department of Music and Theatre at 256-765-5122 or visit http://www.una.edu/music-theatre/.