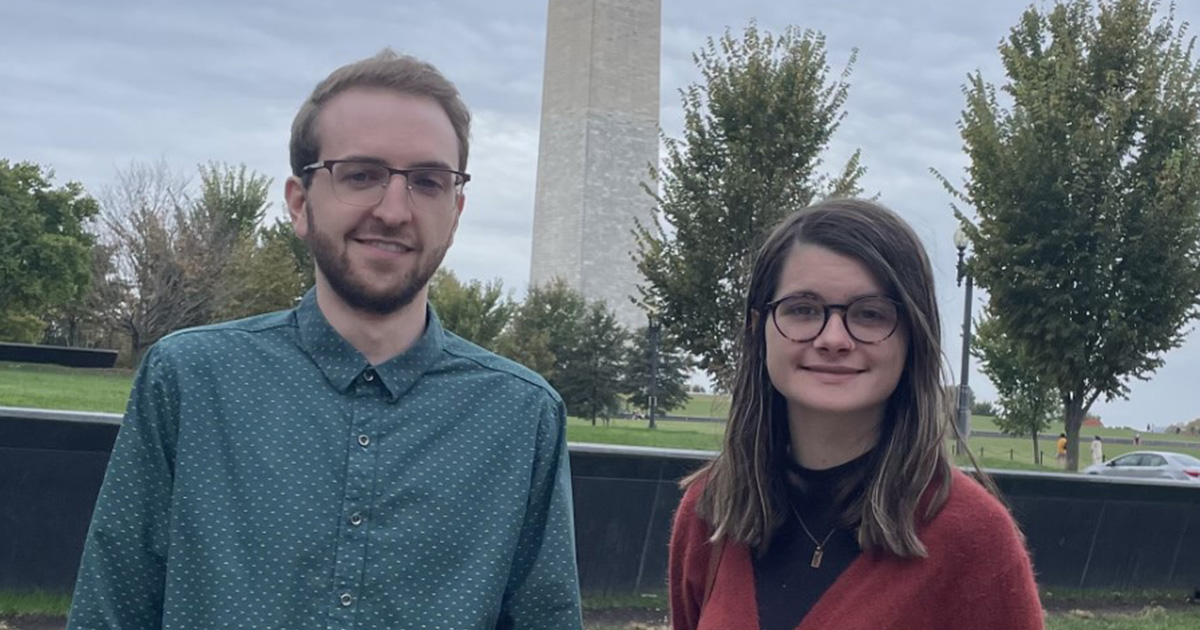 UNA Students, Faculty Participate in Inaugural Class of Scholars Transforming through Research Program
May. 19, 2023
Michelle R. Eubanks , UNA, at meubanks@una.edu, 256.765.4392
FLORENCE, AL – A team of researchers from the University of North Alabama were selected by the Undergraduate Research Council's inaugural Scholars Transforming through Research program. 
Dr. Cindy Stenger, of the UNA Math Department; Biology major Olivia Morris; and Luke Terwilliger, a Computer Science major took part in a six-month professional development program focused on honing tools for communicating their research to industry, educational, and political stakeholders. The training focused on written and oral communication skills, scientific research skills, and increasing their ability to work as a team with diverse backgrounds. Teams consisted of a faculty representative and one to two undergraduate students. 
"It was an honor to be chosen to be in the inaugural class of the Council on Undergraduate Research's Scholars Transforming through Research program," said Dr. Stenger. "We did not realize how valuable our six months of advocacy training would be in terms of learning to communicate about our research to different parties." 
As the faculty representative, Dr. Stenger attended the training, congressional office visits, and the Spring Showcase alongside Morris and Terwilliger. 
"The most inspiring part for me was hearing the student researchers advocate for their research to congressional offices, faculty from other universities, and the other two Alabama research teams from the University of Alabama at Birmingham and Auburn University," Dr. Stenger said. "It confirmed, once again, that UNA students are second-to-none." 
The work is in partnership with HudsonAlpha Institute for Biotechnology, or HAIB, which is a biotechnology institute in Huntsville whose mission is to conduct genomics-based research to improve human health and well-being, entrepreneurship, and provide educational outreach to future researchers and the public. Dr. Stenger serves on the HAIB Characterizing our DNA Exceptions (CODE) advisory board and is one of two university professors who have trained more than 50 new facilitators to use bioinformatics research with their students. Her bioinformatics work with CODE faculty has resulted in five professional publications. 
"Since 2018, we have worked with over 60 undergraduates in independent research, and five students have published their work in scholarly journals," Dr. Stenger said. "Students in the program learn to write and speak purposefully about their research. The skills they acquire will improve their impact in whatever career they choose."
Working with the CODE class since Fall 2021, Morris was able to conduct research and present her findings at national, regional, and local conferences, including the HudsonAlpha Symposium. 
The "undergraduate research experience and the STR advocacy training have pushed me to improve my skills and equipped me to help others achieve their research goals," she said, adding that the undergraduate research experience, in general, was a "transformative experience that awoke my curiosity about genetics and my respect for the scientific community. 
Morris worked in UNA's CODE lab where she assisted new students with project definition, homology modeling, and molecular dynamics simulation. 
"My participation in this research has developed both my technical and personal character," she said. 
She will intern this summer in the Sara Cooper lab as part of the HudsonAlpha BioTrain Internship program. BioTrain is part of HudsonAlpha's outreach program in which 25-30 students work in different laboratories. Morris will be the Cancer Genomics Intern, and she will be assisting with a project that looks at genomics data as it relates to breast cancer. 
Terwilliger said his research as part of the CODE program provided him with professional growth and career opportunities, including a job at Parsons in the Integrated Threat Analysis and Simulation Environment creating simulations and modeling for defense systems.
His research has involved the impact of genetic variants on Alzheimer's disease, and he has presented at the Alabama Academy of Science and the HudsonAlpha Symposium. Terwilliger was also been awarded a prestigious BioTrain internship at HAIB, which he served in Summer 2022. 
"Working in Dr. Greg Cooper's lab, I was able to combine my background in biology and computer science to develop software to enhance the lab's tool for the analysis of genetic variant algorithms," he said. "In the Fall of 2022, I worked in UNA's CODE lab to assist students as they began their research journey."
About The University of North Alabama
The University of North Alabama is an accredited, comprehensive regional state university offering credential, certificate, baccalaureate, master's, and doctoral programs in the colleges of Arts, Sciences, and Engineering; Business and Technology; Education and Human Sciences; and the Anderson College of Nursing and Health Professions. The first-choice University for more than 10,000 on-campus and online students, UNA is on a bucolic campus in Florence, Alabama, part of the historic and vibrant Shoals region. Lions Athletics, a renowned collegiate athletics program with seven (7) Division II National Championships, is now a proud member of the NCAA Division I's ASUN Conference. The University of North Alabama is an equal opportunity institution and does not discriminate in the admission policy on the basis of race, color, sex, religion, disability, age, or national origin. For more: www.una.edu and www.una.edu/unaworks/