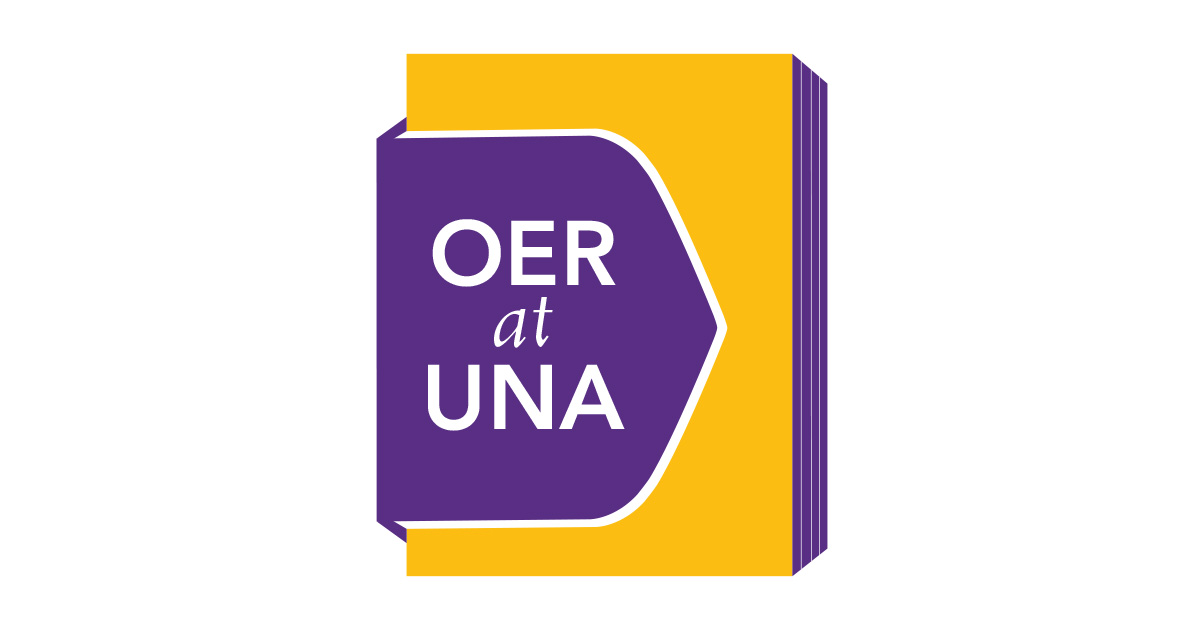 Open Education Resources a Boon for UNA Faculty, Students
Jun. 02, 2022
Michelle R. Eubanks , UNA, at meubanks@una.edu, 256.765.4392
Open Education Resources, a textbook affordability initiative at the University of North Alabama, is celebrating its second anniversary and, in that short time, it has exceeded expectations for cost savings to students. Further, OER has been integrated into more than half of all academic programs at the institution.
"The University is committed to pedagogical innovation and cost savings for students, and the OER Initiative accomplishes both," said Dr. Ross Alexander, Provost and Executive Vice President for Academic Affairs. "I am beyond pleased that we have exceeded the aggressive OER integration and cost-savings goals established in our 'Roaring with Excellence' Strategic Plan." 
Launched in May of 2020, the goal of the initiative is to keep the cost of course materials – textbooks, lab manuals, modules, etc. – under $50 for students with professors who have adopted or adapted their courses to OER. As a result of faculty shifting to Open Education Resources, almost $600,000 has been saved in the two years the initiative has been in use. To date, the initiative has also funded almost 40 projects from 30 faculty members across 15 programs.
OER was created to replace traditional high-cost textbooks and course materials. Faculty may apply for funding that will be awarded to those who are pursuing innovative uses of course materials that will help reduce the burden of textbook expenses to UNA students.
"The Provost's OER grant program at UNA has opened another path for supporting faculty who are working to help students," said John McGee, Executive Director of Educational Technology Services. "Incorporating the discussion of OER in our online course development process has increased faculty awareness of OER and added another opportunity for course improvement."
Before the 2020 launch, however, University officials were looking at ways to lower textbook costs through the textbook affordability initiative.
"While progressing through that program, it was obvious that the next step was publishing books from authors at UNA," said University Librarian Derek Malone. "We excitedly launched the Digital Press at Collier Library in Spring 2022 with three works that will be textbook replacements for our students. We already have more than double that number awaiting publication. We are excited to contribute to the enormous savings our students will enjoy in the future, freeing their money up for other necessities.
The two books published that are now on the Open Textbook Network are Music Theory by Dr. Charles B. Brooks, an assistant professor in the Department of Entertainment Industry; and German 101 by Dr. Rebecca Linam, an adjunct instructor in the Department of Foreign Languages. The development of these titles was funded through the OER program.
The cost of textbooks has risen more than 1,000 percent since 1977, and students who participated in an on-campus survey indicated that they were paying as much as $650 for a single textbook. As a result, more than 60 percent of students were opting out of purchasing required textbooks or course materials. With the climbing costs, students were foregoing other necessities, such as rent, travel, and food, in order to afford course materials. And it indicated clear inequity, according to OER Librarian Jennifer Pate.
"Textbook equity in terms of cost, accessibility, and representation are a crucial component of student success," she said. "UNA is committed to the development and promotion of OER as a way to continue supporting our students."
In addition to OER, UNA provides other initiatives to assist students in obtaining course materials, including course reserves, ebooks, and access to strategic journal and database purchases. Special badges have been created so that students see them indicated on course syllabi. Courses are also indicated as low-cost or no-cost as they register for classes.
About The University of North Alabama
The University of North Alabama is an accredited, comprehensive regional state university offering credential, certificate, baccalaureate, master's, and doctoral programs in the colleges of Arts, Sciences, and Engineering; Business and Technology; Education and Human Sciences; and the Anderson College of Nursing and Health Professions. The first-choice University for more than 10,000 on-campus and online students, UNA is on a bucolic campus in Florence, Alabama, part of the historic and vibrant Shoals region. Lions Athletics, a renowned collegiate athletics program with seven (7) Division II National Championships, is now a proud member of the NCAA Division I's ASUN Conference. The University of North Alabama is an equal opportunity institution and does not discriminate in the admission policy on the basis of race, color, sex, religion, disability, age, or national origin. For more: www.una.edu and www.una.edu/unaworks/