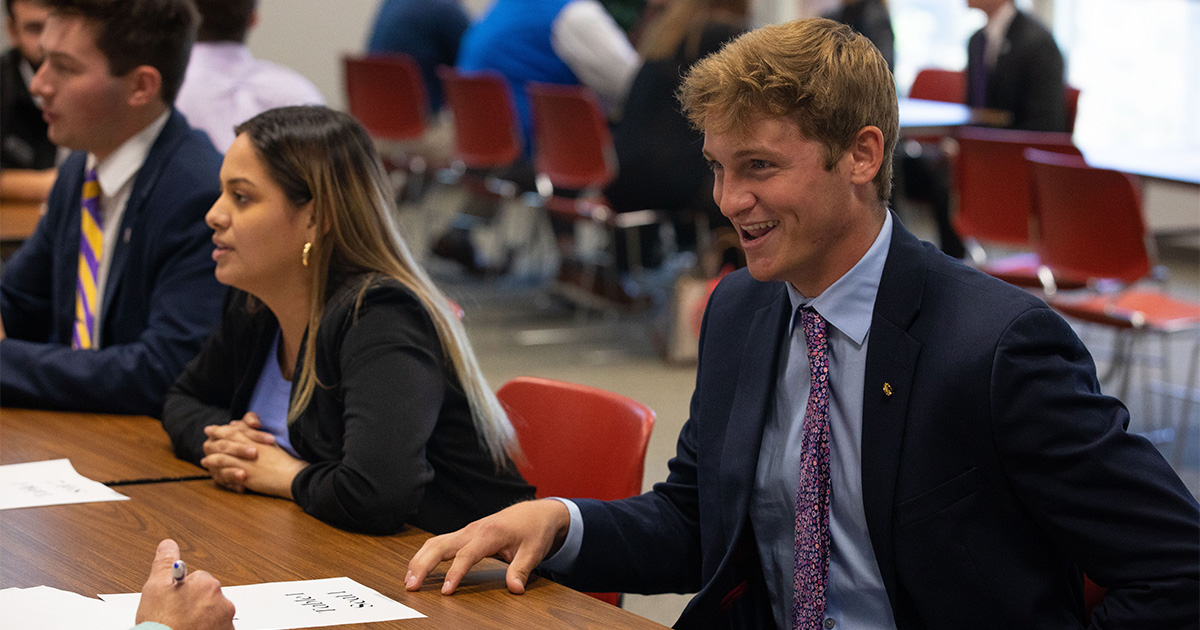 Student: Cole Honors College provides pathways for success
Jan. 31, 2023
Caroline Conkle , at cconkle@una.edu
First in a series.  
The University of North Alabama is home to the Delores and Weldon Cole Honors College. Its mission is to provide students with a great college experience that translates into postgraduate success. The College is full of many students with different majors, backgrounds, and aspirations.
As a student in the Cole Honors College myself, I am writing a series of student profiles on other students in the College and how their time at UNA and as an Honors student is preparing them for future success. 
Colby Johnson is a junior majoring in business marketing with a concentration in sales and a minor in Spanish. He is from Marietta, Ga., and is a member of the Alpha Tau Omega Fraternity, the Steele Center Sales Team, and, of course, the Cole Honors College.
Q: Why did you choose to come to UNA?
A: I came to UNA because both my sister and father came here. Growing up, I heard great things about this school, and by, my junior year in high school, had a very serious interest in attending.
Q: If you were to give your younger self advice about coming to college, what would you say?
A: I would tell my younger self not to worry so much about what lies ahead. High schools seem to have a habit of making college sound terrifying, with loads of daunting assignments and frustrating professors. One of the charms of this great school is that everyone here genuinely cares and is here to help. Tough assignments are alleviated with questions and gaining an understanding of what you are working on. You can ask those questions to professors and get answers within fifteen minutes. I had questions answered at 11:30 p.m. when the deadline was in thirty minutes. The faculty has personal relationships with their students and are able to really assist each student with their needs. So my advice is to relax.
Q: What drew you to the Cole Honors College? Why did you want to join?
A: My sister was already in the (Cole) Honors College when I applied, so beforehand I was able to hear all about the benefits. I wanted to join because it offered scholarships, and it is a tremendous thing to have on a resume.
Q: If you were to encourage someone to join the Honors College, what would you say?
A: Here is my pitch for the Honors College: The Honors College is great to have on a resume, sure, but doing something just to add it to a resume is the wrong motivation. What you receive from the Honors College is a community. You get free breakfasts, lunches, dinners, and other socials, surrounded by like-minded people and great mentors. It introduces you to tons of people who are both fun and driven, and when coming to a new school, meeting new people is more than half the battle. So many resources become available to you. For example, my personal favorite is priority class registration. Before registration even opens, honors students are allowed to register. So if you are on the fence about joining the Honors College, go for it.
Q: How do you feel UNA is preparing you for success?
A: I honestly can't say enough about the unique experiences UNA has offered me in my two and a half years here. UNA has sparked me to do things like start my own business,and travel the country competing in competitions for our Sanders College of Business and Technology. Last semester alone, I met more employers than I've probably ever interacted with in my life. UNA is so good about allowing students to get involved with everything. The classes are perfectly sized, and that allows professors to ensure I have a solid understanding of what is being taught. I love this university, and although I may feel prepared to enter the real world, that doesn't mean I am ready to. I've got my whole life to work, and I intend on enjoying my last year and a half here. Roar Lions!
About The University of North Alabama
The University of North Alabama is an accredited, comprehensive regional state university offering credential, certificate, baccalaureate, master's, and doctoral programs in the colleges of Arts, Sciences, and Engineering; Business and Technology; Education and Human Sciences; and the Anderson College of Nursing and Health Professions. The first-choice University for more than 10,000 on-campus and online students, UNA is on a bucolic campus in Florence, Alabama, part of the historic and vibrant Shoals region. Lions Athletics, a renowned collegiate athletics program with seven (7) Division II National Championships, is now a proud member of the NCAA Division I's ASUN Conference. The University of North Alabama is an equal opportunity institution and does not discriminate in the admission policy on the basis of race, color, sex, religion, disability, age, or national origin. For more: www.una.edu and www.una.edu/unaworks/