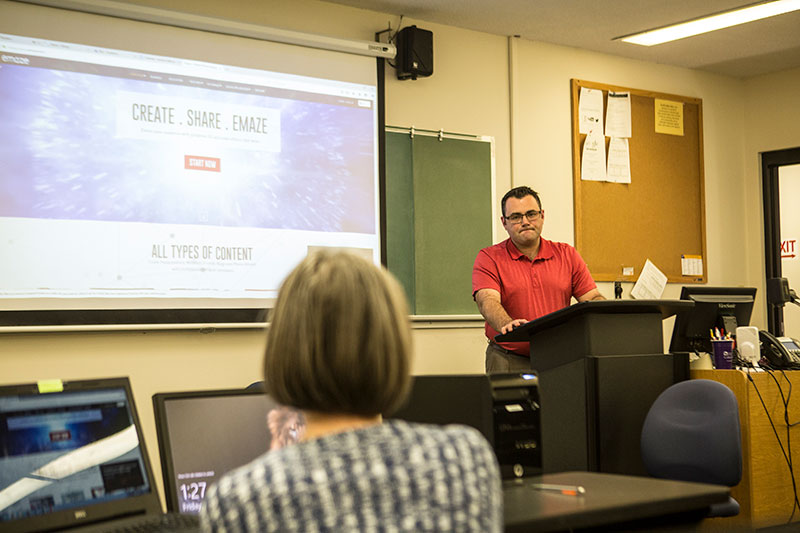 Collier Library Staff To Present At Charleston Conference
Sep. 29, 2021
Ellen McDonald , at media@una.edu
FLORENCE, AL - A presentation submitted by Derek Malone, the University Librarian at the University of North Alabama, was accepted to the Charleston Conference, an annual gathering of librarians, publishers, and resources in Charleston, S.C.
During the presentation, Malone will be coordinating with the staff of Lean Library, a browser extension that can help remedy the lack of awareness of the services available through sharing subscription resources or helping find alternative resources for poor information discoveries. The presentation will also include where UNA is within the process of implementing Lean Library into its practices and what has been learned thus far.
The goal for the partnership with Lean Library is to increase the awareness of resources among researchers. UNA has a number of subscription resources about which students, faculty, and staff may be unaware. Through this partnership, Malone said he hopes to remedy that and improve usage of those resources.
"The really cool idea behind (implementing Lean Library services) is embedding the academic library in everyday life," he said. "Our resources don't solely benefit research inquiries. They're beneficial far beyond that."
UNA has been working with Lean Library for almost two years. Moving forward, there are ideas to increase usage and adoption of the browser extension, thus increasing awareness of library and information services resources to all of its users.
"We are excited about this partnership as it brings visibility and recognition to the state-of-the-art work being done by faculty and staff at the Collier Library and Information Sciences of the University of North Alabama," said Dr. Joy Borah, the Senior Vice Provost for Academic Affairs. "Additionally, the digitization of processes will enhance access and availability of resources offered by the library to faculty, staff, and students at little or no cost, thereby promoting resource utilization and patron engagement."
In addition to Lean Library, Malone will also be partnering with individuals from Harvard, Ex Libris, a cloud-based solution to help institution improve library impact, and EBSCO Information Services, which provides services and products to libraries around the world.
The Charleston Conference is set for Nov. 1-5, with virtual and in-person sessions.
About Charleston Conference
Begun in 1980, the Charleston Conference is an informal annual gathering of librarians, publishers, electronic resource managers, consultants, and vendors of library materials in Charleston, S.C., in November in order to discuss issues of importance to them all. It is designed to be a collegial gathering of individuals from different area who discuss the same issues in a non-threatening, friendly, and highly informal environment.
About Lean Library
Founded in late 2016, Lean Library is a technology company that delivers a new class of library services, brining library resources and support directly to the patron's workflow. Its mission is to help students and researchers get to the resources they need in the quickest and easiest way possible, while still maintaining their privacy and security.
About Ex Libris
Ex Libris is a cloud-based application that serves librarians, researchers, students, and instructors. Its goal is to assist in strengthening the strategic role in academic activity with libraries to maximize the value of libraries' collections and services.
About EBSCO Information Services
EBSCO is the leading provider of research databases, e-journals, magazine subscriptions, e- books, and discovery service of libraries of all kinds. For more than 70 years, EBSCO has partnered with libraries to improve research with quality content and technology.