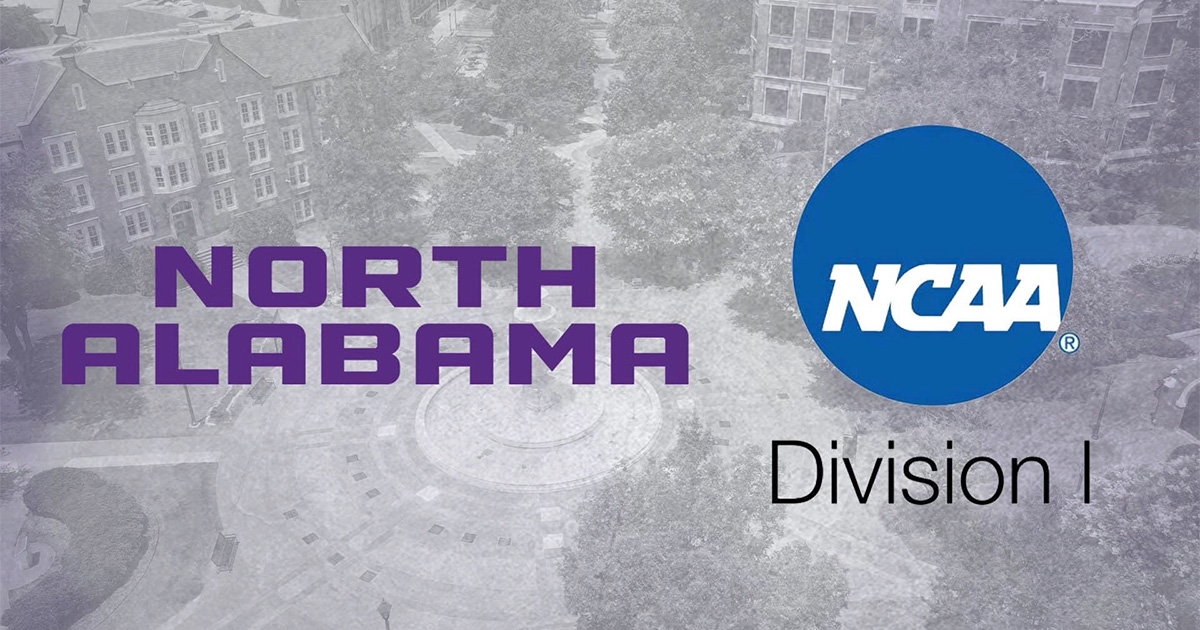 University of North Alabama Receives Full NCAA Division I Status
Aug. 03, 2022
Michelle R. Eubanks , UNA, at meubanks@una.edu, 256.765.4392
INDIANAPOLIS, Ind. -- The University of North Alabama has been notified by the NCAA Division I Board of Directors that it has successfully completed all reclassification requirements and has been elected to active Division I status effective with the 2022-23 academic year. The Board's action concludes North Alabama's four-year reclassification period from NCAA Division II to NCAA Division I and officially grants the University access to Division I membership benefits, including full NCAA post-season eligibility beginning this fall.
"It is with great pride that we acknowledge the final action by the NCAA to grant full and active Division I status to the University of North Alabama," said UNA President Dr. Ken Kitts. "Our Athletics staff, along with many members of the campus community, from faculty to staff to students, have participated in helping realize this very important goal. Being Division I is the natural next step in the University's growth and evolution as the first-choice institution for students across the region and the globe, and I am confident that our student-athletes will compete strongly on this national stage." 
UNA's Board of Trustees voted on December 6, 2016, to accept an invitation from the ASUN Conference and begin the transition to an NCAA Division I institution in the Fall of 2018. 
With the move, no Lion teams have been eligible to compete in any NCAA post-season events for the last four years. North Alabama student-athletes, however, have continued to be successful during the transition, claiming numerous conference, regional and national awards. That success includes five Division I Academic All-America selections, as well as two team appearances in ASUN Conference Championship games.  
The University has also continued its upward trajectory, with enrollment climbing more than 24 percent since 2018. Currently the fastest growing four-year institution in the state of Alabama, UNA also recently became a doctoral-granting institution.
In addition, beginning this fall, all 14 of North Alabama's athletic teams will be competing together in the ASUN Conference for the first time.
"This is an energizing and transformative time to be part of the University of North Alabama," said UNA director of athletics Dr. Josh Looney. "Exceeding NCAA reclassification standards is among the most demanding multi-year processes an institution can undertake with its athletic department. This accomplishment reflects a true team effort with numerous campus and community leaders contributing to this historic moment. We are especially grateful to the student-athletes who competed during the transition and want to thank our fans and alumni for their support during this process. Growth is present throughout the University of North Alabama and Lion Athletics is ready to Raise the Roar!" 
ASUN Conference Commissioner Ted Gumbart shared his excitement about the announcement from the NCAA. 
"Today we celebrate with the entire UNA community! From the first internal consideration of moving to Division I, through the challenges to gain a conference invitation, to the public announcement of joining the ASUN, there were many contributors to the move. Then came four years of meeting goals, NCAA Division I standards and ASUN competition," Gumbart said. "As with the graduation of our student-athletes, having the Lions move into active NCAA I membership is both a great conclusion and a wonderful new beginning. Congratulations to President Kitts, the UNA Board and all the faculty, staff, coaches, administrators and students who took part in this journey. Congratulations!"
The four-year transition process involved numerous individuals across the North Alabama campus, with Dr. Eric Kirkman, Director of Kilby Laboratory School, serving as the chair of the Transition Committee.
"The transition process to Division I status has truly been a labor of love, and a journey that was well-worth the trip," Kirkman said.  "It was also an honor to work with such an amazing group of faculty and staff serving on the transition team over the last four years. We as a transition team and University community all learned so much about the inner workings of the NCAA, and how this transition will not only enhance our sports programs, but the academic programs of our institution as well. It is only fitting that we are now offering Doctoral programs with more programs soon to be added. This transition helps to solidify our presence in the region as a viable option for a high-quality post-secondary and graduate-level education. With our expanded competition base, our athletic teams can also leave footprints across this country as they compete in regions where we did not before. Thanks to the great leadership in our athletics programs and our University, UNA is on the move, and this transition is just one example of that!"
Members of UNA's Division I Transition team:
Dr. Eric Kirkman (Chair)  -  Director of Kilby Laboratory School
Dr. Kimberly Greenway - Vice President Student-Affairs (now retired)
Ms. Margaritta Jones - Graduate Business Admissions Specialist/Senior Recruiter
Ms Shery Kennemer - Senior Associate Athletic Director – Student Success
Dr. Mark Lawrence - Professor Accounting
Dr. Ansley Quiros - Associate Professor of History
Ms. Christa Raney - Senior Lecturer - English
Dr. Jillian Stupiansky - Mathematics (former)
Mr. Evan Thornton - Vice President - CFO
Mr. Todd Vardaman - Senior Associate Athletic Director for Administration
Dr. Molly Mathis - Director Institutional Research
About The University of North Alabama
The University of North Alabama is an accredited, comprehensive regional state university offering credential, certificate, baccalaureate, master's, and doctoral programs in the colleges of Arts, Sciences, and Engineering; Business and Technology; Education and Human Sciences; and the Anderson College of Nursing and Health Professions. The first-choice University for more than 10,000 on-campus and online students, UNA is on a bucolic campus in Florence, Alabama, part of the historic and vibrant Shoals region. Lions Athletics, a renowned collegiate athletics program with seven (7) Division II National Championships, is now a proud member of the NCAA Division I's ASUN Conference. The University of North Alabama is an equal opportunity institution and does not discriminate in the admission policy on the basis of race, color, sex, religion, disability, age, or national origin. For more: www.una.edu and www.una.edu/unaworks/