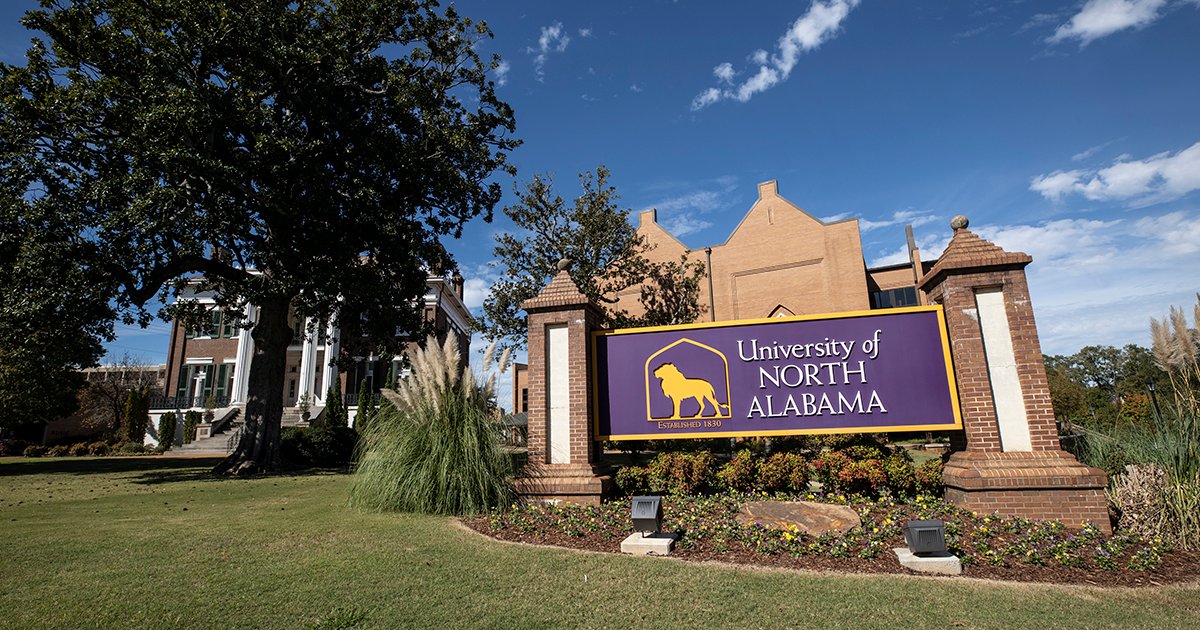 Una Sophomore Selected For Prestigious Summer Institute
Jun. 09, 2020
Michelle Eubanks, UNA, at media@una.edu, 256.765.4392 or 256.606.2033
CONTACT: Michelle Eubanks, UNA, at meubanks@una.edu, 256-606-2033 or 256-765-4392 Jan. 9, 2020
FLORENCE, AL - University of North Alabama Sophomore Rebecca Harris is UNA's first student to be selected to participate in a Summer Institute Program funded by the United Kingdom's Fulbright Commission. Considered one of the most selective summer scholarship opportunities in the world, students apply to conduct research at prestigious universities throughout the UK. Harris has been chosen to attend an institute at Aberystwyth University in Wales, which focuses on farming and agricultural issues.
"Agriculture has always been part of my life and interests, and I wanted to have a better understanding of it," she said. "I have grown up taking care of chickens, tending a garden, and growing produce. Because of where I live, I'm able to see what farmers succeed and struggle with. Aberystwyth has a very close connection with its local farmers, and it is this connection that drew me in to the institute. Aberystwyth was offering both the hands-on experiences similar to what I have had but also including the more scientific side of agriculture that can benefit their farming community."
Harris, a member of UNA's Honors College with a major in Outdoor Recreation Management and a minor in Professional Writing grew up on a farm in Cullman.
While at Aberystwyth, Harris will be placed at the Institute of Biological, Environmental, and Rural Sciences where she will work on current issues related to faming and agriculture, such as climate change, sustainability, conservation, food insecurity, and biorefining. The institute partners with the National Plant Phenomics Centre and the BEACON Centre of Excellence for Biorefining and is dedicated to improving the science of farming and working with the local farming community.
Dr. Matthew Price, Director of the Office of Premier National and International Awards, said it's hard to overstate how competitive the UK Summer Institute scholarships are.
"UK Summer Institutes are famous for their competitiveness," he said. "The UK Commission accepts almost 900 applications, and, sometimes, an institute can choose as few as four participants. Cohort sizes are small so that the recipients have a once-in-a-lifetime experience
early in their career, but that means the chances of receiving the award are between one and two percent."
Harris applied in February and was short-listed for an interview in early May, which, initially, was problematic. As a resident on a farm in rural Cullman, wifi is unpredictable at best.
"I live in a very rural area," she said. "When Dr. Price and I were prepping for the interview, we had several Zoom sessions, and I would cut out every two minutes. Staying at home for the interview really wouldn't have been a viable option."
Instead of staying home, Rebecca and her mother traveled to Florence in order to conduct the interview without complications.
"I will always look back at Rebecca's decision to drive to Florence for a 15-minute interview as the moment she won the scholarship," Dr. Price said. "That amount of dedication tells you everything about her determination and ability to create solutions."
The goal of the summer institutes is to identify those students who show promise in the areas of leadership, academics, and global engagement. Harris said she hopes her time at Aberystwyth will give her the tools she needs to tackle the issues facing our farms and natural resources.
"In the future, I want to work at a National Park, striving to understand and preserve our environment," she said. "This experience would lay the foundational work for what I want to do in the future with my career."
Because of the global challenges related to the COVID-19 pandemic, Harris will have to wait until 2021 to travel to Wales, but winning the scholarship has capped off, what is for her, a great start at UNA.
"I have only been at UNA for the past year, but I have had such fantastic support from all the professors and faculty here," she said. "I realized that the people here at UNA really, truly want you to succeed. It's not just their job; it is their passion to help students."
About The University of North Alabama
The University of North Alabama is an accredited, comprehensive regional state university offering undergraduate and graduate degree programs through the colleges of Arts and Sciences, Business, Education and Human Sciences, and the Anderson College of Nursing and Health Professions. Occupying a 130-acre campus in a residential section of Florence, Alabama, UNA is located within a four-city area that also includes Muscle Shoals, Sheffield, and Tuscumbia. UNA Athletics, a renowned collegiate athletics program with seven (7) Division II National
Championships, is now a proud member of the NCAA Division I's ASUN Big South Conference. The University of North Alabama is an equal opportunity institution and does not discriminate in the admission policy on the basis of race, color, sex, religion, disability, age, or national origin. For more: www.una.edu and www.una.edu/unaworks/