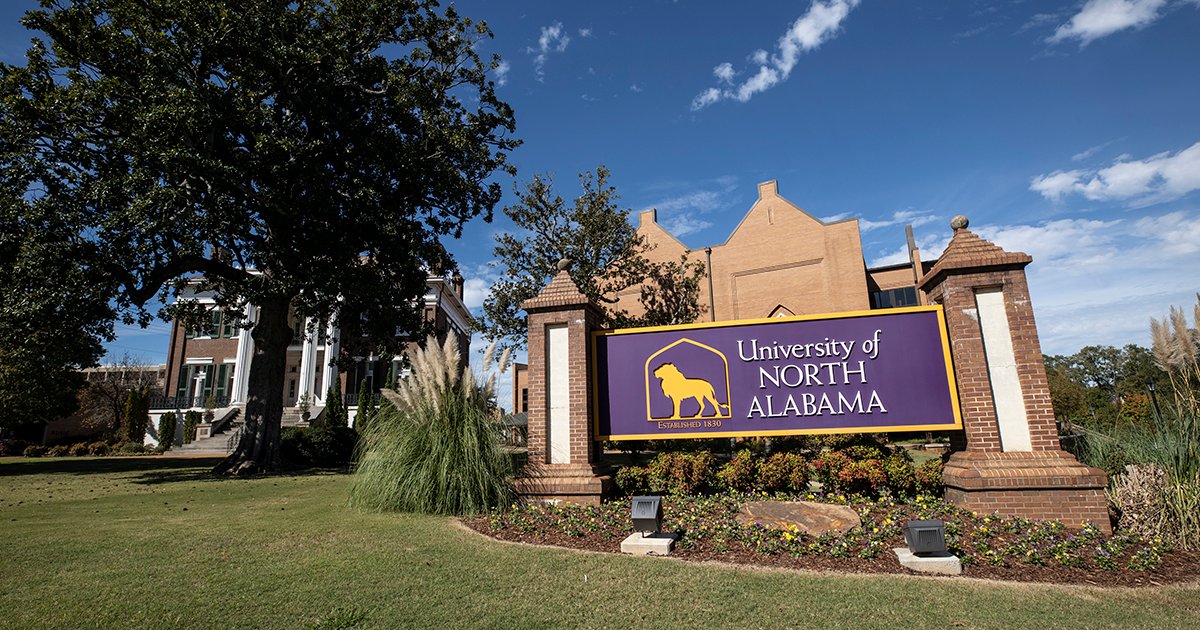 Una Pride Of Dixie Band, Drum Line Earn Highest Honors At Prestigious National Competitions
Nov. 19, 2013
Michelle Eubanks, UNA, at media@una.edu, 256.765.4392 or 256.606.2033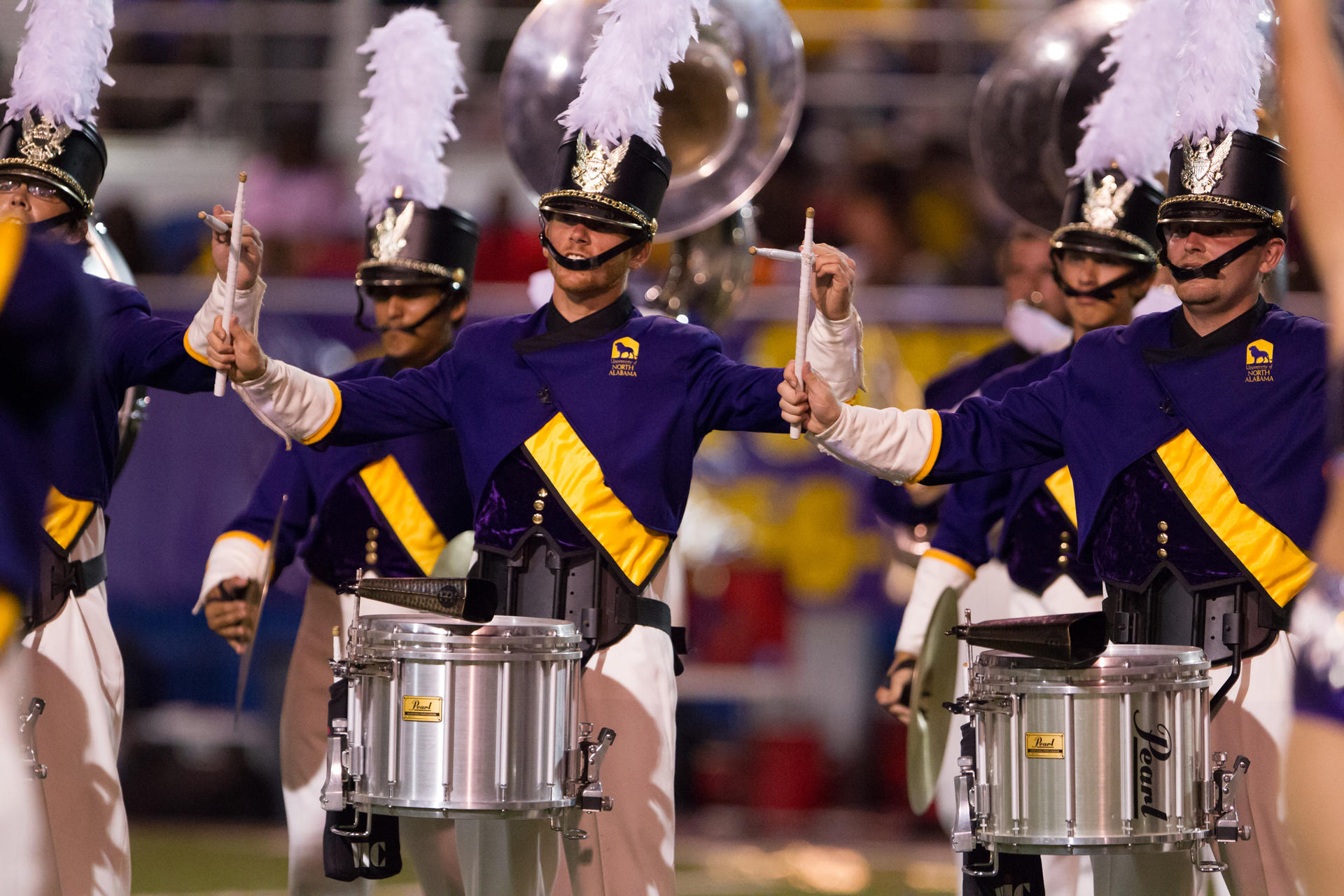 By Terry Pace,Communications and Marketing
FLORENCE, Ala. - The University of North Alabama's nationally renowned Pride of Dixie Band program earned highest accolades and honors - including a championship trophy for its outstanding drum line - during performances last week at the Bands of America Grand National Championships and the Percussive Arts Society International Conference (PASIC) in Indianapolis, Indiana.
"It was an extremely successful two days of performances by UNA band students at two of the most prestigious band-related events in the United States," according to Dr. Lloyd Jones, UNA's director of bands. "Not only did these valuable opportunities serve to greatly enhance the awareness and reputation of UNA on a national level, but I am confident that this experience will serve to create opportunities for other performances as well as recruitment."
The UNA Drum Line was one of only three collegiate drum lines invited to perform in exhibition at the PASIC conference, which took place on Friday, Nov. 15, at the Indianapolis Conference Center. In addition to presenting a clinic for the conference, the Pride of Dixie percussion players - under the direction of Dr. Iain Moyer, UNA's assistant director of bands - participated in PASIC's thunderous premier event, the Drum Line Battle. UNA defeated Indiana University in the first round of the head-to-head competition before eliminating the University of Michigan in round two. In the final round, UNA defeated Lamar University to earn the drum-line championship at the world's largest gathering of percussionists.
"I think two of the critical factors that separated the UNA Drum Line from its competition were their virtuosity and their performance energy," Moyer observed. "Not only was the material they were playing some of the most demanding and difficult material a College Drum Line might attempt, but it was also delivered with an visceral authenticity when it came to emoting what the music was trying to convey to its audience and competitors."
The percussion players were supported and cheered on at the drum-line battle by an enthusiastic UNA entourage made up of their fellow student musicians from the Pride of Dixie Band, along with parents, alumni and friends. The drum-line competition also included the University of Cincinnati, Tennessee State University, Ball State University and other top-tier percussion programs from across the country.
"I believe an honor like this one, first and foremost, draws a large amount of attention to our regional university in percussive circles," Moyer explained. "When a performing group from a university like ours comes into direct competition with some of the largest academic institutions in the country - and not only competes toe-to-toe" with them, but actually wins a musical competition - it says something about the quality of work the students at UNA are doing.Secondly, I hope that each of the students involved in this year's ensemble will appreciate the award they received, but also know that it signals to future generations of UNA musicians a clear sign that excellent work is being done in the band program and music department at UNA."
A day before the PASIC conference, the entire 220-member Pride of Dixie Band Marching Band delivered what Jones calls "an inspired performance" at the Bands of America Championships at Lucas Oil Stadium - home of the NFL Indianapolis Colts - on Thursday, Nov. 14. UNA was one of only four collegiate marching bands invited to perform at the event, sponsored by Music for All and the Yahama Corporation.
"The president and CEO of Music for All, Eric Martin, found me after the show and said, 'We must get this band to perform on a Friday or Saturday evening next year! That was amazing,' " Jones recalled. "Later, Iain Moyer and I paid a visit to the Yamaha suite and found the same sentiment from the corporate representatives."
The Pride of Dixie Band and Drum Line have been preparing for last week's trip to Indiana and their high-profile, back-to-back showcase performances throughout the summer and fall. Jones believes UNA will reap a number of immediate as well as long-term benefits from the players' hard work, countless hours of rehearsal and their tireless dedication to excellence in their musical performances.
"This was truly a once-in-lifetime opportunity for our students and our band program," Jones concluded. "It validates the incredible job our students have done through the years as Pride of Dixie performers. Simply receiving an invitation to perform at either of these events is recognition that our program is one of the most highly regarded in the United States. Additionally, having both events take place in the same town on the same weekend is somewhat of a perfect storm. Performances such as these will help raise the visibility and awareness of UNA in a competitive collegiate atmosphere."
A high-resolution copy of this photo is available for media use on the UNA Gallery at:http://www.unalionsden.com/archive/photo.php?id=9050