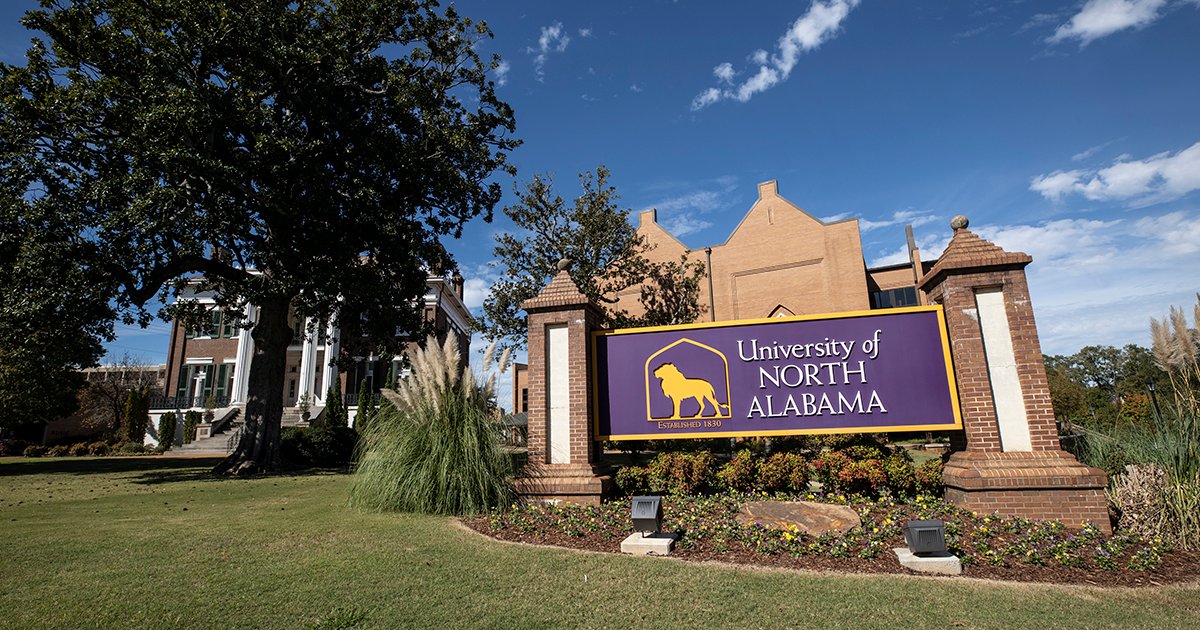 Una Bands Announce New Members
May. 27, 2009
Michelle Eubanks, UNA, at media@una.edu, 256.765.4392 or 256.606.2033
FLORENCE, Ala. - The University of North Alabama bands program announces new members for the 2009-10 academic year. New members include:
ALBERTVILLE - Meagan Blackburn, Color Guard ANDERSON - Lacey Leann Smith, Color Guard ATHENS - Nicole Angeline, clarinet BLOUNTSVILLE - Victoria Vaughn, Lionette CULLMAN - Norma Mills, Lionette DANVILLE - Christina Shelton, Majorette; Betsy Grace Thompson, Lionette DECATUR - Cassie Alexander, Color Guard; Tierra Ayers, Lionette; Annabel Barboza; Whitney Garrett, Color Guard; Derek Keener, French horn DOUBLE SPRINGS - Candi Baker; Heather Steele, Color Guard; Jessica Bailey, Color Guard ELKMONT - Trey Powers, trumpet FALKVILLE - Crystal Carver, flute; Jade Tarpley, head Majorette FLORENCE - Kayla Allison, Color Guard; Roxanne Bowles, Lionette; Elizabeth Brewer, Lionette; Tosha-Paige Brewer, head Lionette; Jessica Carpenter; Sarah Jo Clark, Lionette; Emily Darby, Majorette; Donnyelle C. Horn, Color Guard; Tiffany Jones, Lionette; Brittany Jordan, Majorette; Amber Lindsey, Color Guard; Meagan Malone, Majorette; April McCrory, Color Guard; Courtney Petty, Lionette GOODSPRING - Jordan Amerson, Lionette HAMILTON - Lauren Brooke Cochran, Lionette HANCEVILLE - Dustin Varner, trumpet HARTSELLE - Doug A. Teuscher, contra bass clarinet and tenor drums; Hayden Grove, Majorette; Chase Fowler, trumpet HOOVER - Griffin Hood, snare drum IUKA, Miss. - Erica Russell, clarinet JASPER - Jonathon Clark, percussion KILLEN - Linzee Crunk, Lionette; Tara Smith, Majorette; Michelle Trotti, Color Guard; Lauren White, Majorette LACEY'S SPRING - April Nicole Hall, trumpet LEXINGTON - Catie Bryan, Majorette LORETTO, Tenn. - Jessica Renea Kerstiens, Lionette MADISON - Brooke Brown, Lionette; Becca Courtney, Lionette; Maddie Wade, clarinet MOULTON - Donialle Killen, Lionette MONTEVALLO - Aly Smotherman, Lionette MUSCLE SCHOALS - Megan Farris; Ryley Hatley, Lionette; Lindsey Lee Pate, Majorette; Kayla Pickle, Color Guard; Anna Seal, Majorette; Meagan Thomas, Lionette PANAMA CITY, Fla. - Brian Jay, trumpet PELL CITY - Meggin Major, Lionette PULASKI, Tenn. - Brittney Swafford RUSSELLVILLE - Anna Sullivan, Majorette SHEFFIELD - Cassie McDaniel, Lionette SULLIGENT - Jordan Roberts, Lionette TONEY - Cody Lyman, French horn; Will Blair, baritone TRINITY - Ariel Bolton, Color Guard; Haley Stephenson, Majorette; Breken Terry, Lionette TRUSSVILLE - Malorie Popwell, Lionette TUSCUMBIA - Brittney Bullion, Lionette; Drew Mills, euphonium; Jessica M. Robinette, Color Guard; Will Riley, tenor drums WILSONVILLE - Whitney Sandlin, Lionette The nationally known UNA band program includes seven bands: the Pride of Dixie Marching Band, the Symphonic Band, the Jazz Combo, the Percussion Ensemble, the UNA Pep Band, the Studio Jazz Band and the Wind Symphony. The program also includes the UNA Majorettes, the Lionettes dance-line and Color Guard. For more information on the UNA band program, contact band director Lloyd Jones at 256-765-4362 or lejones@una.edu.
PHOTOS AVAILABLE: For photos of any of the new UNA band members, contact the Office of University Communications at 256-765-4225 or jlwoods1@una.edu.
About The University of North Alabama
The University of North Alabama is an accredited, comprehensive regional state university offering credential, certificate, baccalaureate, master's, and doctoral programs in the colleges of Arts, Sciences, and Engineering; Business and Technology; Education and Human Sciences; and the Anderson College of Nursing and Health Professions. The first-choice University for more than 10,000 on-campus and online students, UNA is on a bucolic campus in Florence, Alabama, part of the historic and vibrant Shoals region. Lions Athletics, a renowned collegiate athletics program with seven (7) Division II National Championships, is now a proud member of the NCAA Division I's ASUN Conference. The University of North Alabama is an equal opportunity institution and does not discriminate in the admission policy on the basis of race, color, sex, religion, disability, age, or national origin. For more: www.una.edu and www.una.edu/unaworks/