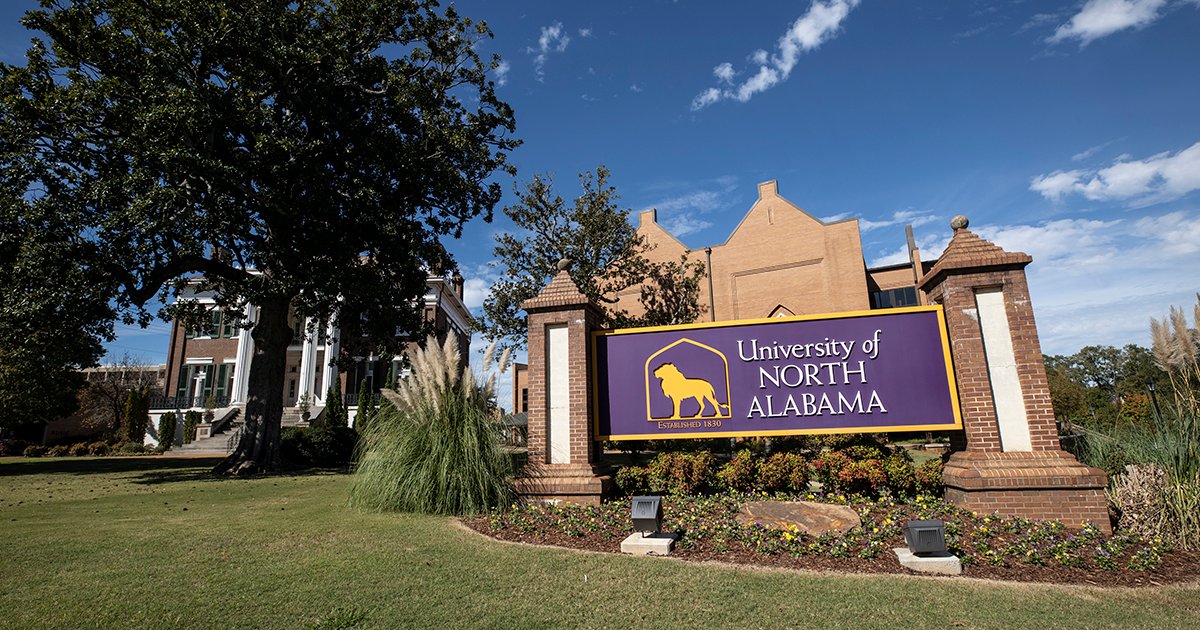 Una Freshman Forum Preparing For Upcoming School Year
Aug. 04, 2017
Michelle Eubanks, UNA, at media@una.edu, 256.765.4392 or 256.606.2033
Dominic Summerhill
Student Writer, University Communications
FLORENCE, Ala. -Colleges and Universities are usually always encouraging their young freshmen to get involved, and the University of North Alabama is no different.
With that in mind, the UNA Student Government Association offers freshmen a chance to serve their classmates as a member of the Freshman Forum. A branch of the SGA organization, Freshmen Forum serves as an entry-level position for many students looking to get their feet wet before jumping in.
Jonathan Barnett and Trent Trammel will serve as the 2017-2018 Freshman Forum advisors.
Barnett said that 40 freshmen are selected to serve. During their term, they are tasked with handling issues and planning events directed specifically to the freshman class. In years past, Freshman Forum has planned events such as: social mixers, service projects in the nursing home and animal shelter, leadership conferences, Halloween contests and more.
"Freshman Forum provides opportunities for the freshmen to learn and grow as leaders. So we're developing some of UNA's future leaders and also giving the freshmen a voice to speak up on topics that they may be experiencing," Barnett said.
Trammel said the process of being selected to serve is very competitive because there are only 40 spots that represent the entire freshman class.
"It can be competitive. We can only accept 40 students. Some years we may have 100 apply and others we may have more than that," Trammel said.
SGA President Hugo Dante said that one could argue Freshman Forum is just as important as the other branches of SGA since many student leaders on campus have come through the organization.
"Some of the greatest leaders in student government and at UNA come through Freshman Forum," Dante said.
Trammel said that the advisors are looking for students with potential to serve on the branch this year.
"As this is probably one of the first major leadership roles in college that they get, they may not already have the skills that they need to prosper," Trammel said. "We, as advisors, try and bring out potential qualities that will both help them succeed as individuals and the Freshman Forum succeed as a branch."
Barnett said he wants to pass the knowledge and experiences that he has had at UNA to the Freshman Forum so they can benefit from it
"I want to be sure that I can hand down knowledge and wisdom that was handed down to me by my own advisors and from my own experiences in the hope that it will benefit others for years to come," Barnett said.
Dante said that being a part of Freshman Forum is an experience like no other, which he said all freshmen should apply to be a part of.
"Overall, Freshman Forum is the best opportunity to serve as a leader in the freshman class and at UNA from the moment you step foot on campus," Dante said. "You serve alongside some of the best young leaders on campus and are given the resources and ability to make real change."
Barnett said the experience is something he'll never forget about his time at UNA.
"Now, as I'm approaching my last year in my undergraduate career, I realize being on Freshman Forum was worth it," Barnett said. "If I could round up the 40 or so people that I went through it with for a second go around, I would in a heartbeat."
Applications are available until Aug. 25 at Noon.
For more information visit:https://orgsync.com/38472/forms/261849
UNIVERSITY OF NORTH ALABAMA
The University of North Alabama is an accredited, comprehensive regional state university offering undergraduate and graduate degree programsthrough the colleges of Arts and Sciences, Business,Education and Human Sciences, and the Anderson College of Nursing.Occupying a 130-acre campus in a residential section of Florence, Alabama, UNA is located within a four-city area that also includes Tuscumbia, Sheffield and Muscle Shoals. UNA also operates arenownedcollegiate athletic program in NCAA Division II's Gulf South Conference.The University of North Alabama is an equal opportunity institution and does not discriminate in the admission policy on the basis of race, color, sex, religion, disability, age or national origin.