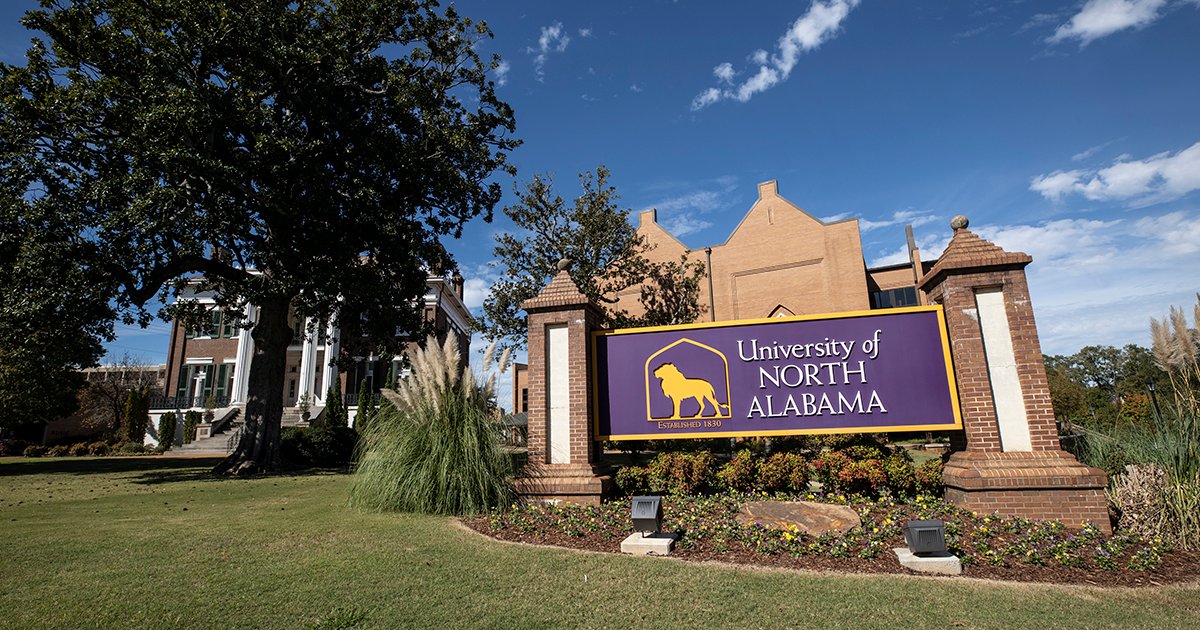 Waters Brings Years Of Graphic Design Experience Into Each Class He Teaches At Una.
Oct. 08, 2014
Michelle Eubanks, UNA, at media@una.edu, 256.765.4392 or 256.606.2033
By Bryan Rachal, Public Affairs and Media Relations
FLORENCE, Ala. - John Waters can quickly tell you his favorite and least favorite fonts; that's what decades in the graphic design business will do to you. You know what works; and for Waters it's Italian Garamond, and most definitely not Comic Sans.
What Waters was a little hesitant to discuss is all the accolades he's received for his graphic design. For example, he was selected by the readers of "Graphic Design USA" as one of the 50 most influential graphic designers of the past 50 years. That's quite the achievement; and now, Waters has brought that expertise to the University of North Alabama.
Waters is currently serving as a visiting associate professor of art at UNA, specifically in the area of graphic design. UNA is interesting choice for a person like Waters who said he considers himself a native New Yorker, but after spending eight years as a professor and chair of graphic design at the Savanah College of Art and Design in Georgia, Waters understands, like so many of us, that once you get a taste of the South, it's hard to leave.
Waters began his career by studying graphic design at Virginia Commonwealth University. Upon graduation he decided he would pursue his dreams in the Big Apple. New York had always been appealing to him and being young and impetuous, that's the first place he headed to find a job.
"So I went up to New York and I had one job for six months, and I said, geez, I think I can do this better myself. I was young and stupid and had no idea what I was doing, so I started freelancing and turned that into a business; and that's what I did for the next 25 years."
It wasn't just some business, though. Waters Design and Associates, Inc., grew to 55 full-time employees by 2003 and was an award-winning firm with clients such as American Express, IBM, The Ohio Arts Council and countless others. Waters said the firm worked to provide their clients with brand strategy, marketing plans and communication programs. That's also one way that graphic design differs from other careers in the art world, he said.
"We do some advertising, but mostly branding. It has to do with branding and marketing. Sometimes it's advertising, but sometimes it's developing a way of finding system, a sign system for like an airport. You know somebody has to do all that signage; that's a graphic designer. Today, it encompasses so many things: print design, web design, experience design and information design, which is a very big area now. So it's a broad field."
Waters said that while an abundance of artistic skills will certainly help a person become a good graphic designer, fundamental to graphic design is probably typography, because type is involved in almost all visual communications.
At the same time Waters was operating his business, he also began teaching as an adjunct professor. It started with the Pratt Institute and then he added the School of Visual Arts - Syracuse University would follow later. As the years passed, Waters perfected his craft in the boardroom and in the classroom until Sept. 11, 2001.
"9/11 was when I shut my business down; well, it was right after that but it was all caused by 9/11. I had moved my office down to lower Manhattan, so we were literally right across the street from the Twin Towers. So we were blown out of our office and I spent the next eight months trying to figure out what to do."
Waters said that kind of changed his life. After dealing with insurance companies and the city, he'd finally had enough and he closed his business. But he had to figure out what to do next, so he wrote a book and helped his wife with her work, among other endeavors. Waters said he knew he didn't want to start another business, so he decided to turn his passion for teaching into his new career.
Shortly after, Waters was offered a position at the Savanah School of Art and Design, a far cry from the bustling streets of NYC. "At the time I thought I was probably losing my mind. I mean I'd been in New York all my life, now I'm going to some small town in the South I don't even know. This is nuts!" Waters told himself he'd do it for a year; but as many of us often do, he changed his mind and fell in love with the environment, the people, and even more so, with teaching.
The years quickly passed and one year soon stretched to eight. Waters said he taught everything in the graphic design curriculum at SCAD and eventually became chair of the department. Once he became chair though, Waters said his time in the classroom dwindled and his administrative work increased.
"Being chair was good but after three years of it, I really felt like I wanted to get back in the classroom. Being chair there you just couldn't really teach." So Waters ended up back in the classroom for another three years.
But, as is the case with many things, Waters said he felt like it was the right time to move on. He began looking into other schools and the University of North Alabama was kind of like the bowl of porridge from Goldilocks and the Three Bears: Not too big, not too small and a heavy emphasis on the integration of fines arts and commercial arts (the bears were artists too, maybe?).
"I've always been an artist outside of my business, I've done collage work and sculptures, and I was finding that harder and harder to do. This is why this school in particular appealed to me," he said.
Waters had never been to Florence or spent any time in Alabama, but he said, "I'd never spent any time in Savanah, Georgia, before either and it worked out there!" He was brought in for an interview; he met the staff and the rest is history.
Waters will be teaching an advanced digital media course which will work with motion graphics and kinetic typography. He's also teaching some intro to design courses as well. His favorite part about UNA so far: The students! Well that is until they start using Comic Sans!