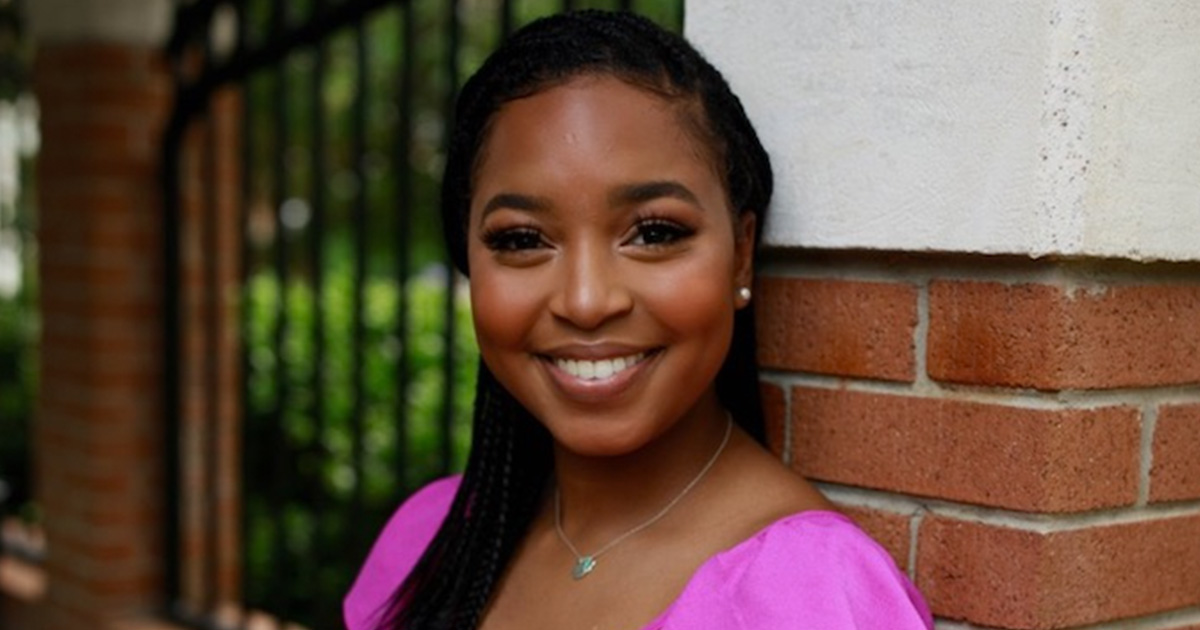 Cole Honors College, UNA were where she was destined to be
Feb. 24, 2023
Caroline Conkle , at cconkle@una.edu
Second in a series.
The University of North Alabama is home to the Delores and Weldon Cole Honors College. Its mission is to provide students with a great college experience that translates into postgraduate success. The College is full of a variety of students with different majors, backgrounds, and aspirations. 
As a student in the Cole Honors College myself, I am writing a series of student profiles on other students in the College and how their time at UNA and as an Honors student are preparing them for future success. 
Makenzie McGuire is a Junior Level 2 nursing student. She is originally from Nashville, Tenn., but for the past three years has lived in the Shoals.
Q: Why did you choose to come to UNA?
A: My UNA story is very "raw and uncut." UNA was originally not my first choice when it came to higher education. I was actually looking at another Alabama school, but their scholarship offers, and overall campus effect left me uninspired and distraught about my life's next steps. I then came to UNA's admitted student's day. This was my second time on campus, where I reconnected with my admissions counselor, Mrs. Kim Mauldin. Mrs. Kim not only remembered me by name but made it a point to advocate for me and encourage me to pursue a variety of scholarship opportunities and campus involvement activities. I took this encounter as a sign that UNA was where I was destined to be, and I have loved every moment since.
Q: If you were to give your younger self advice about coming to college, what would you say?
A: I would tell my younger self to write your own story. Coming into college I was inundated with stories of going to late-night parties, struggling to make it to 8 a.m. classes, and finding your best friend in your dormitory. However, entering into college in the middle of the pandemic turned these stories inside out and backward. Social distancing and isolation forced me to examine what my true values were, set goals to attain my dreams, and find ways to bring myself joy. Your story does not have to look like, sound like, or even feel like what you imagine others' to be.
Q: What drew you to the Honors College? Why did you want to join?
A: The Honors community and support system drew me to the College. In March of 2020, my high school was destroyed by a tornado. The story made local and national news, and my school had started a fundraising campaign to collect donations for rebuilding. Out of all the universities I had applied to, only one representative reached out to me. That representative was Dr. Vince Brewton, Dean of the UNA Honors College. Dean Brewton offered his thoughts for the destruction that had occurred and offered to utilize any resources the Honor College could contribute. Seeing such a distinct form of support and advocacy made me want to be a part of an organization where I knew I could receive constant encouragement, insight, and direction.
Q: If you were to encourage someone to join the Honors College, what would you say?
A: I would tell you to apply without a shadow of a doubt. As a former member of the LaGrange Society, anybody who toured with me will tell you we always stopped and had a conversation with Dean Brewton. The Honors College is a hub of support and resources that are there to help you become successful. The pizza parties, free printing, and breakfast club meetings are all an added bonus.
Q: How do you feel UNA is preparing you for success?
A: UNA has given me numerous opportunities to grow both personally and professionally. Personally, UNA has allowed me to grow more as a leader. I have been involved in a number of on-campus organizations centered around leadership, such as Freshman Forum, SOAR, and the LaGrange Society. I have also been a part of organizations that have prepared me for professionalism both in my career and in life in general. Two of the organizations are the Student Nursing Association and the Presidential Mentors Academy. UNA offers an environment where students are not only encouraged to succeed but are given all the tools necessary to make success their reality.
About The University of North Alabama
The University of North Alabama is an accredited, comprehensive regional state university offering credential, certificate, baccalaureate, master's, and doctoral programs in the colleges of Arts, Sciences, and Engineering; Business and Technology; Education and Human Sciences; and the Anderson College of Nursing and Health Professions. The first-choice University for more than 10,000 on-campus and online students, UNA is on a bucolic campus in Florence, Alabama, part of the historic and vibrant Shoals region. Lions Athletics, a renowned collegiate athletics program with seven (7) Division II National Championships, is now a proud member of the NCAA Division I's ASUN Conference. The University of North Alabama is an equal opportunity institution and does not discriminate in the admission policy on the basis of race, color, sex, religion, disability, age, or national origin. For more: www.una.edu and www.una.edu/unaworks/