Percussion Faculty
Dr. Tracy Wiggins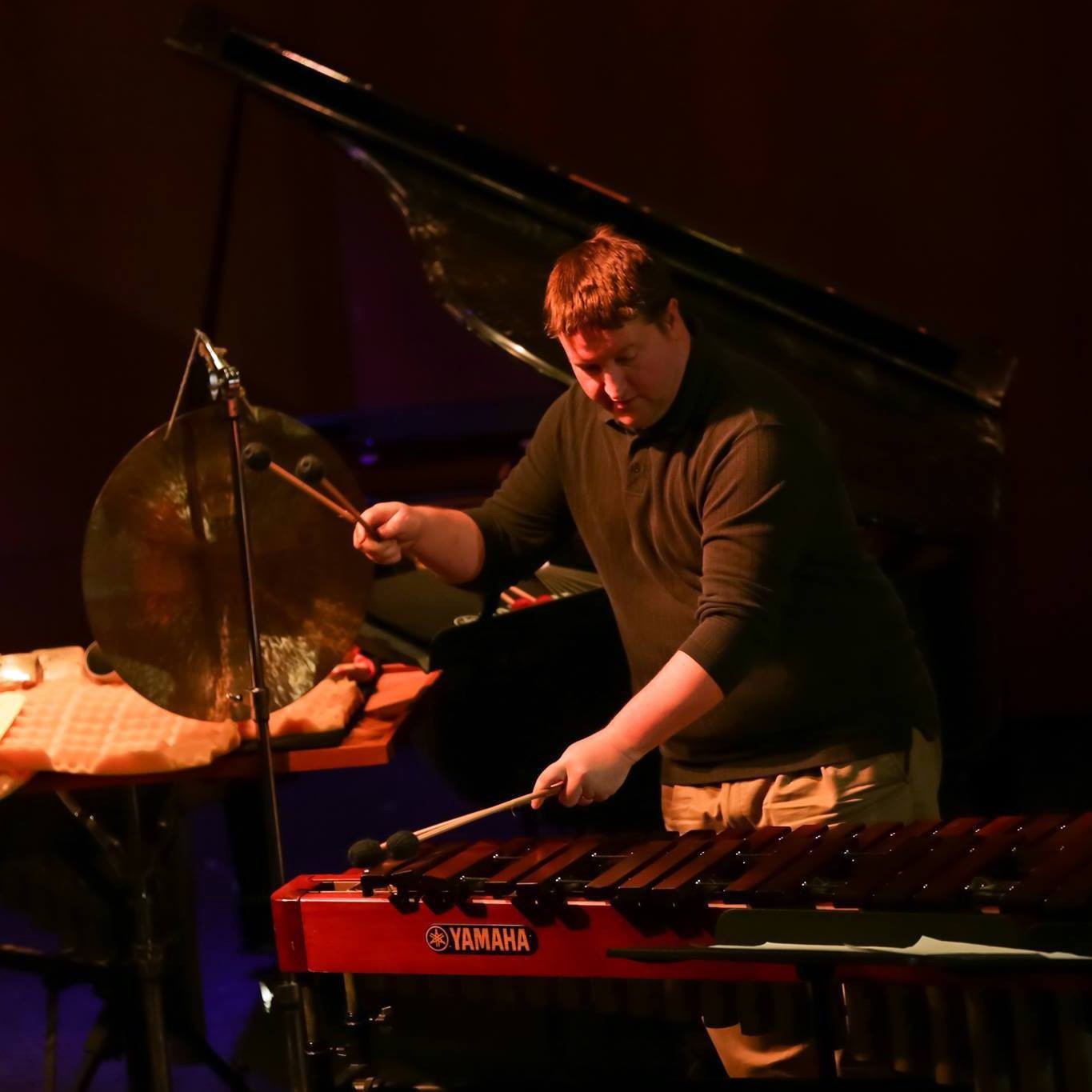 Tracy Wiggins is assistant director of bands and coordinator of the percussion program at The University of North Alabama.  He has a Doctor of Musical Arts degree from the HARTT School, University of Hartford. Dr. Wiggins holds a Masters Degree in Percussion Performance from the University of New Mexico and a Bachelors Degree in Music Education from Oklahoma State University.
He has performed with The Huntsville Symphony, The Fayetteville Symphony Orchestra, Florence Symphony Orchestra, Carolina Philharmonic and as principal percussionist for the Santa Fe Symphony; marching percussion with the Freelancers and Black Gold Drum and Bugle Corps, as well as instructing the DCI Division III World Championship finalist Delta Brigade and the Northern Aurora Drum and Bugle Corps, and DCA Finalist Carolina Gold; and solo appearances at universities throughout the United States and Jordan. He has presented clinics at The Midwest Clinic, The Percussive Arts Society International Convention, The National Conference on Percussion Pedagogy and at numerous State Days of Percussion and Music Conferences. He is also an active adjudicator for marching percussion throughout the southeast.
His teachers have included Johnny Almendra, Tricia Bovenschen, Wayne Bovenschen, Michael Bump, Joe Galeota, Ralph Hardimon, Gregg Koyle, Alexander Lepak, Christopher Shultis, Ben Toth, Glen Velez and Nancy Zeltsman. Tracy has also performed on masterclasses for Evelyn Glennie, Nebojsa Zivkovic and Robert Van Sice.  Dr. Wiggins has premiered works by composers David Macbride, Thomas DeLio, Daniel Davis, Adam Groh and others.
 He is an artist/endorser for Yamaha Percussion, Black Swamp Percussion, Innovative Percussion. Remo Drum Heads and Percussion, Beetle Percussion and Sabian Cymbals. 
Dr. Yun Ju Pan
Yun Ju Pan, born in Taiwan, has been featured as a solo and chamber musician in concerts across the globe, including the United States, Taiwan, Japan, China, and Australia.
 Yun Ju Pan is a multiple award-winning musician. She is the First prizewinner in the 2016 Australia Marimba Competition and the Third prizewinner in the PASIC 2013 Vibraphone Solo Competition. She is also the first competitor to win both the First prize and Audience's Favorite at the same time in the White Lake Solo Competition in 2014. She is also the winner of Michigan State University 2014-2015 school year Concerto Competition and the First Prize winner and the Judges' Special Award of the 2015 Taiwan International Percussion Championship. In 2016, she won Second prize in the Brownsville Marimba Competition, First Prize of all three categories of Taiwan International Percussion Championship (Marimba, Vibraphone, and Chamber Ensemble.)
 As an active performer, Yun Ju Pan has held many percussion recitals and performed with different professional music groups including Ju Percussion Group, Shock Brass band, and the Taiwan Wind Ensemble. She is also the foreman and principal of P PLAY Percussion Group. Since 2008, when the P PLAY Percussion Group was formed, Yun Ju Pan has directed five concerts. She has also worked with several musicians and artists in the past few years, such as Gordon Stout, Gwen Dease, arx duo, Andrew Thomson, The New Morse Code Duo, Naoko Takada, Tomoko Taki, and Dr. Ming-Hui Kuo. Yun Ju Pan has performed in several music festivals, such as 2013 and 2017 Percussive Art Society International Conference, 2015 Florida Marimba Festival, 2014 to 2017 MSU Michigan Day of Percussion, 2016 Australia Percussion Gala concert, 2017 and 2018 Downriver Day of Percussion, and the 2017 Indiana Percussion Associate Clinic Day. 
 As an educator, Yun Ju Pan has led masterclasses at Michigan State University, SooChow University, Ball State University, University of North Alabama, Ohio University, University of Central Florida, University of South Florida, Stetson University, Bowling Green University, Taiwan Yun Percussion Academy, and Macau Modern Musician Society. Additionally, she has worked with many middle and high school ensembles around Michigan. She has also co-conducted classes for a wide range of students for Ju Percussion Group's Taipei International Percussion Summer Camp with Kai Stansggard, Pete Locket, Momoko Kamiya, Sergio Bellotti, and Paschal Younge from 2014 to 2018. She has a studio of private students and teaching experience for solo performance, percussion ensemble, concert band, and elementary music. Yun Ju Pan is currently responsible for coaching percussion chamber ensembles and teaching private percussion lessons to undergraduate students at Michigan State University.
 As a composer, Yun Ju Pan shows her passion for connecting western and eastern musical art. She has composed several pieces that require multi culture art forms, such as western percussion instruments and Chinese opera. Yun Ju Pan is also devoting herself to arrange music for percussion ensembles in diverse styles ranging from Bach and Bartok, to rock n' roll and pop music. Her recent transcription of Bela Bartok's String Quartet No.5 was awarded the Dissertation Completion Award from Michigan State University in 2016.
Yun Ju Pan holds a Doctoral of Music Arts degree from Michigan State University, a Master of Percussion Performance degree from Ithaca College, and a Bachelor of Performance Music Art degree from SoocChow University (Taiwan.) She has been the Director of Administrative Secretaries at The Taiwan Percussion Arts Alliance since the summer of 2018, and she is substituting for the percussion professor Gwendolyn Dease at Michigan State University for the duration of her maternity leave in the fall of 2018.
Her first debut percussion album "Of Love and Loss: Songs From and For the Heart" was released in Taiwan and the United State in 2018. It was commented as "one of the most important CD in recent year" by marimba legend Gordon Stout. Yun Ju Pan is proudly sponsored by Vic Firth Sticks and Mallets and REMO Drumheads.
Please visit yunjupan.com for more information on Yun Ju Pan.
Mr. Mark Katsaounis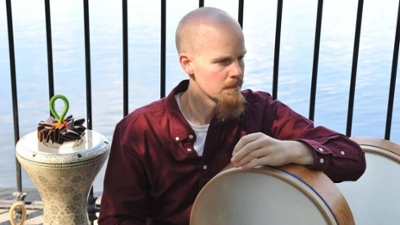 Genre-bending Percussionist/Composer Mark Katsaounis fuses his background in classical, chamber, world, and popular music to move effortlessly between many of New York City's unique and exotic musical scenes. His performance credits include Percussion Group/Cincinnati, Ethos Percussion Group, The Glen Velez Ensemble, Orchestra of St. Luke's, Limbs Percussion Duo, Sheba Ensemble, Indian Dancer/Storyteller Rajika Puri, and Rhythm Vocalist Lori Cotler. Mark was the featured solo percussionist for McCarter Theatre's production of Antony and Cleopatra, directed by Emily Mann. Additional theater credits include the Broadway production of Tuck Everlasting and puppeteer Basil Twist's Off Broadway production, Sisters' Follies. Mark has been heard on live television and radio broadcasts in the U.S and Mexico. As a composer, Mark has written for dance and independent film and was commissioned to create a work for the Dance Department at Frank Sinatra School for the Arts in New York City. He is on the faculty at Hunter College (CUNY) and Concordia Conservatory and is a modern dance accompanist for dance classes at Marymount Manhattan College, The Ailey School, The Neighborhood Playhouse, and American Ballet Theatre.  
Mr. William Johnson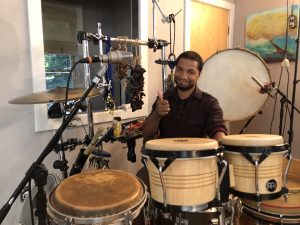 William was born in Waukegan, Illinois and raised in Southern California. He has been writing songs and performing for over twenty five years. In 2009 William started a percussion instruction podcast that grew to reach thousands across the globe and released his first solo project Freedom… Joybeat. Joybeat is a percussion featured meditation album. Since then he has recorded on nearly two dozen albums, participated on multiple music projects including three solo albums, and produced music with television credits on stations such as TLC, Univision, Discovery, Telemundo, The Travel Channel and more. .
Johnson founded the yearly worship event Heartbeat for Worship, which ran from 2007-2013. The Heartbeat for Worship included a production of seven drummers playing simultaneously with a host of other musicians performing a fusion of music influences from around the world. The Heartbeat for Worship grew a large international audience attracting tens of thousands of unique visitors to it's website. In 2012 William collaborated with Bonham Cajon to design and release a Heartbeat signature Cajon model. 
In October of 2011 William released his sophomore album Flor de Vida, a Latin jazz fusion project. Flor de Vida is a spirit and rhythm filled album combining the strength of Grammy award winning musicians along with several internationally accomplished musicians from all over the world. Flor de Vida was featured and reviewed on the three most popular Latin Jazz websites, played on radio stations in five different countries and multiple States within the U.S.
Sacred Roots, William's third album was released in August of 2014 and received positive press and radio play in the US, South America, and Europe. Sacred Roots was on the 2014 Grammy Ballot as an alternative album. William continues to release music singles on all digital platforms and currently working on a new album scheduled for release in 2021.
Having spent nearly eight years in the Air Force, William traveled extensively across the globe and developed a love for diverse forms of music. Drawing upon his Latin heritage, and being inspired by such musicians as Sheila E., he began to study the congas and bongos. This later developed into a passion for a number of other cultural styles. William has shared the stage with and recorded with award winning and renowned musicians from around the world including Gospel music legend Dorothy Norwood, Ben Tankard, Luis Conte, Alberto Salas (Andre Crouch, Carlos Santana), Eric Lige, Vahagn Stepanyan, Eric Moore ii, Aaron Spears, Josh Baldwin, Ramon Stagnaro (David Foster, Randy Jackson, Celine Dion) , Latin Grammy winning Children's music artist Mister G , KJ Scriven, Melvin Lee Davis (Chaka Khan), Darwin Hobbs, Morris Mingo, Tavarius 'Varo' Johnson, J. David Bratton, Kenneth 'Kaybass' Diggs, Scott Coats, Brazilian drummer CS Cleverson, Giles Blankenship, Marvin Winans, Don Potter, Stephen Roach, Phil Routszong, Frank Fluker, Tony Murnahan, Suzy Yarai, Michael Parlett, Josh Davis, Nikki Lerner, and many more. He has also recorded on projects mixed and mastered by talented engineers such as Alex Anders (Glee, Descendents, Captain Underpants), Andy Merril (Adele, Lady Gaga), Glen Tabor (Grammy and Dove award winning engineer), Alen Konakoğlu (Top Turkish engineer/producer including: 'Gökçe, Melvin Lee Davis).   
William Johnson holds an M.A. in ethnomusicology from Liberty University and a bachelors in history  from Fayetteville State University. William continues to perform, instruct classes, private lessons, clinics and master classes on college campuses, music stores, schools, and online from his personal studio. Johnson also runs two Youtube channels with nearly one million views. Currently William Johnson endorses Bonham Cajons, and Saluda Cymbals.