UNA Invitational Honor Band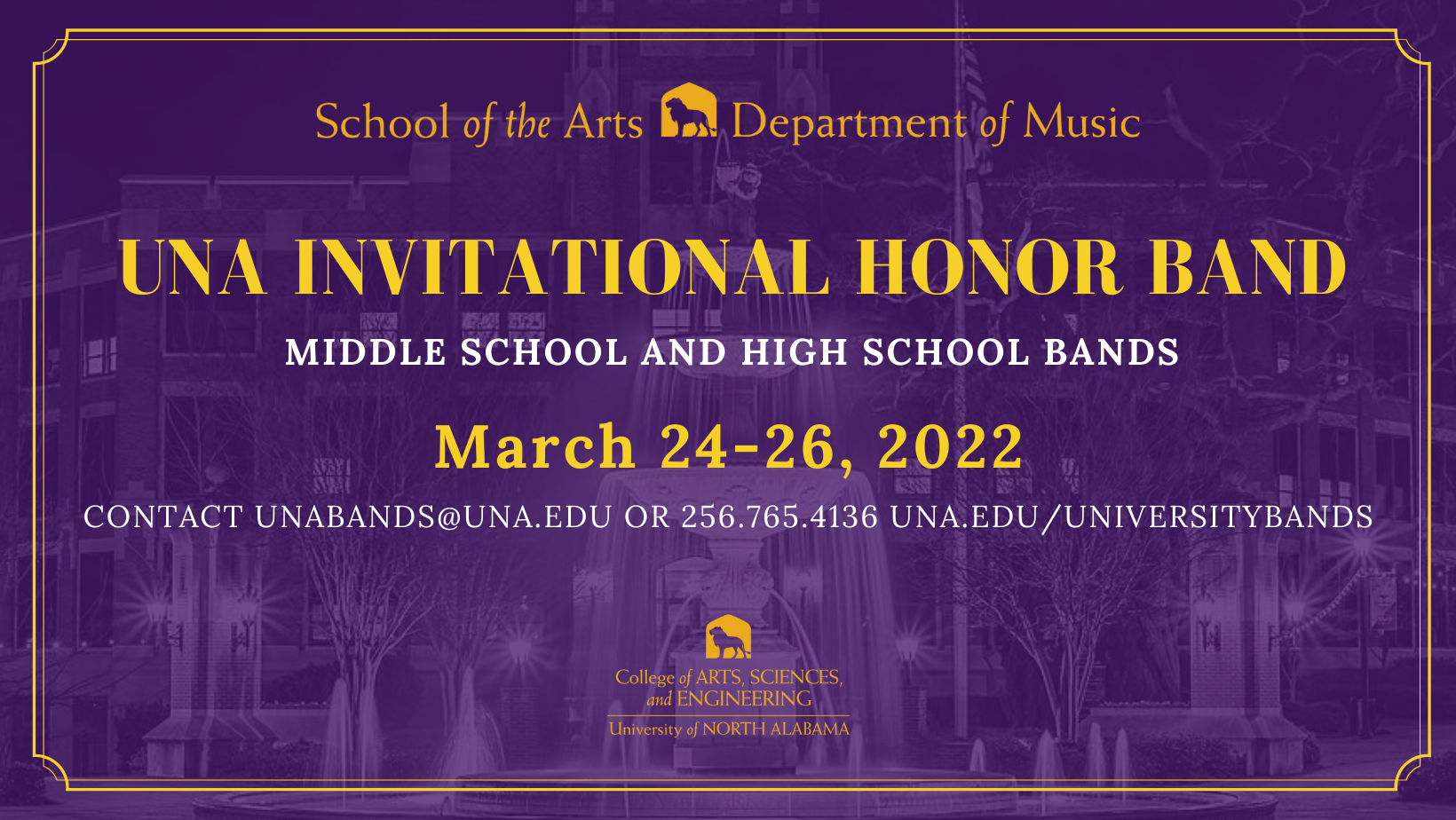 GENERAL INFORMATION
SELECTION PROCEDURES:
Students and Parents:
All forms should be turned into your band director, so that they can complete the evaluation portion of the form.
Directors:
Feel free to duplicate and distribute these forms to all of your students who may be interested in participating. Please make an honest evaluation of the students' playing ability. In the space provided on the application form, please score each student, with 10 being the highest. Please make any additional comments that would facilitate the selection process.
From this information, the UNA Band staff will select the appropriate number and instrumentation to implement two complete bands for the Middle School Honor Band. Auditions for band and chair placement will take place on Thursday, March 24, 2022.
APPLICATION DEADLINE:
All applications should be returned no later than Friday, March 11, 2022. Applications received after this date will be considered for alternate positions. Invitations will be issued by Wednesday, March 16, 2022. Audition requirements will be posted some time Mid-March, prior to the invitations. There will be a $65.00 participation fee for students who are selected.
Applications should be returned to:
University of North Alabama Band Attn: Honor Band
REGISTRATION AND AUDITION PROCEDURES:
Registration will begin at 4:00 p.m. on Thursday afternoon, March 24, and continue until 5:30 p.m., with the judges' meeting beginning at 5:00 p.m. The students will audition for band and chair placement beginning at 5:30 p.m. Judges will be chosen from the directors of students who are invited to attend.
PAYMENT OPTIONS:
The $65 participation fee can be paid at registration on Thursday using cash or check; please make all checks payable to UNA Bands. The online payment option can be found here. 
The Invitational Honor Band schedule can be found here. 
HOTEL INFORMATION:
Participants can receive a discounted UNA rate at the Hampton Inn & Suites Florence-Downtown. To make a reservation, visit their website here.
2022 Honor Band Invitations
Thank you to all of our 2022 Invitational Honor Band Applicants! The lists below include all of the students who have been accepted and are invited to attend our 2022 Invitational Honor Band. 
2022 Middle School Honor Band invitations can be found here. 
2022 High School Honor Band invitations can be found here. 
*These lists will be updated twice daily as corrections are made. Please let us know if you see any errors. 
Questions? email us at unabands@una.edu