Emotional Encounters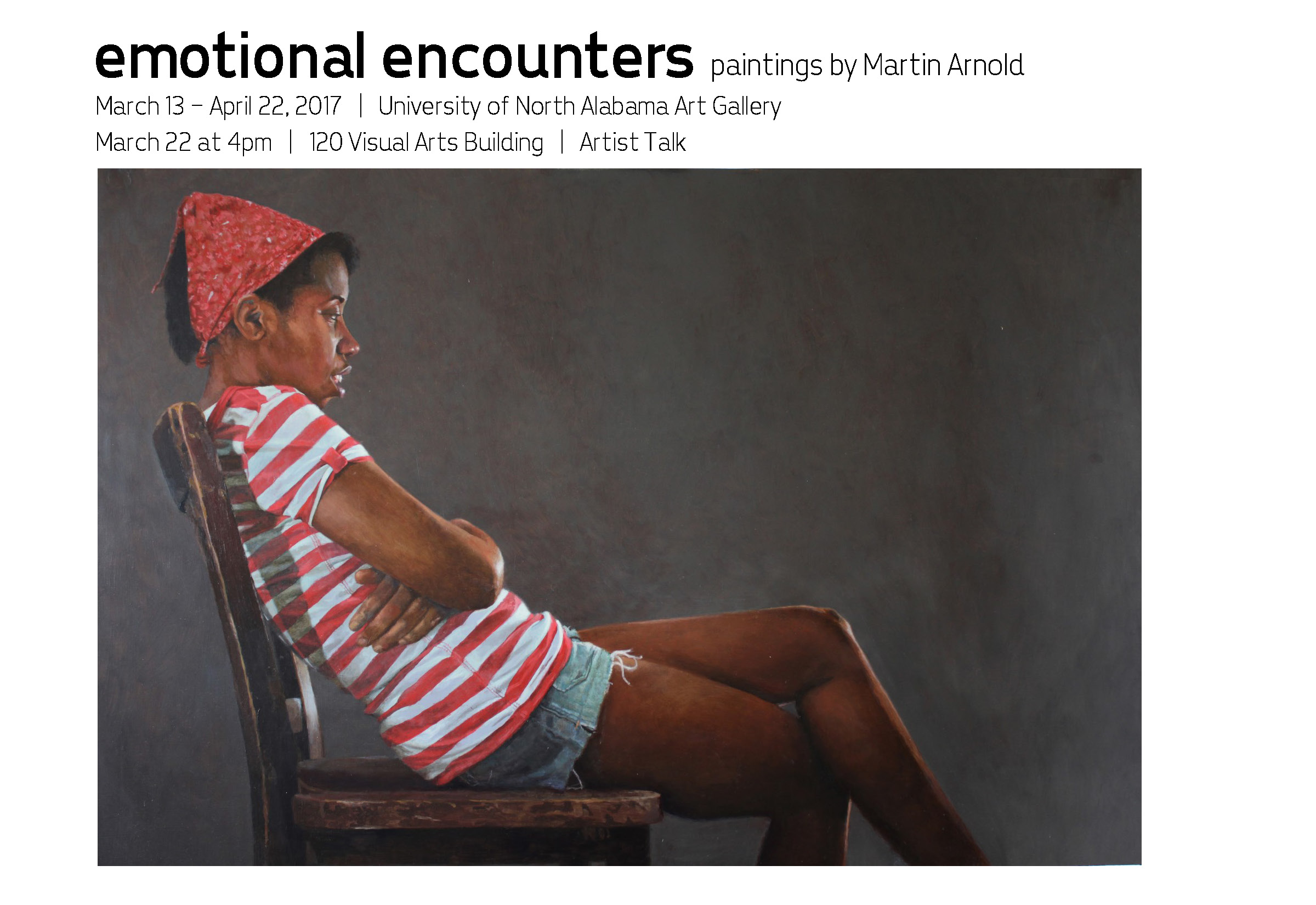 Emotional Encounters - Paintings by Martin Arnold
Website: mypntgs.com
Artist Bio: For nearly thirty-seven years Martin Arnold was fervid about the concept and design of special application machinery. In 2006 he turned his back on that highly technical engineering environment and pursued his first love, art.
In 2009, Martin earned his BFA and three years later was awarded his Master of Fine Art degree from The University of Mississippi. Along the way he has collected many regional, national and international awards for his figurative paintings.
Redirecting his old passion for mechanical design, he now creates naturalistic figurative artwork that permits viewers to peer behind the facades, explore the personalities and even derive a sense of commonality with his subjects.
Today, Martin spends his time painting prodigiously and passing on his love of art and his artistic skills to aspiring artists.
Martin, his wife, Cherrie and their Labrador Retriever, Buddy make their home in Northwest Alabama. 
Artist Statement: My paintings explore the universality and eloquence of the human figure. Each painting is an attempt to document the transient emotions observed in my subjects.
Graphically drawing back the curtain of privacy, I invite viewers to intrude upon my subject's thoughts and to speculate on the same questions that I pondered as I stood before this model, brush in hand, "Who is this person?", "What is going through this individual's mind?" and "How does he/she perceive me?"  In probing my subject's mind-set and demeanor, I hope observers will ponder both the commonality and concurrent, utter uniqueness of each of my models.
I select subjects irrespective of age and ethnicity and portray them as self-aware and in control of their space. All non-essentials are discarded. With little else to ponder, the viewer's attention is left to linger on the stark humanity of the person before them, a soul who both invites and frustrates interpretation.
In returning the models' gaze, I want observers to sense that my subjects solemnly reciprocate their scrutiny and curiosity as they feel themselves drawn ever closer to that privileged place where one soul may intimately communicate itself to the other.
While conventional portraiture characteristically restricts itself to the distinctiveness of a sitter, my goal is to transcend mere portraiture and examine not only the uniqueness of my subjects but also to graphically allude to those traits that we share, that bind us one to the other and ultimately, to everyone in our enormous, extended human family.