International Education Week
Celebrating Cultural and Academic Exchange
November 15-19, 2021, is International Education Week! 
IEW is full of culturally-rich activities organized and presented by UNA's international and domestic students. A variety of activities, hosted by the Office of International Affairs and various campus and community organizations, will be available for UNA and the Shoals throughout the week.
Monday, Nov. 15, 12 Noon
Powers Hall, Room 122
Join us over the lunch hour for a presentation about the Uzbek education system and culture followed by homemade cuisine from Uzbekistan. Presenters: Mukhriddin Kilichov & Gulnora Niyazova, visiting professors from Uzbekistan for fall 2021 through American Councils for International Education
Monday, Nov. 15, 6 p.m.
Florence-Lauderdale Public Library
FLPL presents author Lee Sentell in a discussion of his book The Official United States Civil Rights Trail. Mr. Sentell is the Alabama Tourism Director.
Tuesday, Nov. 16, 3-4 p.m.
Cole Honors College, Lafayette Hall
Join UNA students from the Cole Honors College as they present a "Travel with Me" event featuring the United States and the Thanksgiving holiday. Pies and tea will be served.
Wednesday, Nov. 17, 12-1 p.m.
GUC Loft
Education Abroad Lunch and Learn for staff and faculty who want to learn more about creating meaningful education abroad experiences. Bring your lunch and learn from experienced panelists who will share best practices, strategies, and encouragement for creating meaningful education abroad programs. Panelists include: Ms. Bethany Green, Dr. Matt Green, Dr. Clarissa Hall, Ms. Julie Heinrich, and Dr. Claudia Vance. Dr. Butler Cain will serve as moderator. 
Thursday, Nov. 18, 5-7 p.m.
GUC Banquet Halls
"Passport to the World" is our signature event for International Education Week. UNA's international students represent over 50 countries. Come get your passport and travel the world in one night as you visit country tables, see displays and dancing, hear music and taste delicious foods.
Friday, Nov. 19, 4:30 p.m.
Meet in front of the GUC
FROLF Around the World: A frisbee golf tournament with an international trivia twist.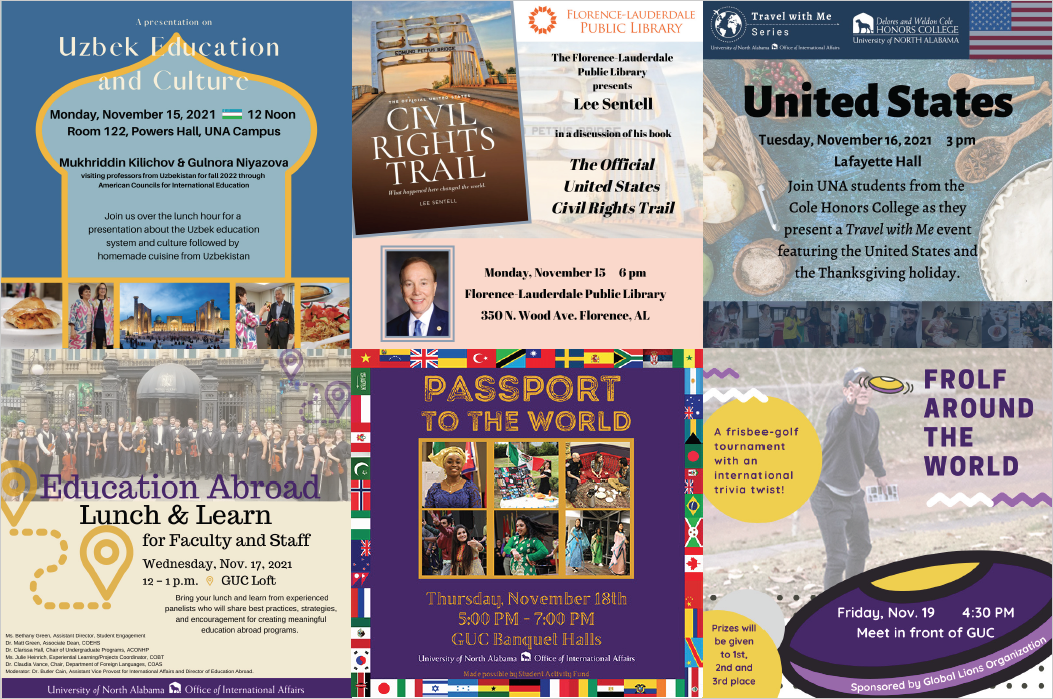 History of International Education Week
Click
here
for information about the history of IEW in the USA!