Institute for Innovation and Economic Development
In today's world, the shift to complexity and the need for rapid changes is all around us- in our corporations, institutions, and non-profit organizations. Finding ways to assist leaders to implement change and learn new ways of thinking, behaving, and doing is what the offerings that Institute for Innovation and Economic Development provides. The chart highlights the areas of focus and the available programs. The Institute for Innovation and Economic Development supports students, industry, and government with university resources in four areas:
Innovation and Entrepreneurship
Economic and Community Development
Corporate Consulting
Collaborative Agile Strategy Consulting
Offerings from the Institute for Innovation and Economic Development
Supporting the University and regional need for building a strong entrepreneurial and business creation culture the Institute hosts the Generator, UNA's student incubator, and co-working space. The Generator Student Club meets weekly during the semester. Students are mentored as they participate in startup competitions, launch their own startups and seek financial support. The Institute is a key collaborator on Shoals Shift, the region's tech movement which includes startup competitions, mentorship weekends, pre-seed and angel funding, and meetups.
Smart Start allows people to form teams, develop ideas into products, and teaches innovation skills in a facilitated 1.5-day training program. Focused on students in higher education, high school, and for use in a company the tools used are based on the internationally successful Innovation Engineering
The Institute prepares a variety of economic development reports to private and public organizations, including impact analysis, market assessments, feasibility studies, customer perception surveys, retail market analyses, geospatial assessments, and salary surveys.
The Institute provides experts in business services, including human resources, marketing, management, sales, accounting, finance, economics, business law, and information systems. The Institute can help solve real-world business problems.
The Institute is the home of the Agile Strategy Lab and the Strategic Doing Institute which are at the forefront of research in agile strategy and the science of complex collaboration.  Our staff is certified/ trained in several agile strategy methods that can assist a community, organization, or company to compete in today's global world.
Strategic Doing teaches people how to form collaborations quickly, move them toward measurable outcomes, and make adjustments along the way. In today's world, collaboration is essential to meet the complex challenges we face. Strategic Doing enables leaders to design and guide new networks that generate innovative solutions. It is a new strategy discipline that is lean, agile, and fast—just what organizations, communities, and regions need to survive and thrive. The Institute offers workshops and practitioner training to private and public sector organizations. In addition, there are online and in-person courses in which you can enroll. Learn more here. 
Agile Leadership: No matter what your company or organization's concerns are, we're guessing that a common thread runs through them - the need to find new ways to work together to tackle big challenges. The word most often used to summarize this ability is "collaboration", but usually that's just a word tossed around all too quickly. True collaboration runs much deeper than that. It is a set of ten shared skills that together comprise agile leadership. And the good news is that anyone can learn these skills. The skills are simple, although they are not easy and they take practice to master. 
We've taught them to (among others) scientists, engineers, business executives, high school students, healthcare practitioners, community activists, university administrators, local government officials, start-up entrepreneurs, and workforce and economic development professionals. Based on our experience, we've written a book, Strategic Doing: Ten Skills for Agile Leadership, and we've developed a curriculum based on the book. The skills work no matter what your level is within the organization, the sector in which you operate, or the size of your team - and our innovative, interactive curriculum can pass them on to you. Our certified leaders have developed an online course or can customize the training for your team.
Rapid Improvement with Lean Tools is designed to assist institutions to provide better outcomes and reach higher levels of performance. The globally proven 8 step program is taught in two extensive days. The Training includes hands-on exercises, case reviews, multimedia demonstrations, and classroom discussions in our instructor-led course. By the end of the training, attendees will be able to strategically implement the tools and techniques right away. Rapid Improvement with Lean Tools is specifically designed for service-focused institutions, departments, and businesses.  Attendees to prior training include Executives, Directors, Business Managers, Deans, Provosts, Administrative and Support Staff.
Innovation Engineering is a groundbreaking program that provides a systematic approach to innovation.   IE allows you to build systems that make it possible, practical, and easy for everyone to innovate, everywhere, in everything they do.  The fundamental concepts of the program include tools and methods for Creating, Communicating, and Commercializing meaningfully unique ideas. Taught in as few as a couple of days to a full minor program there are many options available. Our certified black belt trainers can assist your team in using the tools to improve your organization's results.
Strategic Diversity: A cutting-edge management tool that identifies and aligns the strategic diversity within an organization so that performance is optimized. The program assists management to identify how teams interact and how to get the greatest contribution from each individual, team, and unit. This in turn maximizes both productivity and profit. UNA is certified to use these 3D tools which visualize where individuals contribute optimally to overall team and organization growth. The AEM-Cube is delivered as an online questionnaire form that provides the individual with a comprehensive report describing where they add value and what this means for them in a team and organizational setting. The acronym "AEM" is derived from the methodology's three core dimensions - Attachment, Exploration, and Managing contribution. The 'Cube' in the name refers to the fact that these three dimensions can be portrayed in a three-dimensional space. Our certified trainers assist your team to understand the AEM Cube report and the actions that they can take to improve results. UNA is the only University certified with AEM Cube in the state of Alabama
Student fellows work on independent projects that support regional entrepreneurial and economic development activity. Each project will be in partnership with a local company, non-profit, or governmental organization and will be mentored by a UNA faculty or staff member. The purpose of the fellowship project is to generate and diversify economic activity in the region by supporting promising, ambitious students and encouraging these students to stay regional after they graduate. By engaging students in meaningful opportunities for experimentation, innovation, and learning, they will fuel economic activity in Alabama and inspire a new generation of students to engage in business and social entrepreneurship. Local employers are interested in this program because of the dramatic environmental change to a digital basis for their businesses and organizations.
Strategic Foresight uses six critical steps to develop the foresight you need to navigate in this rapidly changing environment: Framing, Scanning, Forecasting, Visioning, Planning, and Acting. Led by UNA faculty, your team develops three future scenarios and builds a plan of action. Each project is customized. Contact the institute to discuss your situation and needs, here.
Economic Impact Report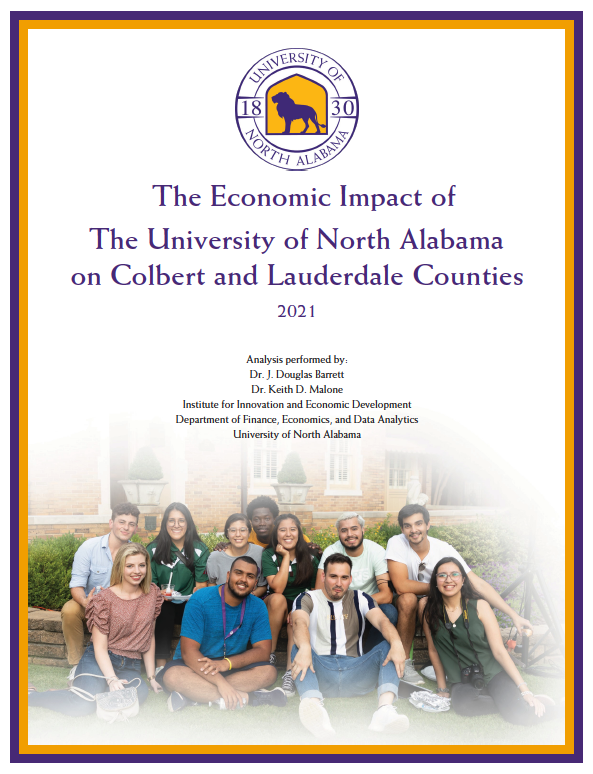 Regional Economic Update
Project Examples
Leading Experts Available at the Institute Include: