Internships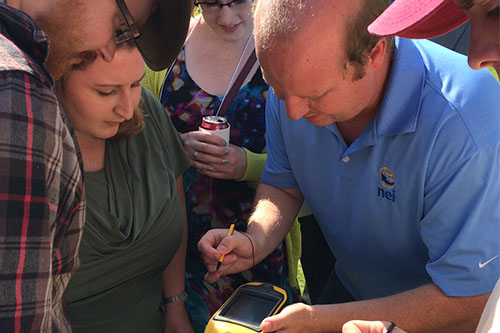 Valuable Work Experience
Interning allows you to distinguish yourself from other job candidates- you'll graduate with a degree and real-world experience
---
The Basics
Internships are a great way to obtain real-world work experience and make personal contacts in your field of interest before you graduate. Internships are an encouraged, but optional, part of the undergraduate (majors or minors) and graduate curriculum in the Department of Geoscience. Most internships are completed by juniors and seniors because students at that level have a solid background of geoscience course work. Many undergraduate students find their own internship opportunities through internship clearing houses, such as Indeed.com and GISlounge.com  or directly from nonprofit organizations, governmental agencies, or private businesses. Some agencies and companies offer student interns pay, while others don't.  Whether or not an internship is paid, students have the option of earning GE 494, 495, 496, 595 and ES 470 (Internship) credit hours for most internship experiences. If you would like more information than is provided here, feel free to contact Dr. Matthew Balentine, mdbalentine@una.edu, internship coordinator in the Department of Geoscience.
Receiving Academic Credit for Internships

INTERNSHIP COURSE (GE 494, 495, 496, 595 and ES 470): A geoscience student interested in undertaking an internship for GE 494, 495, 496, 595 or ES 470 should meet with Dr. Balentine.
CREDIT HOURS: The number of credit hours are determined in consultation with Dr. Balentine. Typically, each credit hour of GE 495 represents four hours of internship work per week during a 15-week semester. The maximum of 6 credit hours (combined) of GE 494, GE 465 and GE 496 will count toward a geoscience major (any track).
Requirements for all students
The internship must relate to the student's major and/or educational background.  
During the advising period, inform & consult you faculty advisor about your interest in an internship. 
The prospective internship experience must be approved by the internship coordinator. 
An internship registration report must be completed (details below). You will not be scheduled for an internship without a completed and approved application. 
Your internship is an academic experience in addition to being a professional experience. As such, tuition will be charged for internship credits just like any other academic course.
Student will be required to maintain a daily journal regarding their work assignments, accomplishments and daily experiences. A written report must be provided to the departmental faculty before the end of the semester. The details on the assignments can be found at the syllabus below.
Benefits for You
Internships get your foot in the door with a potential employer and they look good on a résumé.
You will build your professional network.
You can establish relationships with mentor.
You will gain an introduction to the field's professional culture and etiquette.
Internships let you apply your academic skills and accumulate new skills.
You will gain a "real world" perspective.
Examples of the kinds of places that might need interns
Planning agencies and offices—various cities, counties, regions
NASA (in Huntsville)
Watershed groups (Alabama clean water partnership, etc.)
Alabama EPA (Logan, Columbus, etc.)
Other state agencies (ADOT, etc.)
GIS related departments in town, city and county governments
State and national forests, parks, monuments, etc.
U.S. Natural Resource Conservation Service offices
State soil and water offices (throughout Alabama)
County engineer offices
Various conservation organizations (Nature Conservancy, Sierra Club, etc. )
GIS, air photo, GPS, and mapping companies (ESRI summer internship, etc.)
TV stations, especially for meteorology students
Environmental engineering and consulting companies
Energy companies
Construction, development, architecture firms
Others—be creative (!) and see what you can find from online and networking at conferences and workshops.
Examples of past students' employers
Joe Wheeler EMC
City of Florence Electricity
City of Florence Utilities Gas and Water
Planning Department of the North-central Alabama Regional Council of Governments (NARCOG) in Decatur, Alabama
The Franklin County Highway Department/the Franklin County GIS Consortium
Colbert County Road and Water Department
Lawrenceburg Utility System in Lawrenceburg, TN
IFDC (The International Fertilizer Development Center)
City of Athens Electric Department
ISC
Reservoir Land Use and Permitting/ Department of Property and Natural Resources, Tennessee Valley Authority
Geo- Source in Florence
GIS and Transportation Planning, Northwest Alabama Council of Local Governments (NACOLG)
City of Jasper Water Works and City of Sumiton Water and Gas
G-Squared Photogrammetry, Alabama
Navigation Electronics, Inc. (www.neigps.com)
City of Decatur (Utility office)
How Do I find an Internship?
Students should initiate contact with potential internship placements based on their individual interests. Students are expected to take the lead on finding, applying for, and securing an internship; the department does not place you although we do have some excellent support services.
An excellent way to find an internship is to attend the annual Career Day organized by University Career Planning and Development
If a student has any difficulty finding opportunities, they should consult with their advisors, and the internship coordinator who may make suggestions concerning internship opportunities and locations.
Students are also welcome to use college and university-level resources, including Career Planning and Development for excellent tips and tools for resumes and cover letters as well as internship and job opportunities.
Online GIS Job Postings
Contact Information
Dr. Matthew Balentine
Assistant Professor
Internship Coordinator
Stevens Hall 218
Department of Geoscience
University of North Alabama
Florence, AL 35632
Phone: 256 765 4588
---