General Resources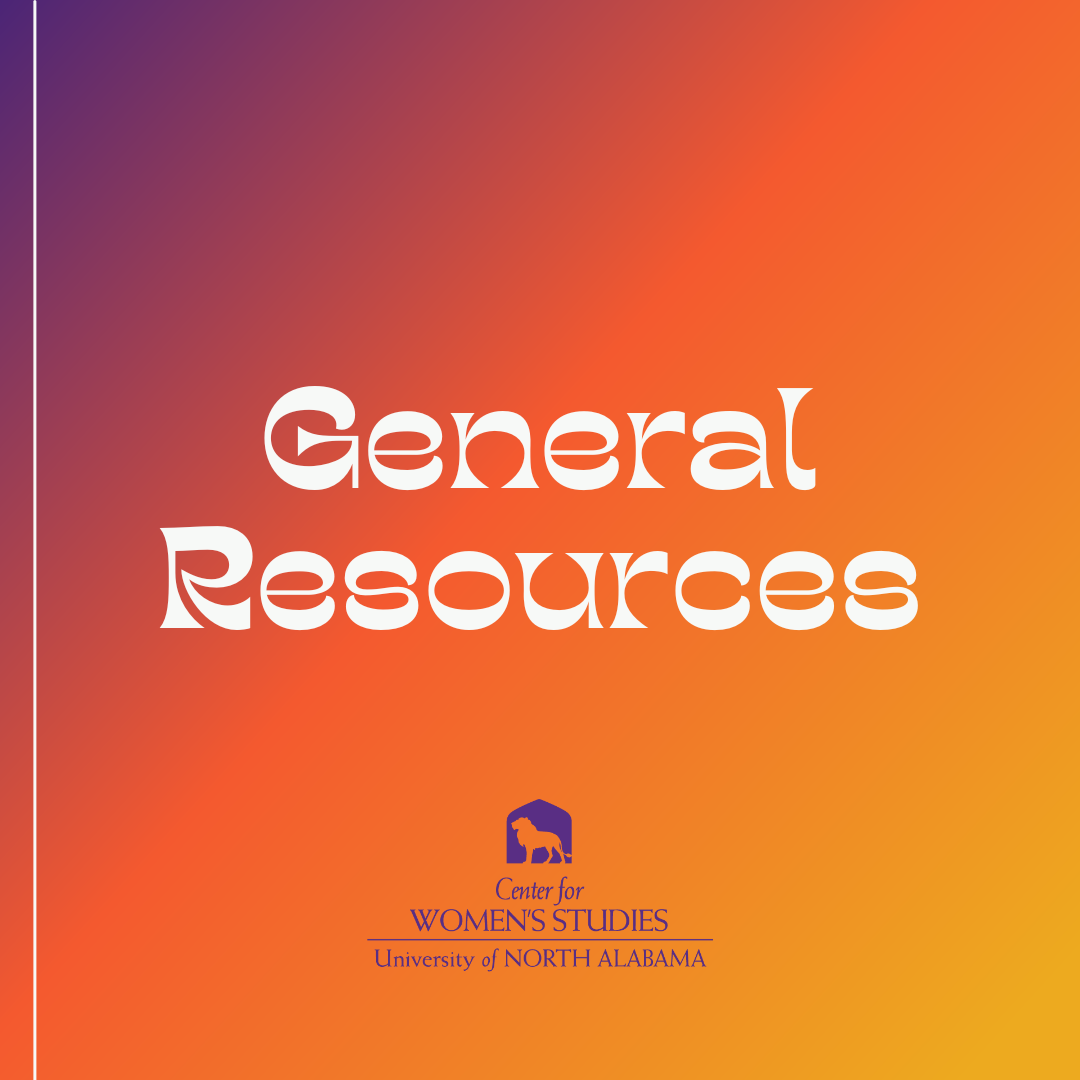 Explore Resources
The Center for Women's Studies has a list of general resources for our women on campus.
On Campus Resources
Community Resources
The Alabama Coalition Against Domestic Violence (ACADV) is organized exclusively for charitable and educational purposes. The mission of ACADV is to create opportunities for freedom from domestic violence through advocacy, education, and the promotion of social intolerance of abuse. ACADV provides training, technical assistance, public policy and development, and support to domestic violence center programs.
The ACADV serves domestic violence survivors statewide through shelters and a 24-hour crisis line.
If you feel that you or someone you know is in an abusive relationship, ACADV can help!
Contact Information:
Alabama Domestic Violence Hotline: 1.800.650.6522
National Domestic Violence Hotline: 1.800.799.7233
Email: info@acadv.org
One Place of the Shoals is located at 200 West Tennessee Street in Florence, AL. One Place of the Shoals provides crisis care services to victims of domestic violence, adult rape and sexual assault, child sexual and physical abuse, and elder abuse. One Place of the Shoals offers a variety of services that are provided by trained professionals, in one place, under one roof.
Victims can talk to an advocate, plan for their safety, have forensic evidence collected, interview with law enforcement, meet with a lawyer, receive shelter information, and get help with transportation. One Place of the Shoals works with victims to ensure they have the support they need through the entire, often confusing, process.
All services are free of charge, and initial visit appointments are not required. 
Contact Information:
For immediate assistance, call 256.767.1100 (24/7 Crisis Line)
For non-emergencies, call 256.284.7600
Email: info@oneplaceoftheshoals.org
Safeplace is a domestic violence shelter serving the counties of Colbert, Franklin, Lauderdale, Lawrence, Marion, and Winston, located here in Northwest Alabama. Safeplace aims to promote healthy relationships by providing education, intervention, and safe places. Safeplace offers a variety of services including counseling services, support groups, legal & court advocacy, housing, rental and utility assistance, transportation assistance, childcare, and relocation assistance.
Contact Information:
Safeplace's 24-Hour Helpline: 256.767.6210 or 1.800.550.9215
Safeplace's administrative office: 256.767.3076
National Resources
National Indigenous Women's Resource Center (NIWRC) provides national leadership to end violence against American Indian, Alaska Native, and Native Hawaiian women by lifting up the collective voices of grassroots advocates and offering culturally grounded resources, technical assistance, and training, and policy development to strengthen tribal sovereignty.
Contact Information: 
Office: 406.477.3896
Toll-Free: 855.649.7299
In 2012, The Hotline began discussing this issue with staff from the National Indigenous Women's Resource Center (NIWRC) a Native-led nonprofit organization dedicated to ending violence against Native women and children. They developed a program concept for a Native hotline developed by and run by Native advocates to support tribal communities across the United States. With input from tribal leaders, a Native women's council, domestic violence experts, and the Family Violence Prevention and Services Program, the two organizations began laying the groundwork to develop a Native-centered hotline staffed by advocates with a strong understanding of Native cultures, as well as issues of tribal sovereignty and law.
Their vision became a reality with the creation of the StrongHearts Native Helpline (StrongHearts) in March 2017, made possible by support from the Administration on Children, Youth and Families, Family and Youth Services Bureau, U.S. Department of Health and Human Services and Verizon.StrongHearts is a culturally-appropriate, anonymous, confidential service dedicated to serving Native American survivors of domestic violence and concerned family members and friends. It is also a 24/7 safe, confidential and anonymous domestic, dating, and sexual violence helpline for Native Americans and Alaska Natives, offering culturally-appropriate support and advocacy.
Contact Information:
Helpline: 1.844.762.8483
The WRC remains a safe haven for support, shelter, and counseling services. We encourage all to stay alert and share our resources with neighbors in need. The WRC provides assistance to victims in a number of ways:
       

Helping to obtain temporary restraining orders against perpetrators

       

Explaining their rights

       

Accompanying them to court

       

Helping them find shelter for themselves and their children

       

Helping children who witness abuse with counseling

       

Training police to deal with the problem

       

Counseling for adults

       

Support clients with DHS services through the Family Violence Advocacy Program
Contact Information:
For assistance, contact 401.846.5263
24-Hour Hotline: 1.800.494.8100
Email: info@wrcnbc.org