University of North Alabama Bands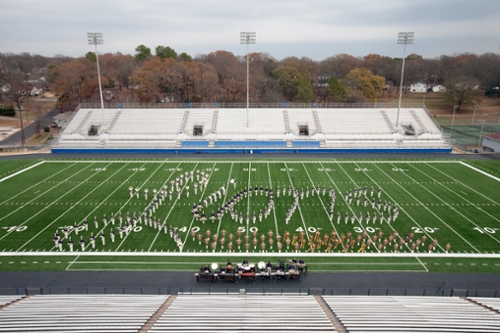 Upcoming Events
2021 Marching Band Extravaganza: September 11, 2021
Download 2021 MBEX Music:
Come spend a day with the UNA Marching Pride and perform with our members during the halftime show!
The Marching Band Extravaganza is open to all high school band members – including Majorettes, Color Guard, and Dance Line. Students in 7th & 8th grade who are participating in high school band are welcome to attend. Each participant will receive a Marching Band Extravaganza t-shirt, medal, UNA goodie bag, and free admission to the UNA Game.
There is a $40 fee to participate.
Participants are admitted free of charge. To order additional tickets to the football game call:
(256) 765-5466 or contact athleticstickets@una.edu. Be certain to designate home side to view the performance.
Registration Deadline: Wednesday, September 8
UNA Marching Pride Rehearsal: 8:00am – 9:30am (Braly Stadium – open to the public)
Saturday Morning Check-in: 9:30am-10:00am (Braly Stadium – bring your instrument and/or equipment and music)
Extravaganza practice with the UNA Marching Pride: 10am – 12pm. We will learn drill sets, have sectional time with the UNA members, and then we'll put the entire production together! Your family is welcome to watch the whole process.
Call to Stadium: 4:30pm at the south end of stadium warm-up area
Halftime: Join the UNA Marching Pride on the field for the finale of the halftime show!
Register and pay online here. (All online payments must have a corresponding application.)
Click here to download the application to submit with check or money order.