AEP Curriculum
The curriculum for our Academic English program is geared toward students whose English language ability ranges from high beginner to advanced. The goal of our curriculum is to expose students to the English language in manageable yet progressive steps. Students advance their language learning without overwhelming for their learning stage. The objectives are clear and measurable and will fully prepare the students for participation in academic and social situations.
Each semester consists of two eight-week terms, and each summer consists of one eight-week term. This allows the student to advance to the next level of instruction every 8 weeks. It is possible for a student with beginning language skills at the start of study to complete all five levels of the Academic English program in one calendar year.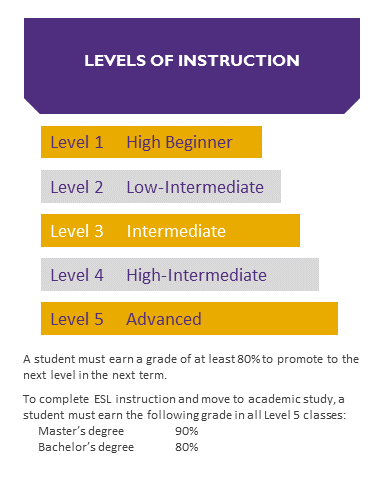 *UNA AEP does not offer classes at the true beginner level. New students are expected to have basic knowledge of English when beginning the program in level 1 classes. 

Our program provides each student with 25 hours of instruction per week - a phenomenal value!