Olive Hall
Olive Hall opened in January 2016 and houses 429 freshmen residents on six floors. Olive is co-ed by room and located on the north end of campus behind Rice Hall and Rivers Hall. Rates are located HERE. 
Take A Virtual Tour of Olive Hall!
Building Features
24 Hour Card Access on all main entrance doors, elevators, and ground floor stairwells.
Video surveillance on all exterior areas, main entrance, elevators, individual floors, emergency exit doors, ground floor lobby and laundry area.
Common area lounges are located on each floor.
Laundry facilities located on the ground floor.
Vending Machines and a Pool Table are located on the ground floor.
Other Information
Olive Hall is closely located to Mane Market, Create, the Student Recreation Center and the parking structure.
The UNA Shuttle Bus stops near Olive Hall to help you get to the other side of campus.
Statistics have shown that students who live on campus have had a higher GPA than those who lived off campus.
All residential students are required to have a meal plan. Please see UNA Dining for additional options. 
Room Features
Each room is equipped with a private bathroom which is to be maintained by the residents occupying that space. This space consists of a shower and toilet area with a sink located in the primary entrance way. Cleaning guidelines may be found HERE. 
All furniture is moveable
Two extra long single beds. A limited amount of lofting kits are available upon request.
Two desks with chairs. Two desk pedestals for storage.
Two 3-drawer dressers. Closet area bar for storage.
Carpeted bedroom and tiled bathroom area. 
Window Frame Measurements: 4 feet wide
Air Conditioning
Single rooms have one of each item listed       
Wireless high speed Internet
Room Dimensions
Room: 11'10" x 13' 3/4"
Window: 46" x 62.5" 
Bed Dimensions: 85 1/2" x 38" x 35 1/2" 
Lofted Bed Dimensions: 85 1/2" x 38" x 71 1/2" 
Desk: 40" x 24" x 29"
Chair: 26" x 19" x 33"
Dresser: 28" x 24" x 29"
Pedestal: 19 1/2" x 15" x 23"
Vanity: 2'6" x 1'10"
Entrance: 6'4" x 10'3"
Bath: 5'4" x 6'6"
Shower: 36" width
Closet: 57 1/2" x 16" x 68" (104" from ceiling to floor)
Floor Plans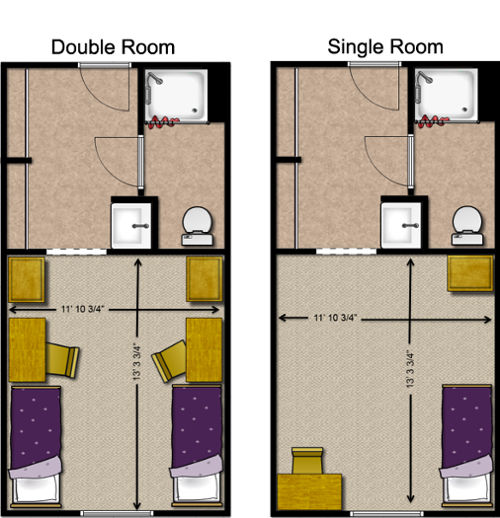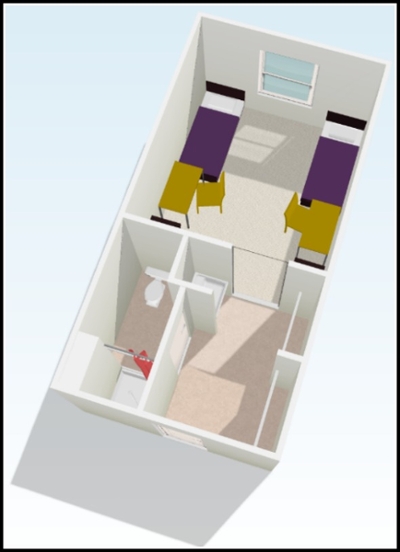 National research shows that students who live on campus are more satisfied with their college experience.