Lafayette Hall
Lafayette Hall is a co-ed (by floor) residence hall that houses 58 Honors College students on two floors. Honors College offices are located on the ground floor. The ground floor common areas are accessible to all members of the Honors College. Rates are available HERE. 
Residents wishing to live in this community must be accepted into the UNA Honors Program and receive approval from Dr. Vince Brewton, Dean of the Delores & Weldon Cole Honors College.
Building Features
24 Hour Card Access on all main entrance and ground floor stairwell doors.
Video surveillance on all main entrance and emergency exit doors as well as the ground floor lobby.
One communal bathroom is located on each floor which is cleaned daily by Environmental Services. The bathroom consists of three showers and four toilets, all with privacy enclosures, plus three sink areas with mirrors.
Communal kitchen and vending machines are located on the Ground Floor.
Laundry facilities and an ice machine are located on the Ground Floor.
Mane Market is located nearby and the GUC Food Court is right next door.
A community TV lounge and meeting area are also located on the Ground Floor.
Other Information
The Guillot University Center (GUC) is located next door. 
Conveniently located near most academic buildings. 
All residential students are required to have a meal plan. Please see UNA Dining for additional options. 
Room Features
All furniture is moveable

Two extra long ¾ loft style single beds
Two desks with chairs
Two dressers
Two closets
Air Conditioning
Carpeted floors
Microfridge included in each room
Wireless high speed Internet
Room Dimensions
Bed: 85 1/2" x 38" x 60" 
Desk: 32" x 30"
Dresser: 29 1/2" x 30"
Pedestal: 24 1/2" x 17" x 30"
Closet: 39 1/4" x 22" x 70"
Bookshelf: 32" x 33 3/4"
Windows: 80" x 27"
Floor Plans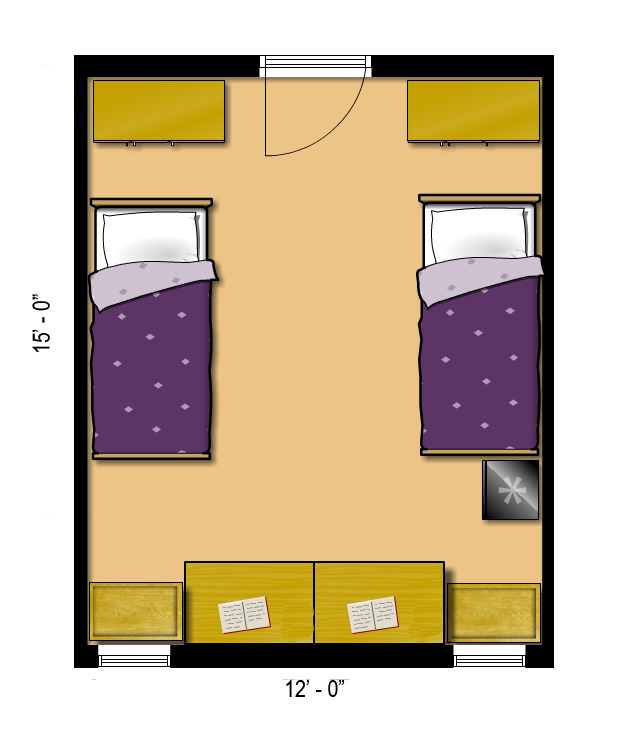 National research shows that students who live on campus in a residence hall are more likely to develop strong interpersonal skills.