Banded Tuition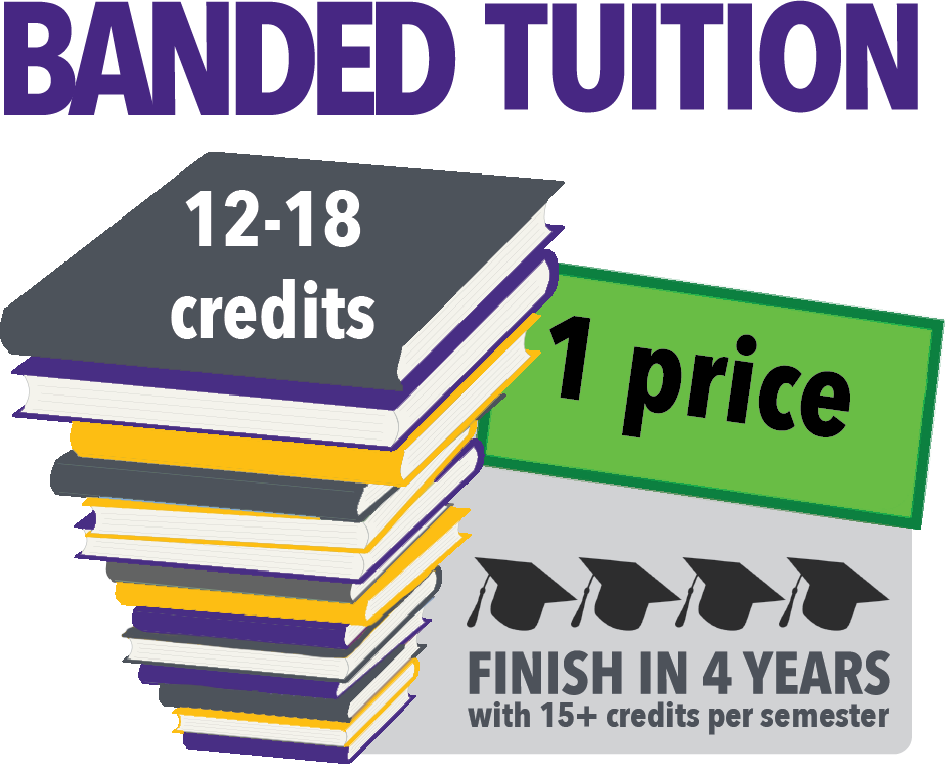 University of North Alabama - Banded Tuition
Banded tuition is defined as charging a single-tuition rate for enrollment within a specific range of credits. Banded tuition is designed to help students graduate on time (Finish in 4) and reduce the cost of their education.
FAQs
What is "banded" or "flat rate" tuition?
Banded or flat rate tuition is defined as charging a single tuition rate for credits within a defined range (e.g., 12-18 semester hours).
What are the terms of banded tuition?
Beginning in the Fall 2018 semester, undergraduates will pay the same basic tuition rate for a course load of 12-to-18 credit hours per semester.
Whys is UNA moving to banded tuition?
Banded tuition is a way to help students graduate on time and reduce the cost of their education. Students who take advantage of the band and enroll in 15+ credits per semester will graduate in four years. Tuition charged by the credit hour creates a financial disincentive for students to take more courses in a particular semester.
When will banded tuition take effect?
Banded tuition at will become effective with the fall 2018 semester.
Is banded tuition a new concept?
No. Several universities in Alabama have established banded tuition. Evidence nationwide suggests that banded tuition is a promising strategy for increasing student success and degree-completion in 4-years.
How will banded tuition affect students enrolled in fewer than 12 semester hours?
Students enrolled in fewer than 12 hours will continue to pay the per credit hour tuition rate as they have in the past
Will banded tuition be available to graduate students?
No. Banded tuition applies to undergraduates only and has been established to help students earn their BA/BS degree in four years
What are the benefits of a student taking 15 semester hours or more?
Taking more than 15 credit hours allows students to accelerate their progress and also offers them the opportunity to pursue a minor or a certificate at no additional cost.
What is the best way to ensure success for students who typically take 12 credit hour course load but want to increase the number of credit hours they take each semester?
Students should work with an academic support specialist/faculty advisor who will help them determine their options.
What if a student isn't sure he/she can manage 12 semester hours or more per semester?
UNA wants all admitted students to be successful and recognizes that a student's ability to manage his/her academic workload is dependent on a variety of personal circumstances. These include learning style, time management, personal commitment and focus, financial and work burdens, family commitments, etc. UNA academic support specialists, financial advisors, student employment advisors and others across all campuses can help guide students in making smart decisions about academic load given the student's personal circumstances.
What if a students takes 15-18 credit hours and begins to struggle with their academic workload?
In consultation with their academic support specialist/faculty advisors, students can withdraw from some courses before the published deadline. From a financial aid perspective, it is advisable to maintain at least 12 credit hours per semester. Students receiving financial aid should talk to a financial aid advisor if they are considering dropping below 12 credit hours due to the possible negative impact on financial aid.
Does banded tuition apply to summer courses?
Yes, banded tuition applies during the summer term.