William Johnson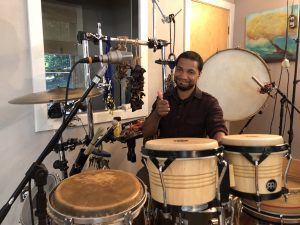 Contact Information
ph: 256.765.4375
UNA Box 5040 | 101 Music Building
Education
M.A., Liberty University
B.A., Fayetteville State University
Percussion Adjunct Faculty
   William was born in Waukegan, Illinois and raised in Southern California. He has been writing songs and performing for over twenty five years. In 2009 William started a percussion instruction podcast that grew to reach thousands across the globe and released his first solo project Freedom… Joybeat. Joybeat is a percussion featured meditation album. Since then he has recorded on nearly two dozen albums, participated on multiple music projects including three solo albums, and produced music with television credits on stations such as TLC, Univision, Discovery, Telemundo, The Travel Channel and more. .
   Johnson founded the yearly worship event Heartbeat for Worship, which ran from 2007-2013. The Heartbeat for Worship included a production of seven drummers playing simultaneously with a host of other musicians performing a fusion of music influences from around the world. The Heartbeat for Worship grew a large international audience attracting tens of thousands of unique visitors to it's website. In 2012 William collaborated with Bonham Cajon to design and release a Heartbeat signature Cajon model. 
   In October of 2011 William released his sophomore album Flor de Vida, a Latin jazz fusion project. Flor de Vida is a spirit and rhythm filled album combining the strength of Grammy award winning musicians along with several internationally accomplished musicians from all over the world. Flor de Vida was featured and reviewed on the three most popular Latin Jazz websites, played on radio stations in five different countries and multiple States within the U.S.
   Sacred Roots, William's third album was released in August of 2014 and received positive press and radio play in the US, South America, and Europe. Sacred Roots was on the 2014 Grammy Ballot as an alternative album. William continues to release music singles on all digital platforms and currently working on a new album scheduled for release in 2021.
   Having spent nearly eight years in the Air Force, William traveled extensively across the globe and developed a love for diverse forms of music. Drawing upon his Latin heritage, and being inspired by such musicians as Sheila E., he began to study the congas and bongos. This later developed into a passion for a number of other cultural styles. William has shared the stage with and recorded with award winning and renowned musicians from around the world including Gospel music legend Dorothy Norwood, Ben Tankard, Luis Conte, Alberto Salas (Andre Crouch, Carlos Santana), Eric Lige, Vahagn Stepanyan, Eric Moore ii, Aaron Spears, Josh Baldwin, Ramon Stagnaro (David Foster, Randy Jackson, Celine Dion) , Latin Grammy winning Children's music artist Mister G , KJ Scriven, Melvin Lee Davis (Chaka Khan), Darwin Hobbs, Morris Mingo, Tavarius 'Varo' Johnson, J. David Bratton, Kenneth 'Kaybass' Diggs, Scott Coats, Brazilian drummer CS Cleverson, Giles Blankenship, Marvin Winans, Don Potter, Stephen Roach, Phil Routszong, Frank Fluker, Tony Murnahan, Suzy Yarai, Michael Parlett, Josh Davis, Nikki Lerner, and many more. He has also recorded on projects mixed and mastered by talented engineers such as Alex Anders (Glee, Descendents, Captain Underpants), Andy Merril (Adele, Lady Gaga), Glen Tabor (Grammy and Dove award winning engineer), Alen Konakoğlu (Top Turkish engineer/producer including: 'Gökçe, Melvin Lee Davis).   
   William Johnson holds an M.A. in Ethnomusicology from Liberty University and a B.A. in History  from Fayetteville State University. William continues to perform, instruct classes, private lessons, clinics and master classes on college campuses, music stores, schools, and online from his personal studio. Johnson also runs two Youtube channels with nearly one million views. Currently William Johnson endorses Bonham Cajons, and Saluda Cymbals.