Thomas Hurst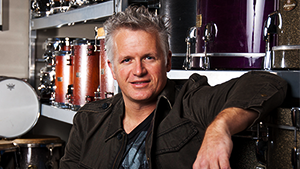 Contact Information
ph: 256-765-4375
UNA Box 5040 | 101 Music Building
Education Information
M.A. Ed., University of Florida
B.A., University of Florida
Percussion Adjunct Faculty
Nashville based percussionist/educator/clinician/promoter Tom Hurst has supported artists across the spectrum of popular music for 25 years whether behind the drum kit, or playing ethnic percussion.

     The Backstreet Boys, Gary Allan, Wang Chung, Chuck Wicks, Tiffany, Joe Nichols, Sister Hazel, Tracy Lawrence, Peter Noon of Herman's Hermits, and James Otto are but a sampling of the diverse range of national/international artists that have utilized Tom's performance services for touring and/or recording. 

     Additionally Tom has served as a Disney staff musician performing in numerous ensembles throughout his two decades plus career with the company. He's also served various theatre organizations doing Broadway style pit work for regional theaters, and cruise lines such as American Hawaii (now defunct) out of Honolulu, HI. 

     On the educational front Tom is a University of Florida graduate with a Bachelors of Arts in Music specializing in Ethnomusicology as well as a Masters in Music Education with an emphasis in Jazz Studies. Tom has taught at every level of music education (grade school program ensemble direction, private lessons, drum and bugle corps and indoor drumlines, college master classes and clinics) and is an adjudicator with over ten years experience serving the Florida Band Masters association assessing solo and ensemble and marching percussion as well as jazz bands at both the district and state levels. 

     Tom is the co-founder/owner, and financial manager of Infinity Percussion, Infinity Open and Infinity A. Three independent youth arts competitive percussion performance ensembles with over 130 members combined annually. In addition he serves as the Vice President of Infinity's parent organization, Pageantry Arts Concepts, a 501-c3 non-profit which encompasses several additional independent percussion ensembles from across the state of Florida. 

Throughout his career Tom has additionally undertaken multiple non-performance music business related endeavors:
Producing popular/rock music shows under the auspice of the Loud Jamz and Nashville Drummers Jam events while also representing jazz and world instrumental artists booking shows under his Tom Hurst Presents Loud Jamz promotions/booking entity.
 Contracting Backing Bands for Nashville Based Artists via his Tom Hurst's Superior Sideperson entity.
Partnering with Backline Pro of Charlotte, NC, and Total Backline Services of Biloxi to provide instrument rental services in the southeastern U.S. for numerous international touring entities.

Serving as a Music Manufacturer's product specialist supporting the Ron Tunk's Sales South Eastern Sale Representative team servicing a diverse array of instrument, audio, DJ, and lighting interests in the large chain music retailers of the southeast. 
     In short, Tom Hurst is a life long musician, and music advocate with extensive experience that still ascribes to the belief that one must be a perpetual student always willing to try new ventures and never stop learning/improving.