Andy Kruspe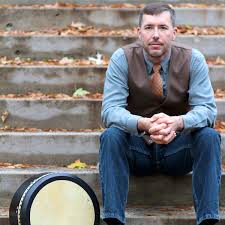 ph: 256.765.4375
UNA Box 5040 | 101 Music Building
M.M., Louisiana State University
B.M.Ed., University of Central Florida
Percussion Adjunct Faculty
     Huntsville-based bodhrán player Andy Kruspe has performed and recorded with several musicians and bands throughout the Southeastern United States. His playing has supported bands in several genres, including Irish Traditional, Celtic, Old Time, and Contra Dance Bands. He has appeared on stage with SlipJig, Mithril, Black Market Haggis, David Coe and Friends, The Nashville Ceili Band, and The Piper Jones Band.
     Andy is also active as a teacher, having presented workshops at several universities, clinics, and festivals. Recently,  he presented a session on the bodhrán at the 2013 Percussive Arts Society International Convention with Dr. Kyle Forsthoff.
     Ever a student of this versatile instrument, Andy has spent several summers in Ireland attending workshops and taking lessons from some of Ireland's best players.
     Andy has also competed on this instrument. In May of 2014, he won 1st Place in the Over 18 division for the bodhrán at the Comhaltas Ceoltóirí Éireann Midwest Fleadh in Saint Louis, Missouri.
     He is an Educational Endorser for Innovative Percussion Sticks and Mallets, a US Brand Ambassador for Hedwitschak Drums, and an Artist Endorser for Rebellion Drums.