Bank Independent Stadium is the culmination of a vision – a vision that began almost 50 years ago when the University of North Alabama leadership believed in the institution, its students, its faculty, its staff, and, perhaps, most importantly, its community. Today, the stage is set for that vision to come to life with the transformative nature of the on-campus Bank Independent Stadium. By its very nature, a stadium brings people together to champion a common cause, and there is no question that, whether a football or baseball game, a soccer match, or a concert, Bank Independent Stadium will do just that – now and for generations to come. We welcome this historic and transformational next step as North Alabama steps into its place in history.
Project Timeline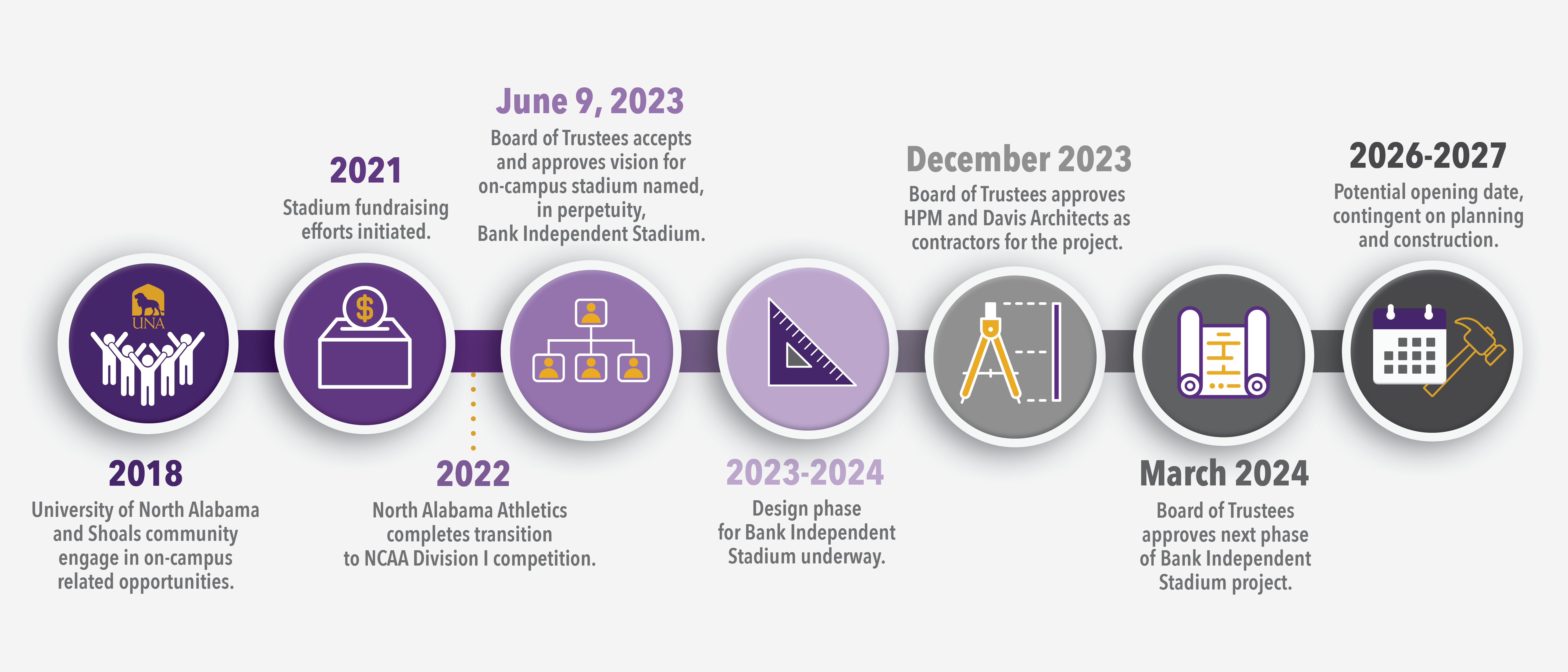 Frequently Asked Questions
Bank Independent Stadium will be a multipurpose stadium located on campus at the University of North Alabama. We have developed stadium concepts that re-imagine the campus space that currently houses the UNA turf field (home to UNA football practices and soccer practices/games), Mike D. Lane Field (home of Lion baseball), and the grass practice field (practice home for the Marching Pride). The stadium site is surrounded by Pine Street to the East, Flowers Hall to the South, Stewart Avenue to the West, and Cumberland Street to the North.
The project will enter its design phase in Summer 2023, which is expected to last approximately 12-18 months. UNA will enter into an agreement with a sports construction firm to formalize the project scope, design, and financial strategy. Details will be shared as they are available.
At the conclusion of this phase, UNA leadership will come back to the Board of Trustees with a detailed plan for the stadium, including more information about the scope, features, and cost. We are targeting 2026-27 as the potential opening date, contingent on construction time.
We envision a venue that will be transformational for the University of North Alabama and an economic driver for the entire Shoals community. While Bank Independent Stadium will have an undeniable impact on the Lions football program and athletic department, its utilization will extend far beyond athletic events. It is anticipated that the stadium will offer a state-of-the-art setting for a wide range of community events and academic programming that raises the profile of the University and deepens its connection throughout the region.
The stadium will be designed for year-round utilization by UNA and the greater Shoals community. The future site of Bank Independent Stadium currently houses UNA's baseball, football, and soccer teams. It is anticipated that each of these sports will be part of a re-imagined design for the site.
Braly Municipal Stadium, an off-campus facility built in 1949, is owned by Florence City Schools. Although UNA has played its home football games through a use agreement for more than 70 years, the University has never had ownership of the facility. Operations and programming for Braly Stadium will continue to be managed by the school district.
The scope of this project is under development, though the stadium is anticipated to contain a diversified amount of seating options and stadium experiences. Options for future expansion will be incorporated into our planning.
To date, significant external fundraising has elevated this project to its current phase and public announcement. It is still too early in the design process to determine the project's final financial plan. We look forward to sharing the financial plan with the community as the project continues its development.
We have been pleased with fundraising efforts thus far, and the Board of Trustees has agreed with today's vote. The total amount raised to that point will be discussed when the project's scope, design, and financial strategy are finalized.
Yes. External fundraising is a critical component and the core driver of this project. With a gift of $100 or more, you will be a part of our donor recognition in Bank Independent Stadium. To give a gift of at least $100 click here.
No. Project 208, UNA's push for funding equity in the state legislature, will not be applied to the cost of Bank Independent Stadium. Those funds will be dedicated to academic support and existing campus needs.
While the UNA Student Government Association passed a resolution in 2018-19 urging the University to explore on-campus stadium options, there are no current plans to introduce a new student fee or increase current student fees to fund this project.
The full scope of the stadium project is being determined. We look forward to sharing a detailed financial plan the project scope, design, and financial strategy are finalized.
We are considering the expansion of parking opportunities in the stadium design process. Additionally, UNA's campus offers far more on-site parking spaces than are currently available at Braly Stadium. 
Public renderings for Bank Independent Stadium will be released after the design is approved by the Board of Trustees.