Alabama Symposium 2017
The Alabama Symposium of Eighteenth- and Nineteenth-Century Studies will hold its fourth annual meeting at the University of North Alabama on October 7th, 2017.
During this year's meeting we will discuss Rita Felski's recent book The Limits of Critique.  Felski's book takes current practices of critique to task, particularly the hermeneutics of suspicion that she argues underlies much literary criticism.  Suspicious reading, according to Felski, has led critics to have a interrogative, distrustful relationship with texts.  She proposes post-critical reading strategies, inspired by Bruno Latour's ANT theory, as an antidote to the problems of High Theory.
The purpose of our meeting is to discuss the impact of Felski's book on our specific disciplines.  How might Felski's argument that "context stinks" effect eighteenth- and nineteenth-century scholarship--much of which is still deeply tied to forms of New Historicism?  How might her work be used to promote the field of Affect Studies?  How should teachers of theory approach Felski and the post-critical movement? 
This event is open to all graduate students and faculty in the Alabama region interested in the fields of American and British literature.  In past years, the symposium has offered a wonderful opportunity to both discuss trending topics in our fields as well as connect with nearby scholars.  Attendance is free, but you must RSVP to Dr. Cheryl Blake Price (cprice7@una.edu) by 9/15/17.  Partipants will need to read the selected chapters under discussion (although you are free to purchase and read the entire book) and can obtain a copy of those chapters by emailing Dr. Price.  Participants should provide a 2-3 page paper responding to Felski's The Limits of Critique by 9/15/17 by emailing them to cprice7@una.edu.  These responses will be posted to the website for others to review before the symposium. 
Response Papers (click on the name for a pdf of their response to our readings):
Diana Bellonby, Vanderbilt University
Alex Beringer, University of Montevallo
Mellissa Black, University of Mississippi
Matthew Duques, University of North Alabama
John Havard, Auburn University at Montgomery
Cheryl Blake Price, University of North Alabama
Seth Reno, Auburn University at Montgomery
Danny Siegel, University of Alabama at Birmingham
Symposium Schedule:

11:00am-11:30am                   Opening "Reception" (refreshments provided)

11:30am-1:00pm                     Roundtable Discussion

This morning session will be a roundtable discussion of The Limits of Critique. Participants will read the selected chapters and submit a 2-3 page response paper in advance, which will be posted on this website by September 15 for others to read. The roundtable will function like a seminar: part discussion of the book and part presentation of how the book relates to our research, teaching, and thinking. Please bring copies of response papers for your reference.

1:00-1:30pm                            Boxed Lunch

1:30-3:00pm                            Workshop.  Our afternoon session will have two presenters:

Dr. P.C. Fleming: Adaptation without Critique? In her conclusion, Felski argues that a "positive vision for humanistic thought" must be shareable with "intellectual strangers" (186) and calls for "a renewed engagement with art and its entanglement with social life," especially the "literature of everyday life" (191). Contemporary readers typically first encounter literary works -- and especially 18th- and 19th-century texts -- either in a classroom or through an adaptation. I am interested in the latter: how does other media (not just film but also advertisements, music, video games, theme parks, etc.) shape perspectives on literary history? And does an answer to that question necessarily involve critique? I plan to describe my current book project about intersections between Victorian Studies and The Walt Disney Company, and also to discuss a collaborative digital project on Victorian adaptations, http://www.streakybacon.net/. 
Dr. Matt Duques will discuss "Native American Literature in Augustan London"
Travel and Directions:
The sympoisum will meet in the Lion's Den, located inside the (New) Science and Technology building on the UNA campus.   The building is located on the corner of Oakview Circle and Pine Street, sandwiched between Kilby school to the south and Flowers Hall to the north. There are some parallel parking spots in front of the building on Oakview, as well as additional parking across the street in the Kilby lot or by the greenhouse on the side of the Science building.  Since it is the weekend, you may park in any spot (white or green lines).  The Lion's Den is located on the first floor, directly across from the Oakview Circle (main) entrance.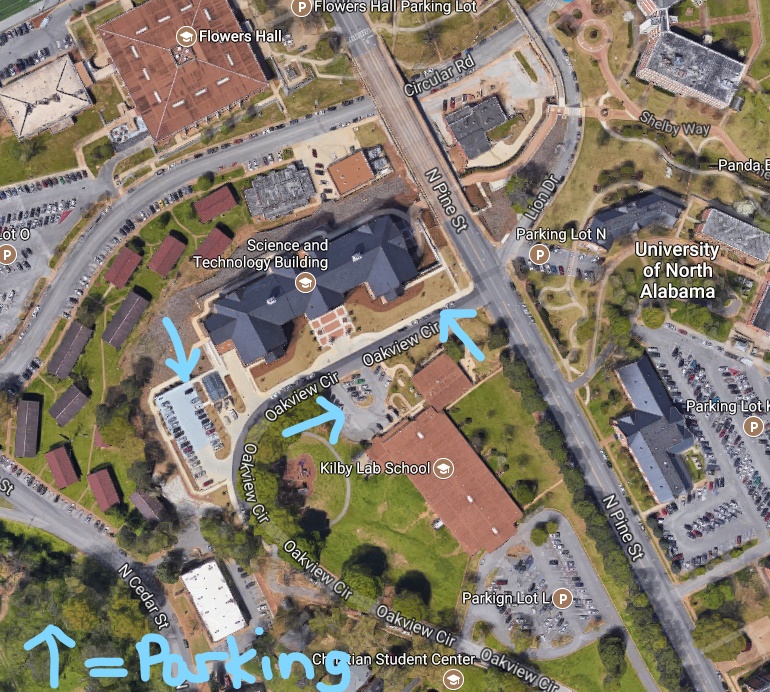 Previous meetings of the Alabama Symposium have been held at the University of Auburn-Montgomery and the University of Alabama at Huntsville.